Online shopping has grown in popularity after the COVID-induced lockdown. According to Statista, Global online retail sales reached almost $5 trillion in 2021; by 2025, this amount is predicted to reach $7 trillion.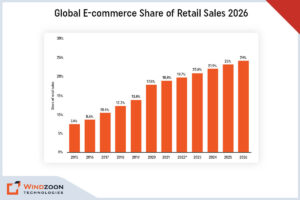 Global E-commerce Share of Retail Sales
According to this data, the majority of businesses now go beyond simply providing information on their company website. Now they want to create a website where users can directly buy goods and services online. It is convenient and accessible for customers as well as owners to shop in an online marketplace.
There are numerous platforms available for setting up an e-commerce store. But among them, WordPress is unquestionably the best platform. Although it is best known as a blogging platform, it has applications that extend far beyond the blogosphere.
With the help of plugins and themes, Custom WordPress Development Company can build the ideal e-commerce website using dynamic, adaptable, and powerful WordPress software.
In this article, we'll go over the key benefits of using WordPress to build an e-commerce website. We'll even talk about the essential plugins you should use to upgrade the functionality of your online store.
So, let's move toward our first topic of discussion.
Key Reasons to Choose WordPress for E-Commerce Store Development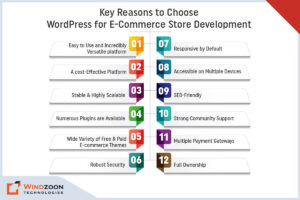 Reasons to Choose WordPress for E-Commerce Store Development
1. Easy to Use and Incredibly Versatile Platform
WordPress does not require a deep understanding of programming languages or web development. It offers a quick, ready-to-use solution for creating stunning, responsive websites. Furthermore, it ensures a simple and quick website setup with a single click. And do not need any specific knowledge to deal with servers or hosting.
So, it's fair to say that using WordPress to build an eCommerce store is the most feasible and simplistic way to run an online business. A WordPress-powered eCommerce website allows you to effectively manage your content.
It means you won't have to hire web developers whenever you need a minor change. You can easily do it on your own.
That's why you can learn how to make an attractive WordPress website: 10 steps guide for beginners.
 2. A Cost-Effective Platform
Yes, WordPress is a completely free platform. It is an open-source platform that can be downloaded and installed for free. Additionally, anyone can add functionality to their website by using the code found in the WordPress Codex.
It is the primary reason why eCommerce companies choose this platform to create their websites. However, business owners can Hire WordPress developers to manage the source code.
3. Stable & Highly Scalable
WordPress has become extremely stable and reliable over the years due to constant updates and improvements. By scalable, we refer to WordPress's capacity to change as your website expands. WordPress will continue to function flawlessly regardless of how much your site grows.
It shouldn't have any trouble handling the load you put on it as long as you scale your hosting to handle the traffic on your website. WordPress is used by many well-known e-commerce sites, including Shop Catalog, Cola Gourmet, and Louise Kennedy.
4. Numerous Plugins are Available
You can use free WordPress plugins to add more functionality to your eCommerce website. They are small pieces of software that can be uploaded to WordPress to enhance its functionality.
Plugins are essential for an eCommerce site, and you'll need more than one. Because various plugins aid in various functionalities such as inventory management, running an online store, customer interaction, and security.
WooCommerce is one such all-purpose eCommerce plugin for WordPress. About 20% of WordPress e-commerce websites use it, making it the most well-known eCommerce plugin available.
5. Wide Variety of Free & Paid E-commerce Themes
WordPress has a strong and active community. This thriving community frequently releases new themes and plugins with improved features and functionalities.
A theme is a software package that controls how your website is styled and presented to users. Additionally, it influences how simple it is for users to find information and make purchases.
Thankfully, hundreds, if not thousands, of free and paid e-commerce themes are available. Visit the official WordPress theme library to view the free themes. Or you can check out more feature-rich premium themes at ThemeForest & TemplateMonster.
6. Robust Security
One of the most critical aspects of any eCommerce website is its security. Because it contains the user's personal and financial information, which needs to be protected.
WordPress has been around since 2003. Thus, the WordPress community has ensured that the software is extremely secure. Regular updates and security patches have elevated it to the status of one of the most secure programs for developing online stores.
7. Responsive by Default
Since smartphones account for more than half of all online purchases, developing a mobile-responsive eCommerce website is critical.
Websites that are not mobile-friendly couldn't perform well on search engines. Hence, having a responsive e-commerce store is critical for ranking higher on SERPs and increasing web traffic.
WordPress websites are, by default, very mobile-friendly and responsive. And that's why it is the best option for eCommerce website development.
8. Accessible on Multiple Devices
Another advantage of the WordPress CMS is that it is accessible via multiple web browsers. It enables you to log in from any internet device with an internet connection. And allow you to edit your e-commerce store anytime from anywhere by using the dashboard interface.
9. SEO-Friendly
WordPress's codebase is based on sound SEO practices. It considers numerous search engine ranking factors.
So, using WordPress to build your e-commerce site can take your content marketing efforts to the next level. You can optimize every aspect of your website to rank high in search engines.
Of course, various factors affect how well you perform in searches, including the quality of your content and on- and off-page SEO efforts. But WordPress always makes it easier and never gets in the way of your efforts to improve your rankings.
10. Strong Community Support
WordPress's extensive community support makes it one of the best platforms for e-commerce websites. The community has a large number of talented developers across the world.
Furthermore, the community offers excellent documentation and tutorials to help you better understand the WordPress framework and how to use it. Plus, it has qualified staff on hand to address your issues at any stage of the development process.
11. Multiple Payment Gateways
If you plan to build an online store, make sure it is adaptable enough to allow customers to select various payment methods.
With WordPress, you can provide this facility to your users. It will simplify things for customers visiting your store and improve their experience. As a result, there will be more traffic and revenue generation.
12. Full Ownership
One of the most significant benefits of combining WooCommerce with a self-hosted WordPress website is that your online store is entirely yours and belongs to you and your business alone.
Since everything is hosted on your own server, you can keep total control over how your shop runs and move it at any time to a different provider.
To move further let's discuss how to hire the right WordPress development agency.
Now, we will go over the powerful WordPress plugins for e-commerce website development.
Top 5 WordPress E-commerce Plugins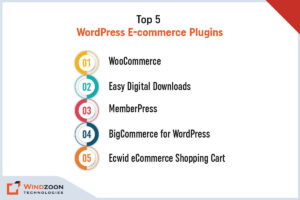 Top WordPress E-commerce Plugins
1. WooCommerce
Best for: Merging content and commerce
Price: Free but optional add-ons begin at $6/month.
WooCommerce is the most popular choice for building an online store on the WordPress platform, with 20.4% of all websites using it. Additionally, it is the most popular e-commerce plugin, and many themes support it.
Features Consist Of:
Management of products and inventory
Management of orders
customer profiles
Effective control over shipping
Built-in site analytics
Coupon management
2. Easy Digital Downloads
Best for Selling downloads (courses) and other digital products.
Price: Freemium (paid plans begin at $99.50 per year)
If you want to sell digital goods like WordPress themes, e-books, courses, artwork, and other items, Easy Digital Downloads is the best e-commerce plugin for you.
Features Consist Of:
Customer management panel
Integrated download and transaction reporting
Options for adding functionality through extensions
Access to multiple payment gateways
A shopping cart system for purchasing several downloads at once
Comprehensive payment histories
3. MemberPress
Best for: WordPress sites that follow a membership business model
Price: Starts from $15 to $35 per month
A WordPress plugin called MemberPress allows you to build a paid membership website. Although it differs from the other eCommerce plugins on this list, it's excellent for using a membership business model to sell digital content, courses, or downloadable.
Features Consist Of:
Automated system for billing and membership cancellation
Various additional features are available in the add-on library.
Rules for unrestricted access that control members' access to content
Customized post type for the pricing page
4. BigCommerce for WordPress
Best for: BigCommerce integration with WordPress
Price: Free, but requires a BigCommerce account which starts at $29.95 per month.
BigCommerce is an eCommerce platform that is managed and provides a headless solution. It means that the BigCommerce platform will host the eCommerce infrastructure, keeping it separate from the core of WordPress.
Features Consist Of:
It is simple to embed content from BigCommerce into any WordPress post or page using any of the BigCommerce blocks.
It supports a variety of currencies and payment gateways
An effective eCommerce platform with a ton of cutting-edge features and tools
5. Ecwid eCommerce Shopping Cart
Best for: Selling on various social media channels
Price: Free of charge but requires an Ecwid account
Ecwid Shopping Cart is a robust and user-friendly shopping cart solution that enables you to sell products on your WordPress website. Plus, you can also conveniently sell your products on Facebook and Instagram because Ecwid automatically syncs your products, customers, orders, and inventory between your WordPress and social storefronts.
Features Consist Of:
Complete integration of Ecwid panel with WordPress
Integrated Google Ads configuration panel
Both the plugin and the eCommerce platform are free to use
Now, let's see some examples of famous WordPress e-commerce websites.
Examples of Popular E-Commerce Stores Built Using WordPress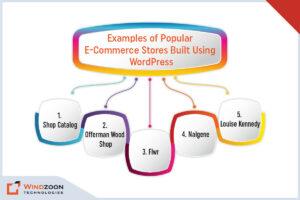 Popular E-Commerce Stores Built Using WordPress
Shop Catalog
Offerman Wood Shop
Flwr
Nalgene
Louise Kennedy
Conclusion
You must now have a clear understanding of why WordPress is the best e-commerce solution. And why you should use WordPress CMS for your business website.
Developing an eCommerce site for your company is your first step into the enormous online marketplace. Thus, you'll want an online store that is appealing and professional. As well as provides customers with what they want and functions as independently as possible.
However, to build that type of store, you will need the assistance of a professional WordPress development company.
At Windzoon, we have a team of WordPress developers with years of experience & expertise in providing cutting-edge & customized WordPress Development services. Visit windzoon.com to get a quote for our services or to learn more about our WordPress Packages.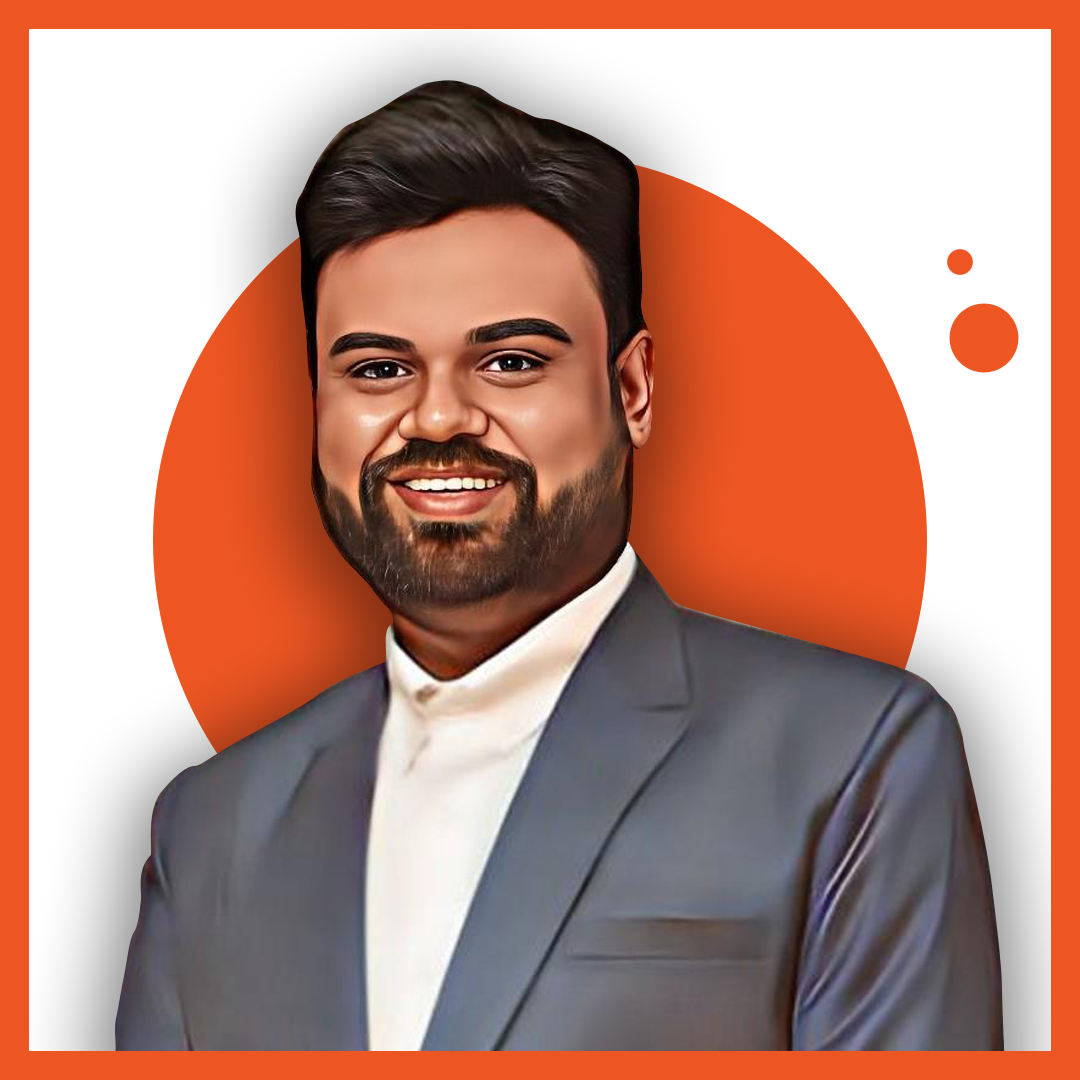 Nilesh Pujara is the CEO & Founder of Windzoon Technologies. He is mastered in computer application but his love for IT and marketing has driven him toward the field of digital marketing. Nilesh Pujara is handling the operations of a digital marketing strategist for more than 10+ years and has expertise in SEO, SMO, & PPC.