https://windzoon.com/dropshipping-shopify/
Shopify Dropshipping Store Design Service for Bespoke & Dynamic Dropshipping Solutions
Shopify Dropshipping is the practice of selling goods to customers while having your inventory and orders shipped by a different company. Dropshipping business owners concentrate on branding, marketing, and customer management while a third party handles their logistics.

Windzoon Technologies is a prominent Dropshipping Store Development company that offers custom eCommerce solutions, themes, API connections, and more. We have a specialized in-house team of developers to offer scalable solutions, from establishing a new store to improving the performance and functionality of an existing store.

Hire Shopify Dropshipping Expert from us with years of experience in designing & building highly customized e-commerce stores for businesses of all sizes.


Our vivid range of custom Shopify Dropshipping Store Design Services
As a trusted Shopify Dropshipping Store Development Company with 10+ years of experience & expertise in eCommerce store development, we are here to assist you with the widest range of Shopify dropshipping Services. Hire Shopify experts from us to reap the benefits of these remarkable services.

Shopify Dropshipping Store Theme Design
Our seasoned developers can construct stunning & highly-functional themes for Shopify e-commerce store that represent your business and stand out from the crowd of rival websites.

Customize Shopify Dropshipping Store Development
We provide customized Shopify Dropshipping Store Development services for varied business models. Our developers will design and build a Shopify e-commerce store that reflects your business's objectives.

Customize Shopify Dropshipping App Development
Dropshipping companies that handle several business procedures require custom apps. Our Shopify developer has the skills to provide your app with the unique functionality it needs to meet your specific business needs.

Optimize Shopify Dropshipping Store for SEO
We will optimize your Shopify Dropshipping store's performance in terms of sales and ranking. Our developers and marketing team can improve your website's performance and conversion rate by optimizing the SEO of your pages/products.

Listing SEO-Friendly Products to Store
Subscribe to our SEO-friendly product listing service for your dropshipping Shopify store, and our talented writers will create distinctive, SEO-friendly product descriptions for your Shopify e-commerce store.

Shopify Dropshipping App Testing & QA Service
Our development team is entirely dedicated to thoroughly testing your Shopify Dropshipping store for bugs. Every Shopify Dropshipping solution we build is bug-free and provides exceptional performance to your customers.

Rebranding of Shopify Dropshipping Store and App
Reap the benefits of our Shopify Dropshipping Store and App Rebranding services.
Our graphic designers will re-create an eye-catching and user-friendly Shopify store or app, as well as rebrand it, to attract more customers to your store/app.

Support & Maintenance for Shopify Dropshipping Store
You want your Shopify e-commerce store to be as efficient as possible. Our Shopify Dropshipping website maintenance and support service will make this possible, allowing you to focus on your core business while we look after your store.
How your e-commerce business will get benefits from Dropshipping Shopify?
The most significant aspect of Shopify Dropshipping that contributes to its popularity as an e-commerce platform is its incredibly low maintenance cost, simplicity, and user-friendliness. Some of its standard features include: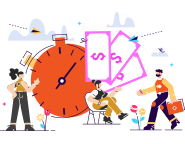 Time & Cost-effectiveness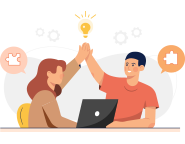 Effortless to Start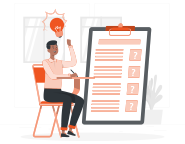 Easier to Test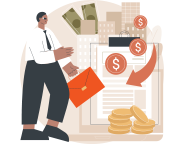 Requires Less Capital
Why Choose Windzoon for Shopify Dropshipping Store Development?
As a prominent eCommerce Store Development Company with a track record of successfully completing 50+ enterprise-grade projects, we are dedicated to offering the finest service to our clients. Hiring our skilled Shopify Dropshipping Developers for your project will relieve you of the burden associated with developing a dropshipping website.

Custom Designing of Marketplace
We offer bespoke designing of marketplaces that are top-notch and easy to market further.

Responsive Themes
We craft responsive themes and plugins that will enable you to have a mobile-friendly store.

Reset Your Existing Store
We are also keen to redesign and reset your existing store with our amazing custom-built services.

Admin Control
We leverage the admin panel and enable you to dynamically control it for hassle-free management.

Scalable Server Hosting
We avail you with a highly- scalable and dedicated server that even easy to deploy in the future.

Mobile & SEO Ready Site
We craft interfaces that are compatible with every device size and ensure that drives you traffic.
Dropshipping Shopify Project Execution Models
Leverage our adaptable hiring models to hire Shopify Dropshipping Experts from us. And get the best possible pricing on Shopify Dropshipping Store Development services that are extremely secure and scalable.
Fixed Cost
This model ensures that a fixed budget is set, regardless of the time & expertise spent. This model allows you to develop and stick to a specific budget.

Dedicated Hire
This particular model mostly works for projects that are likely to extend for a long period and requires multiple resources working simultaneously.
Hourly Model
Under this model, you can hire our developers for a fixed number of hours to complete the work. The hourly model is much more preferred by small to short-term projects.

Resources On-site
For a close-knit team that requires to upgrade their resources on-site and needs to have an expert on emergency bases to match up the deadlines.

What People Say About Windzoon
"We are truly impressed! Their social media marketing & SEO team is too excellent. All the deliverables were on time. Everything was well organized to perfection!

The team was constantly our support in the whole process of generating leads!"
ASL London John
"It is a pleasure working with Windzoon I admire the devotion & determination your team showed to revamp my website!

I highly recommend these guys for your next web design or development project!"
Kal Petkoff
"Windzoon team is quite impressive & very prompt in replying to our doubts & queries. They always come up with good & practical ideas, that helped us expand our business globally. They never forget to give us weekly reports & insights into the whole marketing process.

Our experience with the windzoon team has been amazing!"
Shivnext Snax, India
Stay updated with our in-depth articles on Dropshipping Store Development
Our insightful Shopify Dropshipping Store Development blog posts will keep you up-to-date on the most recent Shopify Dropshipping news and technological trends.
Answers to some frequently asked Shopify Dropshipping Development questions
What is Dropshipping Shopify?
DropShipping Shopify combines the popular dropshipping business model with the leading e-commerce platform Shopify. Web app solutions created from this combination provide entrepreneurs with the exceptional benefits of two great things.
Does Shopify dropshipping actually bring profit?
Yes, Shopify dropshipping can be profitable for entrepreneurs since they are not in charge of production or delivery. With the right suppliers, entrepreneurs can make a good, consistent profit while avoiding the large costs that a wholesaler would normally incur.
How can Dropshipping Shopify assist me in expanding my online store?
Dropshipping Shopify provides a comprehensive marketing suite that enables businesses to easily scale and gain attention from their target audience. Furthermore, the platform includes many SEO features, such as customizable headlines, titles, and meta tags, which can help your store rank higher in search results. 
Besides, you can also increase revenue by embedding Dropshipping Shopify with third-party integrations such as MailChimp, Google Analytics, & social media platforms.
What payment methods are available to my customers if I choose to build Dropshipping Shopify Store?
Dropshipping Shopify supports a wide range of payment gateways, allowing customers to pay using their preferred payment method.
Is SEO work included in your Dropshipping Shopify packages?
Our websites are built with an SEO-friendly structure. However, actual SEO work, whether on-page or off-page, must be purchased as a separate service. We have very effective plans for both; please contact us for more information.
How much does it cost to create a Shopify Dropshipping store?
Dropshipping Shopify Store development costs vary from project to project depending on several aspects, including the complexity, the number of features to be integrated, the size of the project, etc. Contact our Dropshipping Shopify specialists in India for the most accurate price quote on your project.
How can I communicate with the development team working on my project?
You can communicate with the development team via phone, chat, skype, & email.
Do you make NDA and provide other IP protection for my project?
Yes, we do make Non-Disclosure Agreements. So, rest assured you will have complete ownership of your Dropshipping Shopify project, including NDA, Copyright, Intellectual Property rights, etc.
@ Copyright 2023
Windzoon.
- Web Development Company India. All Rights Reserved