Technological advancements have completely changed the way businesses work. Right, from high-speed connectivity to the latest innovations in hand-held devices, people tend to browse everything online, including B2B businesses, wholesales, and resellers.
The user-friendly apps and uninterrupted shopping experiences have drastically shifted consumer behavior, encouraging them to see more products online. This is where Shopify comes in.
If you are a business owner who wanted to target the online shopper's community, then you must have a Shopify store. Shopify is the easiest platform that you can use to develop and maintain your online store, and the dropshipping business model is great for anyone who is looking to set up their own business with little to no investment.
Right from selecting the best product niche to improving sales, this guide will help you start a Dropshipping business on Shopify. We will also recommend some of the best apps and tools that Dropshipping entrepreneurs can use to enhance their online sales.
Exploring Shopify Dropshipping
Shopify dropshipping is an e-commerce business with less financial risk than other online business methods. With this model, you sell physical products on your own online store. These products are made by third-party manufacturers, who also handle storage and shipping. As the owner of the company, the only responsibility you have is to make sales; you do not have to bother about production, storage, and shipping.
Dropshipping Shopify stores have become popular because of their user-friendliness, quick setup, and minimum investment. According to recent data, the global dropshipping market is expected to reach $196.78 billion in 2022. Experts also predicted that the market size will reach $476.1 billion by the end of 2026, with an impressive 3.5X growth.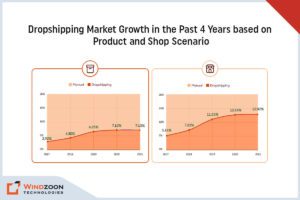 Dropshipping Market Growth
Now you have known the global impact of dropshipping on the online market and so you don't want to miss the chance to get fruitful results from your Shopify store. Here's how you can understand its working process, key features, and how to set up a Shopify Dropshipping store successfully.
How Does Shopify Dropshipping Work?
Online stores can be created and managed using Shopify. It offers users everything they need to get their business up and running, from a customizable website builder to secure payment processing. Shopify also has a huge app store, which Dropshipping entrepreneurs can use to automate various tasks and add extra features to their stores.
Read More: How Does Shopify Dropshipping Work?
Key Features of Shopify Dropshipping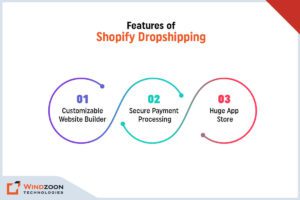 Features of Shopify Dropshipping
Shopify Dropshipping businesses have all the tools you require to operate a prosperous online enterprise. Among the essential characteristics are:
A Customizable Website Builder: Without any prior coding experience, you can build a dropshipping website with Shopify. You may also choose one of the several Shopify themes to give your store a distinctive appearance.
Secure Payment Processing: Shopify Dropshipping stores come with built-in payment processing so that you can accept credit card payments from customers worldwide.
A Huge App Store: The Shopify app store has over 2000 apps that can help you automate various tasks, add extra features to your store, and more.
Different Shopify Dropshipping Models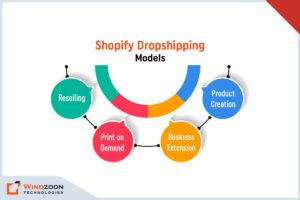 Shopify Dropshipping Models
There are four different Shopify Dropshipping models which you must consider while doing Shopify dropshipping store development:
1. Reselling
Reselling is the most popular Dropshipping model. With this model, you find products already sold by other retailers and sell them in your store. To find products to resell, you can use Dropshipping directories like Oberlo or AliExpress.
2. Print on Demand
Selling custom-printed items like t-shirts, mugs, and phone covers is called "print on demand" in the dropshipping business model. Use dropshipping directories like Printful or Gooten to find products to sell.
3. Business Extension
The business extension is a Dropshipping model where you sell products related to your existing offline business. If you own a brick-and-mortar store, you could dropship items that complement your existing inventory.
4. Product Creation
Product creation is a Dropshipping model where you create your products and sell them in-store. To find products to sell, you can use Dropshipping directories like Alibaba or AliExpress.
How to Setup Shopify Dropshipping Business?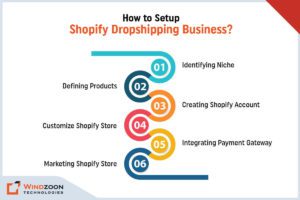 How to Setup Shopify Dropshipping Business?
Now that we've covered the basics of Dropshipping on Shopify, let's look at how to set up your Dropshipping store. Follow these steps to take to set up your Shopify Dropshipping store:
1. Identifying Niche
Choosing a niche for your store is the first step. Three questions must be addressed in order to accomplish this: Whom are you trying to reach? What requirements does your intended market have? Which goods can you offer that will satisfy those needs?
2. Defining Products
The items you sell in your business must then be defined as the next phase. Three questions must be addressed in order to accomplish this: What are the main product categories you offer? Which of your products sells the best? What distinguishing qualities do you offer?
3. Creating Shopify Account
The next step is to create a Shopify account. You can do this by going to shopify.com and clicking on the "Create Your Store" button.
4. Customize Shopify Store
Customizing your Shopify store comes next. A theme, items, and a payment gateway can all be added. You can create a website for dropshipping.
5. Integrating Payment Gateway
Integrating a payment gateway into your Shopify store is the following step. This will enable you to take payments via credit card from clients all over the world.
6. Marketing Shopify Store
Market your Shopify store as the last stage. Utilizing SEO, social media, and email marketing will help you do this.
Best Shopify Dropshipper Apps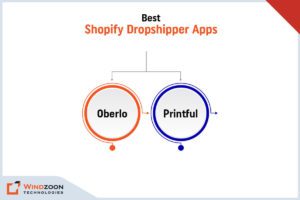 Best Shopify Dropshipper Apps
There are a few Dropshipping apps that can help you automate your store, add products, and more:
1. Oberlo
Due to the fact that Oberlo is a dropshipping software owned by Shopify, its connection with the platform is as simple and natural as it can possibly be. Because it is the default dropshipping tool, if you go to your "Products" menu and select the "Find more products to sell" button, Shopify will immediately direct you to the Oberlo app.
2. Printful
You may sell custom-printed products like t-shirts, mugs, and phone cases with the use of an app called Printful, which is a Dropshipping service. In addition to that, it gives you the ability to automate your orders and monitor your sales.
Benefits of Using Shopify for Dropshipping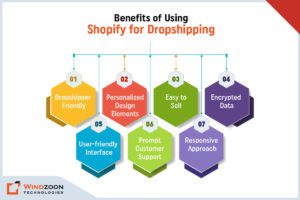 Benefits of Using Shopify for Dropshipping
There are a few benefits of Shopify Dropshipping Store Development:
1. Dropshipper Friendly
Shopify is Dropshipper friendly because it allows you to add products from Dropshipping suppliers like Oberlo and Dropship.
2. Personalized Design Elements
Shopify also provides a broad variety of design components that can be applied to your store in order to personalize it and improve it so that it stands out from the competition. Developing a dropshipping store on Shopify is a simple process.
3. Easy to Sell
Shopify makes it easy to sell online because it provides everything you need to create a professional-looking store. Dropshipping business on Shopify is profitable.
4. Encrypted Data
Shopify also encrypts all data to be safe and secure. Shopify Dropshipping is the most secure option to facilitate online transaction and secure customer data.
5. User-friendly Interface
Shopify has a user-friendly interface that makes it easy to use, even for beginners. Dropshipping website development on Shopify is simple.
6. Prompt Customer Support
Shopify provides you with rapid customer care so that you can receive assistance whenever you require it. Dropshipping is made simple and dependable with Shopify.
7. Responsive Approach
Shopify takes a responsive approach to design so that your store looks great on all devices. Dropshipping on Shopify is the best way to start an online business.
Tips for Running a Successful Shopify Dropshipping Business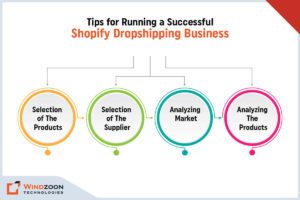 Tips for Running a Successful Shopify Dropshipping Business
1. Selection of The Products
When selecting products to dropship, it's important to choose items that are in demand but not too popular so that you can still easily find suppliers willing to work with you. Additionally, it's crucial to select goods that can be shipped quickly and don't need special processing.
2. Selection of The Supplier
It's essential to carefully select your supplier to ensure high-quality products and reliable shipping. You should ensure that the supplier offers a wide range of products at a competitive price and has a good reputation.
3. Analyzing Market
It's important always to be aware of what's happening in the market to adjust your product offerings accordingly. Keep an eye on competitors, new products, and changes in customer preferences.
4. Analyzing The Products
Before selecting products to dropship, it's important to analyze them carefully to ensure they will be profitable. Consider factors such as goods, shipping costs, and potential profit margins.
Successful Shopify Dropshipping Businesses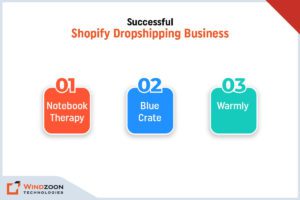 Successful Shopify Dropshipping Businesses
1. Notebook Therapy
Shopify's niche store, Notebook Therapy, is an excellent example of a well-designed website that sells journals and writing supplies. Some items include simple bags, pencil cases, notebooks, and phone cases. The store has a great layout with a pastel color palette that will trigger feelings ideal for the target audience, including love and happiness. much of the store use fonts designed specifically for this site as well as hand-drawn doodles, which are also catered to appeal to those in Eastern cultures.
2. Blue Crate
What sets Blue Crate apart is their personalized products that feature customer-uploaded images. Blue Crate does an excellent job of integrating Facebook and Pinterest to ensure their young audience stays updated on new offerings. Blue Crate ships most of its products from the United Kingdom, but some are made and shipped in the United States.
3. Warmly
If you're looking for a successful Shopify dropshipping store that sells mostly lighting and home furnishings, Warmly is one of the best. They use techniques like sale end countdowns, trust badges, and bullet point-driven product descriptions to enhance their conversion rate on product pages. Most of Warmly's traffic is from Pinterest ads, making it the perfect platform to promote home decor. It boasts 27,000+ followers with over 10 Million monthly views on pins.
Conclusion
Dropshipping is a terrific approach to entering the internet market with no initial commitment. The creation and management of a Dropshipping store are simple with Shopify. Focus on choosing in-demand products, pick suppliers wisely, and stay on top of market trends if you want to succeed. We at Windzoon Technologies, have helped hundreds of online store owners to build a strong online presence to boost their online sales. Connect with one of our sales representatives at [email protected] to discuss how our Shopify Dropshipping experts can transform your online business.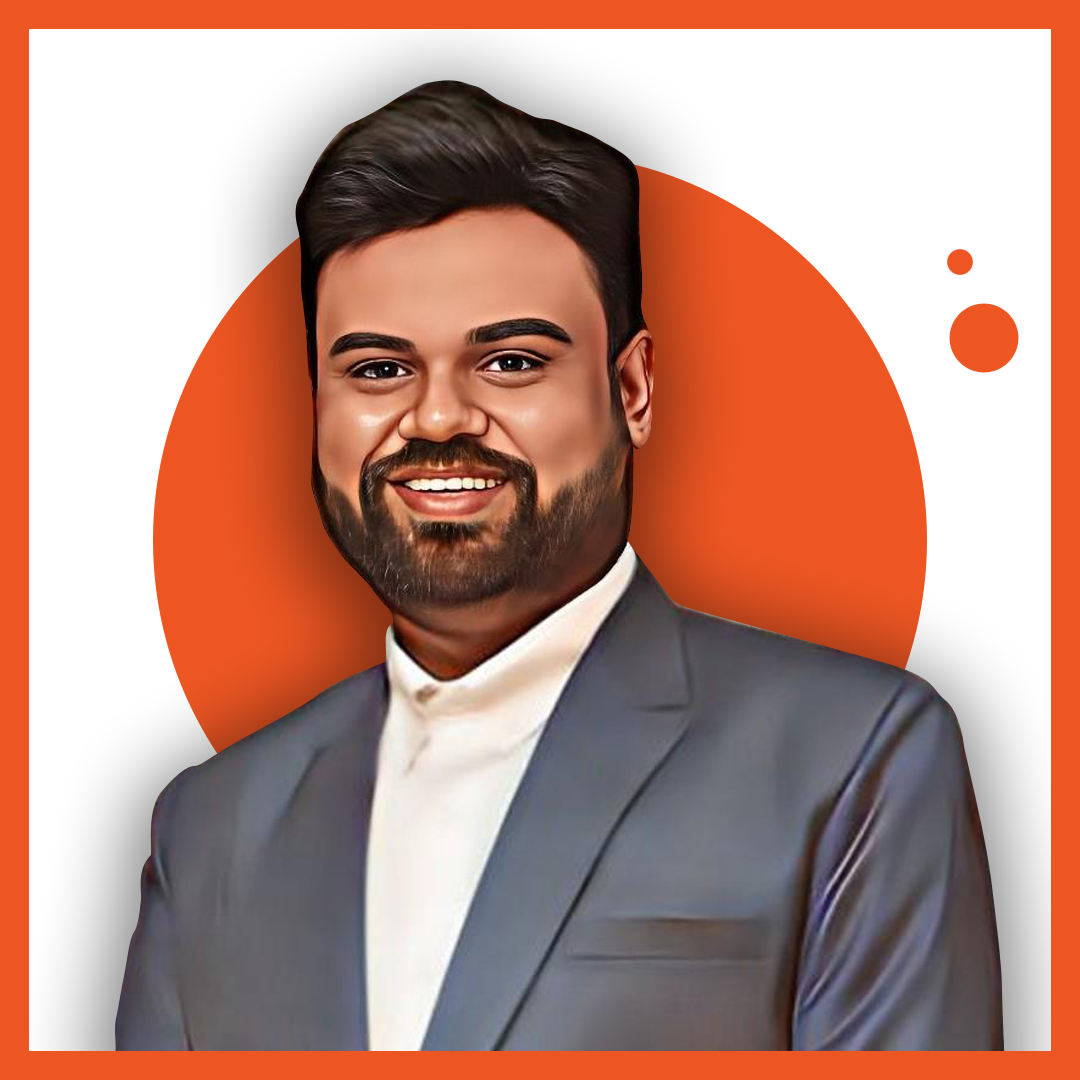 Nilesh Pujara is the CEO & Founder of Windzoon Technologies. He is mastered in computer application but his love for IT and marketing has driven him toward the field of digital marketing. Nilesh Pujara is handling the operations of a digital marketing strategist for more than 10+ years and has expertise in SEO, SMO, & PPC.