We've all heard the proverb, "A picture is worth a thousand words," haven't we? We, humans, are far more dependent on our visual ability. And this is the reason that 90% of all information that the brain receives is visual. In addition, MIT neuroscientists discovered that the brain could recognize images in 13 milliseconds, processing visuals 60,000 times faster than text.
When it comes to search skills and eCommerce, these visual facts are right on the money. Here, Images assist us in searching for the products we want to buy instead of words. And this is known as 'visual search.'
Visual search enables online buyers to find the right products faster and easier than conventional text searches. Research indicates that 62% of millennials and Gen Z members prefer visual search to all other search categories.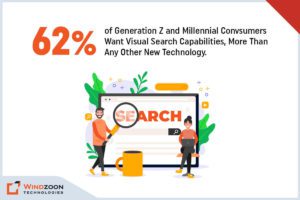 Visual Search Marketing Statistics
As a business, you must evaluate the impact of visual search on your digital marketing strategy, both now and in the future. And to do that, you must ensure that your website is prepared for this kind of search. In this regard, getting assistance from a capable Digital Marketing Company would be advantageous.
In this article, you will learn everything there is to know about visual search, including:
Overview of Visual Search
Visual search makes use of Artificial Intelligence (AI) technology to help users find items utilizing real-world images. When someone conducts a visual search, they find the results using a picture instead of typing in a search phrase.
For example, assume you're on a hike and come across a strange animal you'd like to learn more about. But don't know how to describe it and get information from a search engine. So, you click the object's photo and drag it to the search engine. And the technology will recognize the object and provide information about what you are looking for.
What Is Visual Search Marketing?
Visual search marketing uses search engines' visual search capabilities to drive traffic to a company's website. This typically entails providing clear images of all available products that search engines can index.
However, it's essential to remember that most visual searches are conducted on mobile devices rather than desktop computers. Hence, it would help to make your web app compatible with mobile visual searches. You can do this by hiring the best SEO Service Provider Company in India & USA.
Why Does Visual Search Differ From Image Search?
The majority of people confuse picture search and visual search. But these two concepts differ significantly from one another.
Image search is the technique of looking for images on the internet using words. In contrast, visual search involves looking for information online through the use of images.
How Does Visual Search Work?
When words fall short in expressing what the customer is looking for, visual search helps fill in the blanks. It recognizes objects in an image and looks for others that are similar.
Visual search solutions make use of artificial intelligence and machine learning technologies. It indicates that the system uses pictures as "queries" and evaluates forms, colors, and sizes to discover the most relevant search results. E.g., If you take a picture of the dress, the visual search might help you find & shop for identical or strikingly similar dresses.
The Main Players in The Visual Search Market
The following companies are major players in the visual search market:
– Pinterest
– ViSenze
– Turing Analytics
– Cortexica Vision Systems
– Alphabet
– Snap
– Veritone
– Amazon
– Microsoft
Top 11 Benefits of Visual Search That Take Your Business Next Level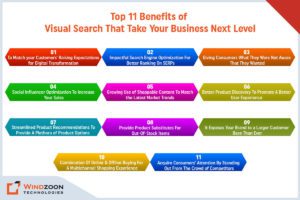 Top 11 Benefits of Visual Search That Take Your Business Next Level
As search evolves beyond its traditional forms and new technologies emerge, it is critical to comprehend and capitalize on them as quickly as feasible.
With 35% of marketers aiming to optimize for visual search in the future, it is best to stay ahead of the competition early rather than late. The following are the main advantages of optimizing for visual search.
1. To Match your Customers' Raising Expectations for Digital Transformation
Think back to the most reliable digital experience you've ever had. you were buying on an eCommerce website and discovered a fabulous product at an incredible rate.
That is what visual search is going to do for your brand, whether you practice it or not.
It is astounding how consumer expectations evolve, isn't it?
In today's time, consumers expect to be able to discover products using visuals or pictures.
2. Impactful Search Engine Optimization For Better Ranking On SERPs
SEO is meticulous work, often because of all the tagging.
Visual search benefits SEO Services providers to work smarter, on their optimization. The technology allows tagging, an image-to-text, and gives interpretability for search engines.
This is why visual search is much more robust. Utilizing the potential of visual search, your pictures are now SEO-ready & and most, can be found by consumers.
3. Giving Consumers What They Were Not Aware That They Wanted
Customers are adopting visual search because they are watching for inspiration. Which means they need to be told what they must. Doing so appears in the form of absolute interpreting & analyzing what consumers are seeking. AI is used to serve the most similar products.
As marketers, we ought to cater to their evolving desires through artistic sources.
Visual search will have an impact that reaches well exceeding what it was designed to do.
4. Social Influencer Optimization To Increase Your Sales
Now, social influencers tend to post about a particular product they are wearing and tell consumers to buy that particular piece.
A visual search can scan the image of the influencer and tag the products of the outfit by type. Customers can then search every product of the outfit to get the whole look.
To put it, you can invest in influencer marketing to sell your products.
5. Growing Use of Shoppable Content To Match the Latest Market Trends
Businesses are pouring millions into content marketing, without a comprehensive way of getting accurate ROI. The whole content needs to be shoppable. By piercing pictures into the content that takes customers to the product they are looking to buy, your content completely comes to life. A visual search will support your team and see the real impact of the content you create.
Visual search marketing is now just getting more popular, there is no looking back after this. With the young generations trying to embrace all new trends, many businesses are performing distinct aspects of visual search in their marketing strategies.
6. Better Product Discovery To Promote A Better User Experience
It can be difficult for some people to precisely define an object they are seeking for. However, a photo or image may accurately describe every aspect of a product in great detail.
Allowing users to search for products using images can significantly increase product discovery. Rather than scrolling through countless search results, it quickly presented customers with the closest match available for sale.
7. Streamlined Product Recommendations To Provide A Plethora of Product Options
Visual search provides the technology for a product suggestion system. And this technology is based on actual product resemblance rather than other users' preferences.
Hence, brands utilize it to generate similar product suggestions to provide their customers with a wider range of options.
8. Provide Product Substitutes For Out-Of-Stock Items
Visual search can help to reduce the shopping cart abandon rate by providing an alternative to out-of-stock products.
Visual search enhances product discovery and delivers results where text search fails. It increases conversions, reduces shopping cart abandonment, and provides users with a rich media experience.
9. It Exposes Your Brand to a Larger Customer Base Than Ever
Given that so many different platforms are starting to use visual search. Your product has a better chance than ever of reaching a larger number of users.
However, to do so, you'll need to list your product both online and on Amazon and Pinterest. This will increase the chances of your product appearing in search results.
10. Combination Of Online & Offline Buying For A Multichannel Shopping Experience
Customers increasingly expect a multichannel shopping experience. And visual search caters to their desire to transition seamlessly between the online and offline worlds.
E.g., Tommy Hilfiger's visual recognition app. It enabled the brand's fans to shop for items straight from the 2017 Tommy Hilfiger show in Los Angeles. That resulted in customers spending twice as much time on Tommy Hilfiger's e-commerce site.
11. Acquire Consumers' Attention By Standing Out From The Crowd of Competitors
It cannot be easy to stand out on Google with so many e-commerce stores.
However, since visual search is still relatively new, it helps firms differentiate themselves from the competition and ensure that customers see items from their product catalogs.
How To Optimize Your Website For Visual Search?
You must optimize your website and product images to improve the chances that your product will appear in visual searches. And to do so, you should follow the tips provided below. Or you can hire a Local SEO Agency to help you with this task.
– Include SEO keywords in your website's images
– Design a website with plenty of images
– Always include alt text in your image captions.
– Use the right file formats and sizes for your images
– Whenever necessary, add captions to your images
– Make use of high-resolution images
– Ensures that images appear on your sitemap
Conclusion
As more of our favorite apps and sites integrate visual search, it will soon become a routine aspect of life. Visual search provides some intriguing new marketing prospects to which brands should react.
And if you're a brand trying to boost website traffic & conversion, you shouldn't just be aware of visual search queries—you need to work hard to seize this important market.
If you need help doing this important task, you may hire a qualified Digital Marketing Agency. At Windzoon, we offer a wide range of Digital Marketing Services. Our skilled and experienced SEO specialists can help you optimize your website for visual search. To get a quote for our digital marketing services and to learn more about us, please visit windzoon.com.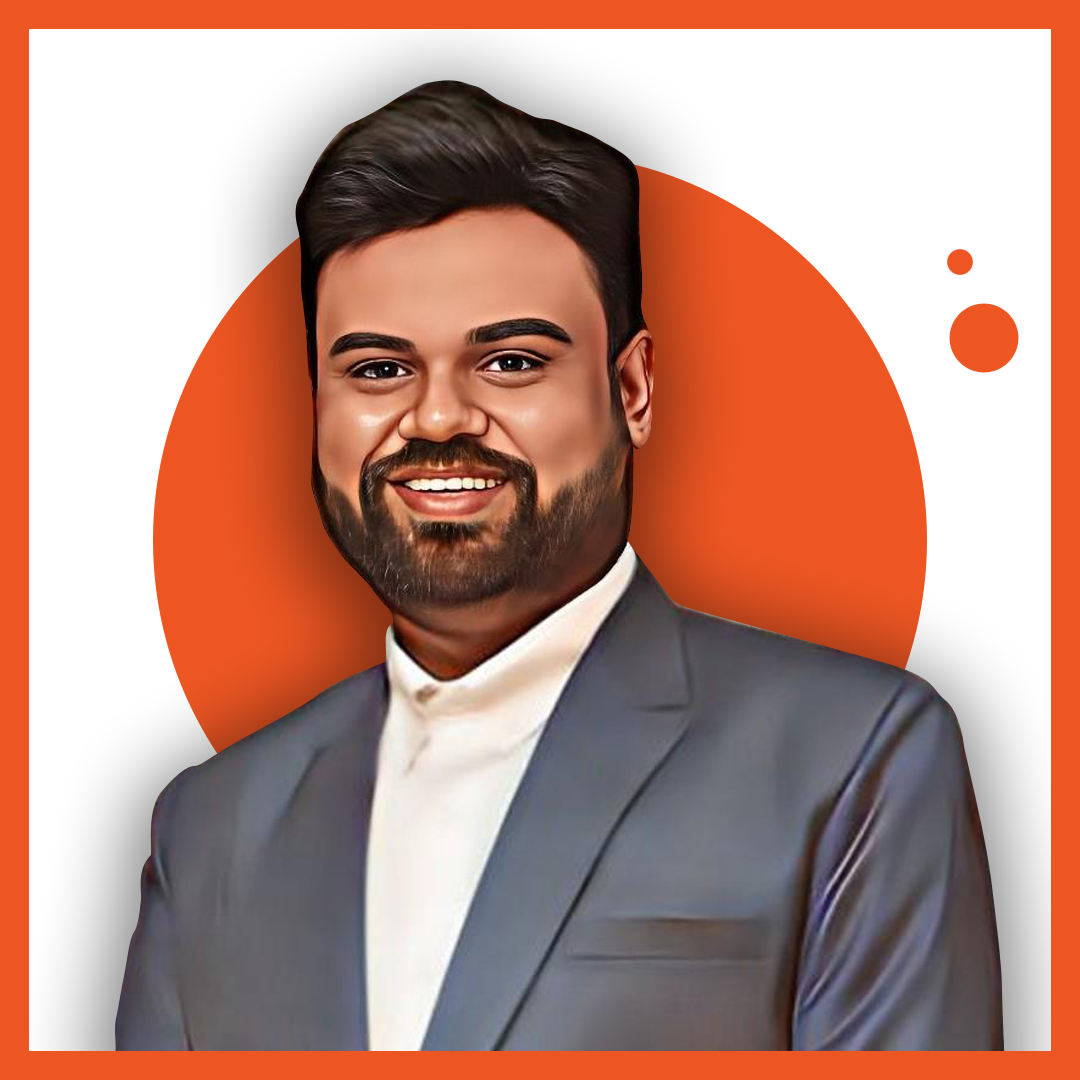 Nilesh Pujara is the CEO & Founder of Windzoon Technologies. He is mastered in computer application but his love for IT and marketing has driven him toward the field of digital marketing. Nilesh Pujara is handling the operations of a digital marketing strategist for more than 10+ years and has expertise in SEO, SMO, & PPC.