Artificial intelligence, deep learning, and neural networks – these once seemed like the exclusive domain of tech giants like Google, Facebook, and Amazon. But with the emergence of OpenAI, these cutting-edge technologies are now within reach for developers of all levels.
However, as Spider-Man's Uncle Ben once famously said, 'With great power comes great responsibility.' OpenAI integration in web development can bring a wealth of benefits, but also comes with its own set of challenges and ethical considerations.
As a leading web app development company in India & the USA, in this blog, we'll take you for a deep dive into the benefits and drawbacks of integrating OpenAI into web app development. So grab a cup of coffee, sit back, and let's explore the fascinating world of OpenAI together!
So first, we will learn about some significant advantages of integrating OpenAI into web app development.
Benefits of OpenAI's Integration in Web App Development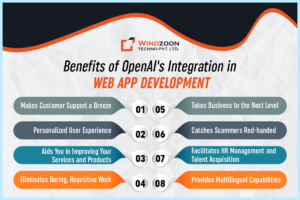 Here, are the major benefits you will avail of by integrating OpenAI into web development projects.
1. Makes Customer Support a Breeze
Incorporating OpenAI in customer support can make things a whole lot easier for businesses. By automating responses to frequently asked questions, OpenAI can lighten the load of customer support staff, freeing them up to handle more complicated issues.
Plus, chatbots powered by OpenAI can deal with multiple customer queries at once, which means faster response times and happier customers. As who doesn't love a quick and helpful response when they're in need?
2. Personalized User Experience
With OpenAI, businesses can create a personalized user experience by analyzing user behavior and preferences. This can help businesses provide tailored recommendations and suggestions to users.
For example, if you like a certain type of shoes, an online shop can use OpenAI to recommend similar shoes that you might love. That way, you can discover new things that fit your style perfectly.
Hence, by providing a personalized user experience, businesses can keep customers engaged and happy, which can lead to more sales.
3. Aids You in Improving Your Services and Products
You can gain a significant edge by integrating OpenAI in web development because it offers insightful data on user behavior and preferences.
Utilizing OpenAI, you can examine user data to identify patterns and trends that can guide your decision-making regarding product development and marketing tactics.
For instance, if you run a food delivery service, OpenAI can assist you in analyzing client feedback and pinpoint areas where your service can be improved. By upgrading your product or service, you can attract more clients and expand your business.
4. Eliminates Boring, Repetitive Work
Consider working on a project where you are required to repeatedly write the same code. Not only is it monotonous, but it takes a lot of time. In this situation, OpenAI can help. With its sophisticated natural language processing and machine learning capabilities.
OpenAI is trained to produce code snippets based on the project's requirements. As a result, developers won't have to spend excessive hours on boring and repetitive activities.
For instance, OpenAI may be used to automatically produce HTML & CSS code for web page layouts, saving developers considerable time and boosting productivity.
With OpenAI, you can focus on more fascinating tasks that need human ingenuity and problem-solving abilities while leaving the tedious job to the computers.
5. Takes Business to the Next Level
OpenAI can help take your biz to the next level. But how? Well, this tech wizard can automate tasks that bog you down and help you focus on what really matters: growing your company!
Plus, it's like having a crystal ball that shows you what your customers want and where your business can expand.
For example, if you run an online store, OpenAI can go through your customer data and tell you which markets to target next. With OpenAI on your side, you'll be able to scale your operations and rake in more money than ever before!
6. Catches Scammers Red-handed
OpenAI can be a great tool for businesses to catch those sneaky scammers by analyzing their sketchy behavior patterns. This helps businesses to avoid fraud and keep their customers' personal data safe and sound.
For instance, a bank can use OpenAI to go through transaction data and immediately spot any suspicious activities. By catching fraudsters in the act, businesses can prevent losses and maintain their customers' trust.
7. Facilitates HR Management and Talent Acquisition
Do you know what's a real pain in the neck for any HR executive? Going through heaps of resumes in search of the perfect individual.
Fortunately, OpenAI can make things simpler by assisting businesses in streamlining talent acquisition and human resource management. Businesses can save time and money while ensuring the best applicants are hired by automating the recruitment and screening procedures.
So, rather than sifting through resumes for hours, an HR department can use OpenAI to automate the process and identify the most qualified candidates for a job. With this kind of assistance, businesses can cut costs while increasing overall efficiency.
8. Provides Multilingual Capabilities
OpenAI is like a super-powered translator that can help businesses talk to customers and employees in different languages.
So if you're trying to expand your biz overseas or just want to give your customers some love in their native tongue, OpenAI can help.
For example, if you've got a customer service team, they can use OpenAI to chat with customers in their own language, which is gonna make those peeps feel super appreciated.
Bottom line – OpenAI's multilingual skills can help your biz connect with more people and provide better service.
Now, we will get to know about some key downsides of integrating OpenAI into web app development.
Drawbacks of OpenAI's Integration in Web App Development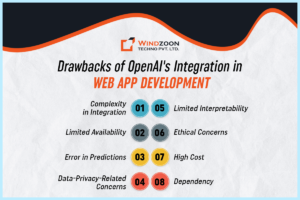 Here, are several drawbacks that must be considered when integrating OpenAI into web development projects.
1. Complexity in Integration
So let's talk about the first thing you should be aware of before diving into OpenAI integration for your web app – it can get pretty complex! You need to have a decent amount of technical knowledge to properly integrate OpenAI tools into your app.
If you're not familiar with machine learning or AI technologies, it can be a bit intimidating. As integration requires an understanding of the tool's API, configuration and customization. Hence, it's not exactly a walk in the park, especially for beginners.
2. Limited Availability
Another bummer about using OpenAI in web development is its limited availability. Since it's still a relatively new technology, not all of its features are widely available to everyone.
For instance, the GPT-3 and 4 language model is currently only accessible to a select group of beta testers, and even then, there's a long waitlist to get in.
This can be frustrating and slow down the development process for AI-powered web apps. It's like trying to bake a cake without all the necessary ingredients – you're bound to run into some issues.
3. Error in Predictions
Now, let's talk about one of the potential pitfalls of using OpenAI in web development – errors in predictions.
Look, we all know that AI isn't perfect, and neither is OpenAI. Sometimes, it can be wrong in its predictions, which can cause issues for web apps that rely on accurate results.
For example, OpenAI's image recognition algorithms may not always correctly identify objects in images or videos which could be problematic for apps that need precise object identification.
While OpenAI is constantly improving, it's important to be aware of its limitations and the potential for errors.
4. Data-Privacy-Related Concerns
Next, we'll talk about something that's always important: data privacy. When it comes to integrating OpenAI into web development, privacy concerns can be a real issue.
Using AI technology in web development can create potential privacy issues, particularly when handling sensitive information. Developers must take appropriate measures to prevent data breaches and ensure that their apps comply with relevant data privacy regulations.
As it's crucial to keep your user's information safe and secure while still utilizing AI technology to its full potential.
5. Limited Interpretability
When it comes to using OpenAI in web development, one thing to keep in mind is that it has limited interpretability.
In other words, it may be challenging to understand how an AI model generates its predictions. This might produce trust issues between users and developers since, after all, how can you trust something you don't understand?
Additionally, developers must be able to explain to users how their AI-powered web apps function. But given the mystery surrounding the models that support these apps, that can be a real challenge.
6. Ethical Concerns
Another letdown of integrating OpenAI in web development is the ethical concerns that come with it. As AI becomes more widespread, there's a risk that it could be misused or abused.
We need to make sure that it is not used for nefarious purposes, like discrimination or reinforcing harmful biases.
Thus, developers need to be aware of these risks and take action to ensure that their apps are ethically sound. So, use AI for good, not evil!
7. High Cost
Another crucial thing to consider when integrating OpenAI in web development is that it can be pretty pricey.
Since the technology is still fresh and not yet widely accessible, developers may need to shell out some cash for expensive hardware or cloud computing services to access OpenAI's tools and tech.
And that can definitely be a major roadblock for smaller businesses trying to break into the AI game.
8. Dependency
Finally, one potential drawback of OpenAI integration in web development is dependency.
When developers rely heavily on OpenAI tools and technologies, they may become too reliant on them, which can create a dependency that is difficult to break.
If OpenAI were to go out of business or discontinue a particular tool or service, it could leave developers scrambling to find alternative solutions.
Conclusion
OpenAI has the potential to revolutionize web app development and bring about a new era of innovation and efficiency. It has both advantages and disadvantages when it comes to web app development.
As with any new technology, it is up to developers and users alike to approach OpenAI with caution and awareness, while also embracing its incredible potential. As the famous quote by William Gibson goes, "The future is already here – it's just not evenly distributed." Let's make sure that OpenAI is distributed in a way that benefits everyone.
If you need any help incorporating OpenAi into your web app development, then you can always count on us.
Windzoon is a prominent web development services provider in India & the USA with more than a decade of experience developing web apps for varied business models. To leverage our best-in-class services, reach out to us and get a quote.
Dharati Thakkar is professional PHP web developer with more than 8+ years of experience. She is mastered in computer application and started her career as a PHP developer. Dharati Thakkar has expertise in Laravel and many other PHP frameworks and likes to write blogs on this disciplines.