https://windzoon.com/flutter-app-development-company/
Unleash the power of Flutter for creating future-proof cross-platform apps for both iOS & Android
Flutter is a Google-powered mobile app SDK for building dynamic native interfaces for iOS and Android. With a single codebase, it delivers the finest cross-platform app development. With some amazing features like Hot reload and widget libraries, Flutter enables developers to create stunning native apps at record speed.

As a well-known Flutter app development company, Windzoon is passionate about creating stunning and feature-rich mobile apps that are tailored to your company's unique requirements. Connect with our expert consultant to learn more us & get a quote.

Enter the world of cross-platform functionality with bespoke Flutter App Development Services
Since we started in this field more than ten years ago, we have completed more than 50 projects effectively. Our skilled Flutter app developers provide end-to-end services for developing Flutter apps, including conception, creation, deployment, and maintenance.

Custom App Development with Flutter
Our team consists of knowledgeable and talented Flutter app developers. They are skilled at using cutting-edge technology to build custom cross-platform applications with a dynamic and secure architecture.

Flutter App UI/UX & Design
We use the expressive and adaptable UI of the framework as we design your Flutter applications. Our designers offer a native user experience that encourages engagement by combining conditional UI with animations.

Flutter App Ideation & Consulting
Our skilled Flutter app developers consult with you to understand your product vision, decide how to best align Flutter with your company goals, and guarantee rapid business growth and enhanced ROI.

Flutter Cross-Platform App Development
We are skilled at creating cross-platform hybrid apps with refined features. Our team has hands-on experience with cross-platform programming, which performs smoothly on several devices and saves time and money.

Flutter for Web Development
Flutter is a great platform for creating web apps like PWAs or SPAs as well as porting your current mobile app to the web. Leverage our services, We'll stand by your side by aiding you with the right talent at the right time.

Flutter App Maintenance and Support Service
Regardless of the complexity level, we provide round-the-clock maintenance and support for Flutter apps. By providing support for performance and security audits, bug fixes, and app upgrades.

Flutter App Migration & Upgradation
Our skilled developers at Windzoon can update your mobile apps in all aspects, whether it's re-structuring an old legacy mobile app or migrating one from another platform to Flutter for improved UI and UX.

Flutter App Testing & QA Service
Not only do we design apps, but we also provide flawless ones. Every Flutter app we create is extensively tested at every level of development, & our QA experts make sure that our clients get a high-quality, bug-free application.
Flutter App Development- Benefits beyond your imagination
As it comes with a fully equipped & sophisticated widget, framework, and tool; Flutter's incredible benefits enable developers to efficiently develop appealing apps for the iOS and Android platforms. Below, we have presented a few more exciting benefits of Flutter app development for your consideration.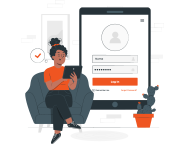 Extensive Widget Library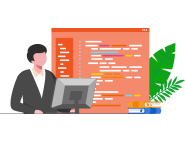 Single-Base Coding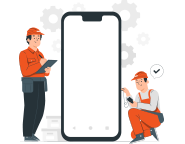 Easy Maintenance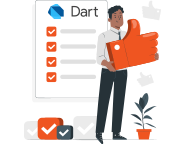 Dart Advantages
What makes Windzoon the best Flutter app development company?
Since 2017, Windzoon has assisted businesses in creating an exceptional cross-platform app to improve automation and process management. Hire Flutter app developers from us to construct avant-garde enterprise-level mobile apps. By collaborating with our talented & dedicated Flutter mobile app developers, your business will reap the advantages listed below.


Transparency
We offer a 100% transparent policy to keep you updated with the development process.

Experienced Developers
We have a robust team of experienced techies who can build a unique and versatile business website.

Timely Delivery
Our team makes a point that they deliver your project on or before time with the finest quality.

Consistency & Client Satisfaction
We keep the quality consistent throughout the development process and satisfy all your business needs.

Secured Solutions
We keep your data and website's security first and carefully protect them throughout the procedure.

Scalable & Future Ready
We build websites that have a robust architecture that offers great scalability and drive traffic to your site smoothly.
Project Execution Models for Flutter App Development
Looking for the best hiring model for Flutter app development? Hire a Flutter App Developer from us and take advantage of our superb recruiting models to accomplish your enticing goals
Fixed Cost
This model ensures that a fixed budget is set, regardless of the time & expertise spent. This model allows you to develop and stick to a specific budget.

Dedicated Hire
This particular model mostly works for projects that are likely to extend for a long period and requires multiple resources working simultaneously.
Hourly Model
Under this model, you can hire our developers for a fixed number of hours to complete the work. The hourly model is much more preferred by small to short-term projects.

Resources On-site
For a close-knit team that requires to upgrade their resources on-site and needs to have an expert on emergency bases to match up the deadlines.

What People Say About Windzoon
"We are truly impressed! Their social media marketing & SEO team is too excellent. All the deliverables were on time. Everything was well organized to perfection!

The team was constantly our support in the whole process of generating leads!"
ASL London John
"It is a pleasure working with Windzoon I admire the devotion & determination your team showed to revamp my website!

I highly recommend these guys for your next web design or development project!"
Kal Petkoff
"Windzoon team is quite impressive & very prompt in replying to our doubts & queries. They always come up with good & practical ideas, that helped us expand our business globally. They never forget to give us weekly reports & insights into the whole marketing process.

Our experience with the windzoon team has been amazing!"
Shivnext Snax, India
What exactly is a Flutter?
Google's Flutter is an open-source framework for building dynamic, high-performance mobile apps for iOS, and Android. Flutter, written in Dart, utilizes a single codebase and turns it into native machine code for mobile, desktop, & online platforms.
What makes Flutter different from other cross-platform platforms?
Building native apps for Android and iOS with Flutter takes approx. one-third the time of other rival frameworks such as React Native and Xamarin. Therefore, when compared to other cross-platform frameworks, Flutter is the fastest. Other characteristics that set Flutter unique from other frameworks are
The only SDK that provides reactive views without a JavaScript connection is Flutter.

The UI of Flutter is significantly more performant and lightweight.

Within the framework, you can reuse Java, Kotlin, Swift, or Objective C codes.

The Hot Reload function accelerates the development of the software.

Numerous open-source packages that make any complicated activity simpler

You can eventually incorporate Flutter into your current application as a library or module.
What level of performance can I anticipate from the Flutter app?
Your Flutter app will perform natively on iOS, Android, desktop, and web platforms.
Can I incorporate Flutter into my current native app?
With minimal effort, our mobile Flutter developers can incorporate newly produced Flutter libraries or modules into your current app. Furthermore, we can use Dart logic to render the module for use in the already-existing app.
Which apps have been created using Flutter?
Flutter is the engine behind the mobile apps used by Google Ads, Xianyu by Alibaba, Reflectly, Watermaniac, Hamilton, Birch Finance, and more companies.
How much time and money does it take to create a simple Flutter application?
A custom Flutter app might cost between $1.5k and $9k. Nevertheless, it could change depending on the project's functional requirements and nature. The needs and expectations of the client will also affect how long it takes to build a Flutter. A Flutter app normally takes 20 to 25 days to develop.
Who will I communicate with during the project's construction?
Your project will be given a project manager who will be in charge of communicating with you. He or she will manage all correspondence and let the staff know about your requirements and feedback.
Can my Flutter app be changed after it has been released?
Yes, it is highly likely that after it has been released, your Flutter application may see a few minor upgrades, modifications, and bug fixes. We at Windzoon also provide our clients with 24/7 maintenance and support services.
Could you assist us in uploading our Flutter apps to the App Store?
Yes, after it is created, our staff will post the app to the App Store. This project's inception, development, testing, upkeep, and upload to the App Store platform are all within the control of our team.
Do you make NDAs and provide IP protection for my project?
Yes, we do make non-disclosure agreements with our clients. So that you can be certain that your Flutter app development project will be completely yours, including the NDAs, source code, copyrights, intellectual property rights, etc.
@ Copyright 2023
Windzoon.
- Web Development Company India. All Rights Reserved