https://windzoon.com/laravel-web-development-company/
Reframe your platforms with Laravel Framework
In your quest for a Laravel Development Company in India, look no further. Windzoon Techno stands as your gateway to harnessing the true power of Laravel.

Our seasoned Laravel developers have been instrumental in crafting tailor-made Laravel web solutions. At Windzoon, we don't just build web applications; we sculpt digital masterpieces.

Why Choose Laravel?

Laravel is one of the most distinguished PHP-based open-source frameworks, known for its elegant syntax and unmatched expressiveness.

With Laravel, you have the canvas to create marvelous online platforms that stand out. But the artistry of Laravel development requires skilled Laravel coders, and that's where we come in.

Your Partner in Laravel Excellence

Windzoon Techno Private Limited is your go-to destination to hire dedicated Laravel developers. We understand that while you focus on your business, your Laravel-based project needs a dedicated team that knows the framework inside out. Leave your Laravel-based product to us, and watch your vision come to life.

Elevate Scalability and Impact

Our Laravel developers excel in bringing complex functionalities and innovative features to life on Laravel-based platforms. We're not just here to build systems; we craft high-quality custom Laravel systems that scale and make a significant difference.

Partner with Windzoon Techno, and let's embark on a journey of digital excellence together. Your vision, our expertise—let's build something extraordinary.

Bespoke Laravel web development services
Welcome to the realm of Windzoon Techno's top Laravel development services, where we transform your digital dreams into reality. Our expertise in offering extraordinary Laravel development services empowers us to elevate your online presence, ensuring that your brand, business, or project shines brightly in the digital world.

Your Vision, Our Craftsmanship

Our journey together starts with a profound understanding of your unique requirements and objectives. Every web project is a canvas for your vision, and our mission is to bring that vision to life.

With skilled experts with years of experience and a flair for innovation, we stand ready to cater to your diverse needs.

The Windzoon Approach for Laravel Web Development

Our full-stack Laravel development process is a carefully woven tapestry that encompasses strategic planning, design, development, and quality assurance.

It commences with strategic planning, where we immerse ourselves in your goals, weaving a bespoke strategy that aligns seamlessly with your vision.

Subsequently, we progress to design and development, where our adept experts breathe life into your concepts, crafting visually striking websites and robust back-end systems.

Quality is the bedrock of Windzoon Techno. Every facet of your project undergoes rigorous testing for functionality, performance, and security. Only when we are certain that your digital masterpiece is in perfect harmony, do we deploy it with precision, making it accessible to your target audience.

However, our commitment doesn't conclude with deployment; we offer continuous support and maintenance to keep your online presence optimized and secure.

Let's take a closer look at the best-in-class Laravel services provided by us.

Laravel Customization Service
Tailor your Laravel-based platform from scratch by identifying your goals and charting a roadmap for a unique online portal that aligns perfectly with your requirements.

Laravel eCommerce Website Development
Immerse yourself in the realm of eCommerce development with a tailor-made website based on Laravel, ensuring seamless performance across various devices.

Laravel CRM Development
Gain valuable business insights with our Laravel-based CRM system, offering real-time business tracking and future forecasting at your fingertips.

Laravel API Integration
Seamlessly connect multiple systems from various web apps, ensuring they work in perfect harmony through integrated Laravel API.

Laravel Progressive Web Apps
Experience the art of progressive web apps with our Laravel web app development services, promising an intuitive user interface and optimal performance.

Laravel Extension Development
Craft feature-rich Laravel extensions for innovative software that adheres to specific standards and consistently delivers exceptional results.

Laravel Data Migration & Upgrades
Transition to the Laravel framework or upgrade your web applications from older Laravel versions to the latest Laravel 9.0, unlocking a world of possibilities.

Laravel Maintenance & Support
Our commitment to your success extends beyond project completion. Our dedicated maintenance team offers round-the-clock support, ensuring your website remains optimized and secure, allowing your business to thrive without interruption.
How Laravel is game changer for your product
Imagine a world where your digital product or platform possesses the transformative qualities of global giants like BBC, Disney+, or Laracast. What do they have in common? The answer lies in their strategic utilization of the Laravel framework—a game-changer that has propelled them to unparalleled success.

Laravel isn't just another framework; it's a catalyst for your software development journey. When harnessed effectively, Laravel combines the prowess of cutting-edge technology with the artistry of skilled developers, creating a formula for triumph in the custom software development landscape.

One of Laravel's remarkable attributes is its scalability. Whether you're developing a web app from scratch or seeking to enhance an existing one, Laravel's flexibility and adaptability ensure that your product can grow seamlessly with your evolving needs.

Also, in the digital age, security is paramount, and Laravel takes this aspect to heart. With built-in security features, including robust encryption, authentication systems, and protection against common vulnerabilities, your digital venture remains fortified against threats. The result? Peace of mind, knowing that your product is shielded in an increasingly complex online world.

Furthermore, Laravel expedites the development process without compromising quality. Its elegant syntax and readily available tools facilitate swift coding, reducing development time and costs. This efficiency translates into an earlier product launch, enabling you to seize opportunities in the market promptly.

In essence, Laravel isn't just a framework; it's your partner in digital innovation. Windzoon Techno leverages the full potential of Laravel to elevate your product, ensuring that it stands out, scales effortlessly, and remains secure in an ever-changing digital landscape. With Laravel and Windzoon Techno, your success story is waiting to be written.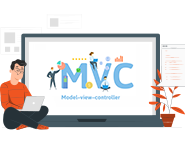 MVC Architecture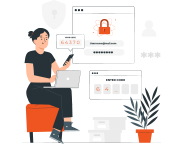 Top User Authentication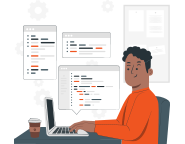 Quick Modular Development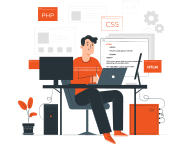 Most Secure PHP framework
Laravel and Team Windzoon match made in heaven
When it comes to choosing one from lots of Laravel development companies, you deserve a partner who not only understands the intricacies of this secure and adaptable framework but also has the dedication to rescue and enable even the most complex projects.

At Windzoon Techno Pvt Ltd, we embrace this challenge wholeheartedly, drawing inspiration from our namesake, the revered Lord Hanuman, who epitomizes unwavering determination.

We may not claim to be the most intelligent minds in the field, but our strength lies in our relentless resolve to overcome all obstacles and deliver innovative & custom web solutions. Our commitment to your success is unwavering, and here's why you should choose us:

Extensions Expertise
Our team has extensive experience building Laravel extensions, augmenting the functionality and features of Laravel-based applications. Our deep expertise in this area enables us to provide innovative solutions that enhance your web applications.

Customization Crafts
Quality is the cornerstone of our Laravel coding practices. We uphold the highest coding standards, ensuring that your Laravel projects are built with precision and care. Our commitment to quality results in innovative web solutions that are robust, scalable, and maintainable.

Incredible Invulnerability
Security is a top-notch priority in our development process. Our developers possess in-depth knowledge of Laravel's security features and follow industry best practices to ensure that your Laravel projects are highly secure and resilient against potential threats.

Accurate Architecture
Our skilled developers have a profound understanding of Laravel's architecture. This knowledge allows us to design and develop web and mobile solutions with well-structured and scalable architectures, ensuring that your projects are built on a strong foundation.

Turnaround Time
Drawing from our extensive experience in Laravel development solutions, we are able to deliver projects with shorter turnaround times without compromising on quality. This allows you to get your web or mobile apps up and running quickly.

Amazing Automation
We leverage automation throughout the project lifecycle, streamlining processes and ensuring efficiency. This approach enables us to deliver projects with precision and consistency, from concept to launch. As well as it also makes us your suitable tech partner in your web development quest.
Laravel project execution mode
When it comes to Laravel web development services, we understand that flexibility is key. We offer various project execution models to cater to your specific needs.

Whether you require a fixed cost model for well-defined projects, dedicated resources for long-term endeavours, hourly models for quick fixes, or on-site resources for closer collaboration, Windzoon Techno Pvt Ltd has the right approach to ensure your Laravel projects are executed seamlessly. Your convenience and project success are our top priorities.
Fixed Cost
Ideal for projects with well-defined requirements and minimal likelihood of changes during the project progression, the Fixed Cost Model ensures predictability and cost control. This model is particularly suitable for clients who have a clear project scope and budget in mind. With a fixed cost arrangement, you can rest assured that your project will be delivered within the agreed-upon budget and timeline.

Dedicated Hire
For projects that are likely to extend over a longer duration and require multiple resources working simultaneously, the Dedicated Hire Model is the perfect choice. This model provides you with a dedicated team of experts who are exclusively focused on your project. It's an excellent fit for complex mobile and web development projects that demand ongoing development, maintenance, and support. With a dedicated development team at your disposal, you can achieve seamless project execution and meet your long-term objectives.
Hourly
Sometimes, projects require quick fixes, upgrades, or post-production support. In such cases, our Hourly Model offers flexibility and cost-effectiveness. You pay for the actual hours worked, making it an efficient choice for addressing specific project challenges without committing to a fixed project scope. Whether you need minor adjustments or enhancements to your existing web solution, the Hourly Model ensures you get the support you need when you need it.

Resources On-site
For teams that require close collaboration and the expertise of an on-site expert, our Resources On-site Model comes to the rescue. This model is particularly valuable when you need to upgrade your resources on-site, work closely with your team, and have an expert available on an emergency basis to meet tight deadlines. It offers the flexibility to have a knowledgeable resource on-site when required, ensuring seamless project management and execution.

What People Say About Windzoon
"We are truly impressed! Their social media marketing & SEO team is too excellent. All the deliverables were on time. Everything was well organized to perfection!

The team was constantly our support in the whole process of generating leads!"
ASL London John
"It is a pleasure working with Windzoon I admire the devotion & determination your team showed to revamp my website!

I highly recommend these guys for your next web design or development project!"
Kal Petkoff
"Windzoon team is quite impressive & very prompt in replying to our doubts & queries. They always come up with good & practical ideas, that helped us expand our business globally. They never forget to give us weekly reports & insights into the whole marketing process.

Our experience with the windzoon team has been amazing!"
Shivnext Snax, India
Insights from the world of Laravel
Stay at the forefront of the Laravel web development industry with our insightful blogs. Dive into a world of knowledge, where we share the latest news, emerging technologies, and trends. Our well-researched articles are your gateway to staying informed about the ever-evolving landscape of Laravel development.
Explore topics that matter, gain valuable insights, and harness the power of information to enhance your Laravel projects and make informed decisions. Join us on this journey of continuous learning and innovation in the world of Laravel.
What is Laravel development services?
Laravel development services refer to the process of creating web applications using the Laravel PHP framework. These services encompass a wide range of tasks, including web application design, development, customization, integration, migration, and ongoing maintenance. Laravel development offers a robust and efficient way to build secure, scalable, and feature-rich web applications for various purposes, from e-commerce platforms to content management systems.
Which big companies are using Laravel to develop their web app?
Several prominent companies have adopted Laravel for their web application development needs. Some notable examples include BBC, Disney+, and Laracasts. These organizations have leveraged Laravel's powerful features and capabilities to create high-performing and user-friendly web applications that meet their specific requirements.
How do I hire a Laravel developer?
Hiring a skilled Laravel developer involves several steps. You can start by defining your project requirements and budget. Then, you can explore various options such as hiring freelancers, working with a Laravel development agency, or recruiting in-house developers. When hiring, assess candidates' expertise, experience, and portfolio. Conduct interviews and review their past work to ensure they are the right fit for your project.
4. What Laravel services do you offer?
At Windzoon Techno Pvt Ltd, we offer a comprehensive range of Laravel services, including:
Laravel web application development
Laravel customization and extension development
Laravel e-commerce website development
Laravel CRM system development
Laravel API integration
Laravel migration and upgrades
Laravel maintenance and support
Laravel extension development
Our team of experienced Laravel developers is dedicated to delivering tailored solutions to meet your specific business needs.
How much does it cost to develop a basic Laravel website?
The starting price to develop a customized Laravel website is around $3.5k. It may differ with the project and its functional requirements.
How long does it take to develop a website?
The development time for a website can vary significantly based on your project's complexity, features, and customization requirements. However, as a general guideline, a typical Laravel website development project may take around 20 to 30 days to complete. The timeline can be shorter or longer depending on specific project needs, such as the number of features, integration with third-party services, and design complexity.
What mode of payment do you use?
We offer flexible payment options to accommodate your preferences. Our accepted modes of payment include online banking, Stripe, and PayPal, ensuring a convenient and secure payment process for our clients.
I want to redesign my website with the latest version of the Laravel PHP framework, can you help me?
Certainly, we can assist you in redesigning your current website using the latest version of the Laravel PHP framework. Our experienced team of Laravel developers will work closely with you to understand your redesign objectives and ensure that your website not only benefits from the latest technology but also enhances its functionality and user experience.
Do you provide maintenance & support services even after the development?
Yes, we offer 24/7 maintenance and support services to ensure your website continues to operate optimally even after the development phase concludes. Our expert Laravel developers are available to address any issues, apply security patches, and provide ongoing support to keep your website running smoothly.
Do you offer security patches and bug-fixing services?
Absolutely. At Windzoon Techno Pvt Ltd, we provide continuous maintenance and support services for your Laravel website. This includes offering security patches and promptly addressing any bugs or issues that may arise. Our dedicated team of developers ensures the security and reliability of your web application throughout its lifecycle.
@ Copyright 2023
Windzoon.
- Web Development Company India. All Rights Reserved