https://windzoon.com/pay-per-click/
PPC Marketing company for Increased Conversions
PPC- Pay-per-click marketing is another sort of internet marketing in which advertisers only pay for traffic generated by clicks & impressions on an advertisement campaign. With the assistance of the top pay-per-click advertising company, you may receive the fastest and most flexible means to promote your business in front of your chosen audience.

Windzoon Techno Private Limited is a top PPC company in India, with over a decade of expertise and Google AdWords certification. We offer carefully constructed PPC campaigns to our clients to manage their sales. Our customized campaigns assist you in achieving your professional goals and remaining within your budget.


Enhance your consumer reach & profitability with the leading PPC Marketing Company
As a prominent PPC advertising company, we provide a wide range of digital advertising services. Whether you're looking to advertise on Google, Bing, Facebook, or any other social media network, our skilled team of PPC experts can develop a plan that produces excellent outcomes in terms of enhancing your reach & profitability.

Google Campaign Setup
We offer entire Google campaign preparation services, from keyword research through bidding process setup, Ads copywriting and campaign launch. Our digital marketing professionals prioritize the best channels for your brand's PPC campaign to make it more effective and successful.

Google Search Network & Display Ads
Subscribe to our search network & display ads services. Our PPC artisans will create tailored display/banner & search network ad campaigns for your brand to make it appear across the Google Search Networks and most popular online sites, portals, and applications.

Google Shopping (eCommerce) Ads
Shopping ads are popular for driving sales to an e-commerce site. If you own an e-commerce store, we can assist you with shopping ads on Google that will help you successfully increase your revenues from search results.

Google Youtube Video & App Ads
YouTube advertising, also known as in-stream adverts, has a huge potential for expanding your reach. Utilize our YouTube video & app advertisement services to create the most compelling video ad campaigns that will increase your brand recall value and also increase your app installation.

Google Local Business Ads
Google local business ads are ideal for plumbers, restaurant owners, locksmiths, and other service providers. Leverage our creative local business ads services to use the PPC strategy for local prospects and increase your company's visibility in that region.

Google Remarketing Ads
Utilize our remarketing Ads services to target users who have already visited your website. Our well-crafted campaign will promote your brand offerings to the right users at the right time in order to re-engage lost customers and build your brand value.

Bing / Microsoft Ads
Utilize Bing/Microsoft Ads services from our PPC management firm. Our skilled PPC executive will design a campaign to precisely target the demographics of your target market in a conversion-optimized way to improve the traffic and leads to your website.

Social Media Ads
Social media sites like Twitter, LinkedIn, Facebook, and Instagram feature social ads. Leverage our social media advertising services to get your business to the top of search results. Our compelling content gets people interested in your social media ads and generates more leads.
Harness the amazing benefits of Pay-Per-Click by teaming up with a prominent PPC Advertising Company
Pay-per-click is a form of paid advertising that organizations utilize to increase brand awareness, publicize their products, and draw the attention of particular audience. As customers seek answers to every question online, this is a surefire strategy for reaching the appropriate customer at the right time with the right products.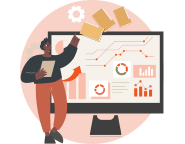 Easy to Measure and Track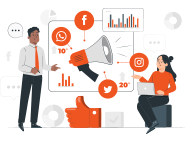 Works Well with Marketing Channels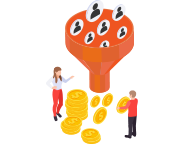 Reach Audiences Cost-effectively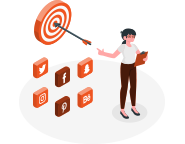 Enables Smart Retargeting
Stay one step ahead of your competitors with the best PPC Agency in India & USA
Setting up PPC campaigns is simple, but achieving the target conversion rate and ROI is difficult at best. We have 11+ years of expertise in digital marketing and have completed 50+ PPC projects effectively. Our sole aim is to provide our clients with result-driven PPC services that not only drive regular, money-making traffic but also keep their brand ahead of their competitors.

Attention to Details
We pay attention to even a tiny miny detail and the timelines of scheduling campaigns. This eliminates every error.

Agile Technical Support
We always goes that extra mile to make sure that our clients are not facing any technical hassle.

On-time Delivery
We aim to deliver our projects on-time without compromising on the quality.

Weekly Reporting
As we step into a new week, we share with you a detailed report on your leads, sales, engagement, and how much is spent.

Certified PPC Experts
We are a team of Google Certified PPC experts and craft campaigns that makes way for your business.

Comprehensive PPC Audit
We deliver an in-depth PPC audit, evaluate the performance and make your campaign more compelling.

What People Say About Windzoon
"We are truly impressed! Their social media marketing & SEO team is too excellent. All the deliverables were on time. Everything was well organized to perfection!

The team was constantly our support in the whole process of generating leads!"
ASL London John
"It is a pleasure working with Windzoon I admire the devotion & determination your team showed to revamp my website!

I highly recommend these guys for your next web design or development project!"
Kal Petkoff
"Windzoon team is quite impressive & very prompt in replying to our doubts & queries. They always come up with good & practical ideas, that helped us expand our business globally. They never forget to give us weekly reports & insights into the whole marketing process.

Our experience with the windzoon team has been amazing!"
Shivnext Snax, India
Get the latest information on the PPC industry with our in-depth articles
Our detailed and well-written PPC articles will keep you up-to-date on the current industry news and developments.
Answering some of your most frequently asked questions regarding PPC
What is PPC?
Pay-per-click (PPC) advertising is a method of online advertising in which advertisers only pay when a user clicks on an advertisement. PPC ads can be found on websites, search engine results pages, & social media platforms.
What are services for PPC?
PPC marketing services provide professional management of your PPC strategy and campaigns for a set charge. This management may include creating a plan, managing bids, writing ad text, and other things.
What is included in PPC services?
PPC advertising services help businesses to remain competitive in a crowded market and gain quick access to their target audience. Here is the list of activities that come under PPC advertising. 
PPC Activities
Do detailed study about the nature of the business & its marketing requirements

Keywords research to reach maximum audience

Landing page optimization

Campaign creation ( creating ad groups, making ads, adding extensions )

Copywriting for advertisement

Negative keywords research

Campaign optimization & maintenance
How do I pick the finest PPC management firm for my company?
Make sure to choose a PPC management company for your company that is a seasoned and dominant force in its industry, has a solid reputation in the marketplace, and is a suitable fit for your organization and its requirements.
How long before you start getting good results from a PPC campaign?
Results vary depending on a variety of factors, including the budget you have kept for managing your PPC campaign, your target audience, market competition, and the approach you decide to use for your campaign optimization.
Results will eventually become apparent, but keep in mind It naturally takes time to improve your company's brand visibility and increase conversions.
Should I prioritize SEO above PPC or vice versa?
The question of whether PPC or SEO is better for business growth is frequently raised. However, the best option between SEO and PPC will be determined by your objectives, growth plans, and other marketing techniques.
If you need targeted traffic, clicks, and conversions right away, paid search is your best bet. Organic SEO should be high on your priority lists if you want to achieve long-term objectives like brand credibility, visibility, and business expansion at a fair budget. Experts concur that you shouldn't use these tactics independently. Instead, figure out how to integrate them to help your business.
How do I get in touch with the PPC team handling my project?
You can reach the PPC team working on your project by phone, chat, skype, or email.
How much does managing a PPC campaign cost?
The cost of managing a PPC campaign is determined by your objectives and the outcomes you hope to achieve. Please contact us for a precise estimate.
@ Copyright 2023
Windzoon.
- Web Development Company India. All Rights Reserved