https://windzoon.com/react-native-app-development-company/
Hire React Native App Developers to promote your brand by fusing your business objective with the renowned React Native Framework
React native is a versatile and comprehensive framework that makes it easier to create native mobile apps for several platforms, including iOS, Android, and Windows. Since it was first introduced in 2015, this framework—which was developed by Meta and is used by famous apps like Facebook, Walmart, Instagram, Skype, Airbnb, & Tesla—has gained enormous popularity.

It offers a myriad of advantages to businesses along with some distinctive capabilities that permit the development of apps with aesthetically pleasing UI & dynamic UX. However, to make the most of this outstanding platform, team up with a renowned React Native App Development Company in India & USA.
Our team of skilled developers at Windzoon is capable of building any sophisticated application with a slick user interface. Get in touch with us to develop avant-garde apps that will cater to your business needs.

Stay ahead of the competition with customized React Native App Development Services
Our React Native app development company provides cutting-edge bespoke services to meet your specific business needs & industry trends.

Custom App Development with React Native
We have a team of skilled and experienced React Native app developers. They are adept at creating bespoke cross-platform applications with a dynamic and secure architecture by using the advanced technology.

React Native App UI/UX & Design
For an app to achieve high end-user engagement, the UI/UX must be appealing. Our professional UX/UI experts and designers will ensure that your users have an amazing design experience whenever they use your app.

React Native App Ideation & Consulting
Our react native mobile app developer meets with you to learn about your product vision, determine the best way to match React Native with your business objectives, and assure quick business growth and improved ROI.

React Native for MVP Development
React Native is the best and most cost-effective framework for testing and validating your idea. Our expert team of React Native developers can create an effective MVP to help you on your way to a market-worthy product.

React Native Widget Development
Our React Native developers have extensive experience in creating widgets for a variety of devices. Our group of talented developers has expertise and knowledge in developing dynamic widgets in accordance with business needs.

React Native App Maintenance and Support Service
We provide React native app maintenance & support around the clock. Our skilled React Native app developers will assist you with post-project modifications and maintenance issues to ensure effective results & consistent ROI.

React Native App Migration & Upgradation
Our skilled engineers can update your mobile apps in all aspects, whether it's through re-structuring an old legacy mobile app or moving one from another platform to React Native for an enhanced UI and UX.

React Native App Testing & QA Service
We don't just create apps; we deliver flawless ones. Our QA specialists ensure that every React Native app we develop is thoroughly tested at all stages of development and that our clients receive a high-quality, bug-free product.
Exhilarating benefits of React Native app development
React Native is an app development framework with powerful functionality that allows you to create cutting-edge mobile apps for the Android, iOS, & Web platforms. It is one of the fastest growing programming languages adopted by numerous developers worldwide. Here are just a few amazing advantages of using React Native while creating apps: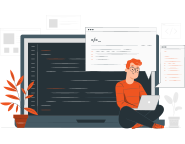 Code Reusability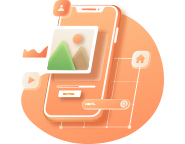 UI-Focused Interface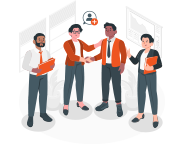 Extensive Community Support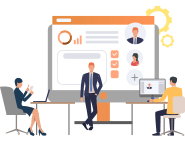 Comprehensive Libraries
Why choose Windzoon for your React Native app development project?
We are experts at creating high-quality cross-platform apps efficiently, precisely, and effectively while incorporating native functionality and features. Leverage our top-tier React Native app development services to stay ahead of the curve and gain access to efficient, cross-platform mobile app development that is technologically advanced, scalable, and performant.

Transparency & Integrity
We believe in exhibiting integrity and transparency by following all the NDA rules.

On-time Delivery
We have a successful record of delivering all our projects within the liable time frame.

Extensive Technical Knowledge
Our experts have 7+ years of robust experience in helping you build state-of-the-art solutions.

24X7 Availability
We are round the clock available to fix all your issues and help you with our best assistance.

Assisted Diverse Range of Clients
Our team has experience of assisting a diverse scale of businesses and having them navigate through their audience.

Priority to Your Needs
We have a team of dedicated developers whose concern is to help you with all your business requirements.
Project Execution Models for React Native App Development
Collaborate with skilled React Native app developers by leveraging our adaptable hiring models. And get dynamic mobile app solutions with a plethora of features for the most cost-effective price.

Fixed Cost
This model ensures that a fixed budget is set, regardless of the time & expertise spent. This model allows you to develop and stick to a specific budget.

Dedicated Hire
This particular model mostly works for projects that are likely to extend for a long period and requires multiple resources working simultaneously.
Hourly Model
Under this model, you can hire our developers for a fixed number of hours to complete the work. The hourly model is much more preferred by small to short-term projects.

Resources On-site
For a close-knit team that requires to upgrade their resources on-site and needs to have an expert on emergency bases to match up the deadlines.

What People Say About Windzoon
"We are truly impressed! Their social media marketing & SEO team is too excellent. All the deliverables were on time. Everything was well organized to perfection!

The team was constantly our support in the whole process of generating leads!"
ASL London John
"It is a pleasure working with Windzoon I admire the devotion & determination your team showed to revamp my website!

I highly recommend these guys for your next web design or development project!"
Kal Petkoff
"Windzoon team is quite impressive & very prompt in replying to our doubts & queries. They always come up with good & practical ideas, that helped us expand our business globally. They never forget to give us weekly reports & insights into the whole marketing process.

Our experience with the windzoon team has been amazing!"
Shivnext Snax, India
Continue to expand and update your knowledge with our well-researched blog-posts
Our in-depth articles on React Native app development will keep you updated with the most recent news and technological breakthroughs in the Mobile app development field.
Answers to the Most Frequently Asked Questions Regarding Services for React Native App Development
What is React Native?
In 2015, Facebook launched the open-source React Native framework for creating mobile applications. It enables the developers to make use of the native platform features of the framework and renders apps on several platforms using a single codebase. It comes with a plethora of pre-built core components and APIs that you may utilize in your apps.
What benefits can you expect from developing React Native apps?
React Native is quite popular with businesses for a number of reasons:
Re – usability of code

User interface that is comparatively easier

Assistance with third-party plugins

Flexible architecture

Both live & hot reloading

Optimal functionality

A significant developer community
These are some of the primary reasons why businesses choose to hire react native developers for their app needs.
Why should you use React Native to build your next mobile app?
React Native allows developers to utilize the same codebase for both Android and iOS apps because it is a cross-platform app development framework. It not only simplifies future updates and maintenance but also dramatically cuts down on development time and cost. In addition, new technologies and app features may be readily introduced to the codebase without any repetition or downtime.
Why should I use React Native instead of native app development?
Native apps can only be used on the platform they were designed for, such as Android or iOS. However, React Native apps can function on any mobile or online platform. With React Native, you can create an app that works across all platforms and devices with a single development effort.
How long and how much does it take to make a straightforward React Native application?
The cost of a customized React Native app might range from $1.5k to $9k. However, it may vary based on the nature of the project and its functional specifications. The time it takes to construct a React Native app will also depend on the client's requirements and expectations. The development of a React Native app typically takes 20 to 25 days.
With whom will I communicate when the project is being constructed?
A project manager will be assigned to your project who will be in charge of corresponding with you. He or she will handle all correspondence and communicate your needs and feedback to the team.
Is it possible to modify my React Native app after it has launched?
Yes, it is very possible for your React Native application to experience minor updates, tweaks, and bug fixes after it has been launched. At Windzoon, we also provide our customers with round-the-clock maintenance and support services.
Would you help us upload our React Native applications to the App Store?
Yes, once the app has been developed, our team will upload it to the App Store. Our team is in charge of every facet of this project, including its conception, creation, testing, maintenance, and upload to the App Store platform.
Do you make NDAs and give additional IP protection for my project?
We do, in fact, make non-disclosure agreements. Therefore, you can be sure that your React Native app development project will be entirely yours, including any NDAs, source code, copyrights, intellectual property rights, etc.
@ Copyright 2023
Windzoon.
- Web Development Company India. All Rights Reserved