https://windzoon.com/iphone-app-development-company/
Thrive your business with our best-in-class iOS application development service
iOS is a well-known mobile operating system, with an intuitive interface and robust security. This cutting-edge platform offers exceptional customer support and assists in the safest possible expansion of your business. By revamping your outdated business application with iOS, you can attract clients from all around the world.

So, harness the full potential of iOS by joining hands with a renowned iOS app development company. Windzoon has a decade of industry experience and has developed a wide range of iOS apps for a variety of clients. Hire an iOS App Developer from us to create cutting-edge iOS apps that can meet your diverse business needs and ambitions.

Upgrade your business app with our state-of-the-art iOS app development services
We have a hand-picked team of iOS app developers who has successfully executed 25+ enterprise-grade projects. By hiring our full-stack iOS app developers you can avail of our bespoke iOS app development services.

Custom iOS App Development Service
We provide sophisticated custom iOS apps with unique features that meet users' expectations. Hire iOS app developers from us who can comprehend your business's needs and provide contextual app solutions.

iOS App UI/UX Design Service
Our UX design team has extensive experience in core graphics, touch handling, gestures, and animations. Avail of our UI/UX design service to create picturesque interfaces and interactive experiences for your iOS app.

Swift iOS App Development Service
Swift is regarded as one of the most innovative and fast-paced iOS app development technologies. Subscribe to our iOS development services to build secure, robust, and functional iOS apps using Swift technology.

iOS Wearable App Development
We at Windzoon create ingenious, responsive, & dynamic Apple Watch apps that provide the best wearable experiences for your customers. We can build any app, whether it be for mobile payments, travel, or fitness.

Hybrid iOS App Development
We can create hybrid apps with user-friendly features that run on both the iOS and Android platforms. Our team has hands-on experience with hybrid development, utilizing frameworks such as Flutter, React Native & Ionic.

iOS App Porting Service (Other to iOS Migration)
Our expert iOS developers at Windzoon provide hassle-free iOS App Porting Services. We aid you in migrating your app from other platforms to your the most recent iOS platform or to upgrade the current version of your iOS app to the latest iOS version in the market.

App Maintenance and Support Service
Every iPhone application is supported by a team of professionals who are available 24 hours a day, seven days a week. These professionals help clients with bug administration and the seamless deployment of iPhone applications.

iOS App Testing & QA Service
We don't just make mobile apps; we deliver flawless ones. Our QA experts make sure that every iOS app we create is thoroughly tested throughout all phases of development and that the clients receive a high-quality, error-free product.
Elevate the growth of your business with the prominent iOS App Development Company
High quality, robust security, and the potential to make money are all attributes of iOS applications. As a result of iOS's reputation for offering exceptional performance & innovation, it has maintained a strong hold on its users. Here are a few more reasons why your company requires iPhone app development services for its expansion: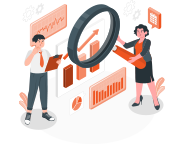 High-end Scalability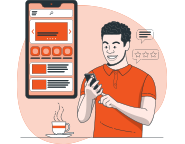 Flexible User-Interface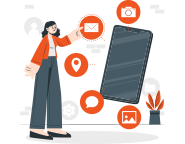 Flawless App Features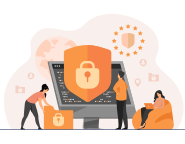 Data Confidentiality Assurance
Know which benefits you'll get by choosing Windzoon for iOS App Development Project
As a well-known iOS app development company with more than 25 enterprise-grade projects under our belt, we're committed to offering our customers the best service possible. Our development team keeps an eye on emerging technologies such as ML, IoT, & AI to integrate them into our development work. Hire iOS App Developers from us, and let us handle the burden of iOS project development for you.

Professional Excellence
We are a team of dedicated professionals who are excellent in what they deliver.

Agile Research
We believe in the step of planning and researching to ensure that we deliver the best quality.

Best Design & Codes
We deliver complete customized designs and codes that responsively support your website on all devices.

Post-launch App Management
We take care of the complete product lifecycle seamlessly. Our experts manage your product even after the launch.

Consistent Quality
We consistently deliver high-quality and revenue generating products with luminous features.
Enterprise Integration
We provide efficient enterprise integration to your iOS app with systems like SCM, ERP, CRM, and HRM.
iOS App Development Project Execution Model
We provide a variety of engagement models to suit your needs and expectations. Hire skilled iOS developers from our experienced iOS app development team, which is led by talented team leaders and project managers.
Fixed Cost
This model ensures that a fixed budget is set, regardless of the time & expertise spent. This model allows you to develop and stick to a specific budget.

Dedicated Hire
This particular model mostly works for projects that are likely to extend for a long period and requires multiple resources working simultaneously.
Hourly Model
Under this model, you can hire our developers for a fixed number of hours to complete the work. The hourly model is much more preferred by small to short-term projects.

Resources On-site
For a close-knit team that requires to upgrade their resources on-site and needs to have an expert on emergency bases to match up the deadlines.

What People Say About Windzoon
"We are truly impressed! Their social media marketing & SEO team is too excellent. All the deliverables were on time. Everything was well organized to perfection!

The team was constantly our support in the whole process of generating leads!"
ASL London John
"It is a pleasure working with Windzoon I admire the devotion & determination your team showed to revamp my website!

I highly recommend these guys for your next web design or development project!"
Kal Petkoff
"Windzoon team is quite impressive & very prompt in replying to our doubts & queries. They always come up with good & practical ideas, that helped us expand our business globally. They never forget to give us weekly reports & insights into the whole marketing process.

Our experience with the windzoon team has been amazing!"
Shivnext Snax, India
What aspects should you take into account when choosing an iOS app development company?
When selecting an iOS development company, there are many things to take into account, such as their development methodology, past projects, reviews from previous clients, employee strength, etc.
What programming language do you use in your company to create iOS applications?
To create native iOS apps, we use the programming languages Swift and Objective C. Swift is our preferred language for creating iOS apps because of its quick development time. And for cross-platform, we use React Native and Flutter for cross-platform app development.
What tools are used for creating iOS applications?
We make use of the newest third-party services that have been approved by Apple as well as the most widely used tools, languages, and libraries. As an illustration, consider Swift, Xcode, TestFlight, InApp purchases, Maps, Media, Locations, Notifications, and many others.
What kinds of iOS/iPhone apps have you previously created?
Being the leading iOS app development company, we have created nearly all types of iOS apps, which are represented by numerous finished websites. The following are a few of the several iOS app development projects we have successfully completed:
Travel & Tourism

Social networking

eCommerce

Health & Hospitality

Retail 

Fintech
How long and how much does it take to develop a simple iOS app?
A custom iOS app can cost anywhere between $1.5k and $9k. It may, however, change depending on the project and its functional requirements. Furthermore, the client's needs and expectations will influence how long it takes to build an iOS application. A typical iOS app, on the other hand, will take 20 to 25 days to develop.
What steps can you take to ensure the quality of your iOS project?
Quality work is our goal as a well-known iOS App Development Company. If you hire us, your project will go through several departments, including design, development, quality assurance, and testing. This will ensure the most effective results.
How can I communicate with the development team working on my project?
You can communicate with the development team via phone, chat, skype, & email.
What am I supposed to do if I require any modifications in my iOS app development by your company?
Our team consists of experienced and professional iOS programmers. They'll always help you with the modification. We possess the necessary aptitudes, information, and expertise to preach even the most complicated changes.
Do you provide maintenance & support services even after the development?
Indeed, we provide free support & maintenance services for a certain period after the completion of the project. After that certain period also we will be there to provide maintenance & support services at nominal charges.
Do you make NDA and provide other IP protection for my project?
Yes, we do make Non-Disclosure Agreements. So, rest assured you will have complete ownership of your iOS app development project, including NDA, Source code, Copyright, Intellectual Property rights, etc.
@ Copyright 2023
Windzoon.
- Web Development Company India. All Rights Reserved