The emergence of new technology and innovations has become a part of our daily lives. We all have accepted that "technological changes are constant". And we all are very open-minded about that.
However, that open-mindedness and acceptance only last till it doesn't start to replace our jobs. Because once technology started to become a replacement for our job we all get weary and fearful about its impending arrival.
And nowadays, Artificial Intelligence has evolved as the biggest job replacer in so many sectors. As per the report, it will replace the equivalent of 300 million jobs across various industries. And UI & UX design is considered one of such industries. The use of AI in UI/UX design has created a significant threat to the employment of UI/UX designers.
But is that true?  Does AI actually help or hurt UI/UX designers? And is its implementation into UI & UX design truly advantageous, or does it have any drawbacks? What kinds of AI tools are on the market for UI/UX design?
As a leading Web Design Company in India and the USA, we will give you answers to all of these questions with many more. And provides you with detailed information about AI involvement in UI/UX design and will satisfy all your curiosity.
What is Artificial intelligence?
Artificial intelligence (AI), often known as machine intelligence, is a subfield of computer science. It focuses on creating and controlling technology that can decide for itself what to do and how to do it without human intervention.
AI is not a singular technology. Instead, it is an umbrella word for any form of software or hardware component that enables machine learning, computer vision, natural language understanding, natural language production, natural language processing, and robotics.
Additionally, AI is used in a variety of industries, including finance, healthcare, and autonomous cars as well as virtual assistants. Although AI has advanced significantly, the goal of developing real human-like intelligence remains unmet, spurring innovation and influencing the direction of technology.
Step-by-Step Evolution of AI
The evolution of AI may be understood by classifying it into three divisions depending on the human features it seeks to mimic:
Weak or Narrow AI: These are AI systems created to carry out a certain activity without the aid of humans. These systems concentrate on one job at a time and do not immediately transfer their expertise to other jobs. Currently, this describes the majority of AI.
Strong or general AI: This refers to machines with the capacity to learn a variety of tasks and have an understanding of the world comparable to that of humans. However, this kind of AI is still in its early stages of research.
Super AI: This category refers to fictitious AI systems that are capable of performing any task better than a human. Super AI systems are not only able to comprehend human emotions and experiences, but they can also express their own emotions, opinions, and desires.
After examining the many stages of AI development, we can conclude that the technology is currently halfway between the narrow AI and general AI levels. And it will take some time for it to fully advance to the general AI level.
Let's now describe the next issue and determine whether AI is helpful or detrimental.
7 Benefits of Using AI in UI & UX Design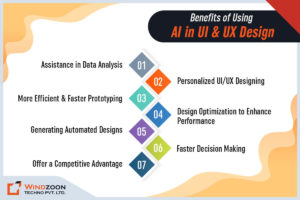 1. Assistance in Data Analysis
Incorporating AI into UI and UX design has many advantages, one of which is its capacity to significantly aid in data analysis. AI algorithms can effectively handle and analyze the massive amounts of user data that are currently available to derive valuable insights.
Additionally, through comprehending consumers' behavior, preferences, and interactions, designers can gain important insights into their wants and expectations. Design professionals may make informed judgments and produce user experiences that cater to particular user groups or personas using this data-driven approach.
Designers can create a seamless and customized user experience by ensuring that their designs are in line with customer expectations thanks to AI's data analysis skills.
2. Personalized UI/UX Designing
In today's UI and UX designs, personalization has emerged as a crucial component. To enable individualized design experiences, AI technology is essential. AI can utilize machine learning algorithms to assess user data and produce user personas or profiles.
This analysis considers a number of variables, including user preferences, previous behavior, demographic data, and contextual data. Designers may produce interfaces that adapt to and serve the needs of different users based on these ideas.
Individualized UI/UX design improves customer satisfaction, engagement, and overall experience. Users feel appreciated and understood because it fosters a sense of exclusivity and customisation. Designers can create highly relevant and targeted experiences with the help of AI-powered personalisation, which improves user retention.
3. More Efficient & Faster Prototyping
The UI/UX design process includes prototyping, and AI can greatly increase its effectiveness and speed. AI-powered prototyping tools use algorithms to produce interactive prototypes based on design inputs.
Designers can save time and effort by using these tools to automatically convert wireframes or design concepts into working prototypes. With AI, designers can rapidly test various interactions, iterate and improve their concepts, and get feedback more quickly.
Additionally, by using a streamlined prototyping procedure, designers can find potential design issues or advancements early on, resulting in more effective design cycles and eventually better final products.
4. Design Optimization to Enhance Performance
AI algorithms can optimize designs to improve usability and performance. AI can spot patterns and trends that have an impact on user experience by analyzing user interactions.
It can identify usability problems like unclear navigation or items that take a long time to load and offer suggestions for fixing them. AI-driven design optimization aids designers in locating opportunities to improve the user experience. And that results in enhanced customer satisfaction and improved performance.
Designers may make sure that their interfaces continue to be pertinent and successful in fulfilling user expectations by regularly evaluating and optimizing designs based on user input and real-time data.
5. Generating Automated Designs
Artificial intelligence (AI) has the capacity to produce automated designs based on established rules and criteria. Designers can input user needs, branding standards, and design limits into AI-powered tools to automatically generate a variety of design possibilities.
In addition to saving time, this automated design creation approach encourages creativity by offering designers a variety of potential design options. AI-generated designs act as a springboard for additional amplification and personalization. Additionally, it makes it possible for designers to swiftly and effectively examine many options.
This mix of AI automation and human creativity leads to unique and visually appealing designs that connect with the brand and meet consumer needs.
6. Faster Decision Making
Making swift, well-informed decisions is essential in the fast-paced world of UI and UX design. AI can help designers make judgments more quickly and based on data. AI systems can offer insights and predictions about user preferences and behavior by studying user data.
This knowledge enables designers to assess design options and make decisions based on facts rather than conjecture. By examining user input or carrying out automated usability testing, AI can also assist designers in identifying potential problems or places for improvement in the design.
Design iterations may be made more quickly and designs can be improved thanks to the application of AI. AI shortens the time needed for decision-making and offers insightful information.
7. Offer a Competitive Advantage
Companies can significantly increase their competitive edge by using AI in the UI and UX design processes.
Businesses that prioritize AI-powered design may provide extraordinary user experiences that set them apart from their rivals in today's digital market, where user experience is a crucial differentiator. Companies can gain a competitive advantage by attracting and retaining consumers, fostering brand loyalty, and expediting design workflows through personalizing interfaces, enhancing performance, and optimizing workflows.
Businesses may utilize AI to keep ahead of shifting customer expectations, adjust to emerging trends, and continuously improve their goods and services based on data and insights that are available right away.
Is AI in UI/UX design truly as accurate and impactful as it seems?
AI is entirely dependent on the algorithms that people have developed, and since people are prone to error by nature, so is AI. As previously stated, AI is still in its early stages, therefore you can easily guess its accuracy. Isn't that questionable?
Since more and more content and design decisions are being made based on AI-driven insights, it is crucial to thoroughly verify any advice and data that the technology offers before implementing it into your brand's unique digital offerings.
Do not be concerned. Because Google Search, our trusted online companion, is still available to us for fact-checking AI-generated design and content insights.
Do not fret! Because Google Search, our trusted online buddy, is still available to us for fact-checking AI-generated design and content insights.
Besides, AI is a fantastic ally for UX researchers and designers when they need to gather information quickly and perform work at scale. However, for high-quality research, it's still preferred to stick with conventional online UX design techniques.
7 Drawbacks of Using AI in UX & UI Design

1. Lack of Understanding
AI's intrinsic lack of comprehension is one of the main disadvantages of employing it in UX and UI design. Although AI systems are capable of analyzing enormous amounts of data and spotting patterns, they find it difficult to fully understand human emotions, motives, and cultural quirks.
Design choices frequently call for a thorough understanding of user psychology and behavior, which AI may lack. Because of this restriction, designs may not emotionally connect with users or adequately meet their fundamental requirements.
2. Lack of Control
It may be difficult for designers to maintain control over AI-driven design processes. AI algorithms can generate design recommendations or even automate specific design activities, lowering the amount of manual input necessary from designers.
However, this can result in a loss of creative autonomy and the possibility of impersonal designs. Designers might be forced to rely significantly on AI-generated proposals, which would limit their capacity to experiment with alternate design solutions or push the envelope.
3. Bias Concerns
Since AI systems learn from data, biases or constrained viewpoints in the training data may be perpetuated in the design process. This raises serious questions regarding equity, inclusivity, and diversity in UX and UI design.
AI-generated biased design recommendations may lead to accidental exclusion or discrimination against particular user groups. To promote inclusive and equitable user experiences, designers must be careful in identifying and correcting any biases in AI-generated design recommendations.
4. Lack of Human Creativity
While AI excels in pattern detection and efficiency, it struggles to match the breadth of human creativity. Design is a highly creative field that necessitates unconventional thinking, trying out novel concepts, and taking intuitive risks.
While AI can help with creating design possibilities based on current patterns, it might not be able to come up with really ground-breaking and original solutions, which only human designers are capable of conceiving. AI may struggle to reach the originality and distinctiveness that human creativity brings to designs.
5. Dependence on Technology
Designing UX and UI with a lot of AI can lead to a dependency on the technology. AI algorithms for decision-making, prototyping, and even producing design concepts may cause designers to become unduly dependent on them.
This dependence may make it more difficult for the designer to use critical judgment, believe in their gut, and make the most of their particular talents and experience. To retain a comprehensive and person-centred approach to design, it is crucial to achieve a balance between AI support and human design intuition.
6. Lack of Personalization
Modern UX and UI design place a strong emphasis on personalization because people want experiences that are suited to their specific wants and needs. While AI algorithms are excellent at evaluating vast datasets and seeing trends, they can find it difficult to fully understand the unique quirks of each person.
AI-driven personalisation may fall short of genuinely comprehending and satisfying each user's specific needs, resulting in impersonal or generic experiences. In order to create individualized experiences, designers must take into account the limitations of AI and work to complement it with human-centred design methodologies.
7. Data Privacy and Security
AI generates insights and suggestions using enormous amounts of consumer data. However, this reliance poses issues with data security and privacy. Designers are responsible for ensuring that user data is handled sensibly, following data protection laws, and putting in place strong security measures.
The integrity of the design process may be jeopardized if these issues are not addressed. Users' privacy should be respected, and data security should be given top importance in AI-driven design procedures.
AI in UI/UX: Is it a Companion or Competitor of Designers?
AI as a Companion of Designers
AI may become excellent friends with UI/UX designers in the following ways:
By provisioning automation, AI frees designers from doing mundane tasks such as resizing images, organizing files, or creating templates.
AI-powered tools give designers a leg up in the design process by making design recommendations and assisting in the development of their creativity.
In order to help designers iterate designs more quickly and effectively, it also gives them real-time feedback regarding the design combinations and decisions they make.
Designers may create better interfaces with the support of AI-powered analytics tools that provide them with insights into user behavior and preferences.
In accordance with recent data, in the previous quarter, approximately 93% of web designers used AI technologies for design-related tasks. the source of From which:
58% of designers used it to create images or other asset designs;
Following that, 50% of designers utilized it to create full websites;
Another 49% of designers experimented with the design using AI;
While 43% of designers employed AI to improve their designs;
Following that, 40% of designers utilized it to judge the quality of their work;
Finally, the last 20% of designers used it for the UX audit.
So it speaks a lot about AI being a companion of UI/UX designers.
AI as a Competitor of Designers
There are several ways in which AI could be viewed as a threat to UI/UX designers:
Since AI commonly automates many UI/UX design processes, it might ultimately replace UI/UX designers who just have rudimentary expertise (although that day is yet in the future).
It's also not a good idea to rely too heavily on AI because it could lack human emotions and critical thinking when it comes to meeting user demands.
Since AI is overly reliant on data, it may ignore the subjective and qualitative parts of the design.
It might be constrained by biases because of the reliance on algorithms and particular datasets.
In other words, over-dependence on AI may be detrimental to UI/UX designers and even businesses due to its poor conversion potential. However, no matter how intelligent AI gets, you can become a better designer by developing some regular routines that will help you with your UI/UX design.
Here, therefore, is a glimmer of hope for UI/UX designers. Since we understand the solution, which is to combine human and artificial intelligence to improve the effectiveness and results of UI/UX design, we can move forward with it.
5 Top Approaches for Implementing AI in UI/UX Design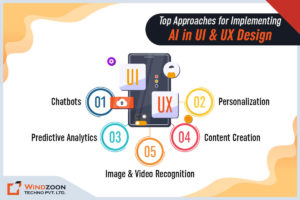 1. Chatbots
Chatbots are one of the most significant areas where AI can be applied in UI/UX design. Chatbots are conversational agents powered by AI that can communicate with and support users. Chatbots can help customers navigate a website, offer customer service, and respond to frequently asked inquiries. Chatbots can increase user interaction and lighten the pressure on customer service departments.
2. Personalization
AI may assist designers by evaluating user data and behavior to generate customised user experiences. AI algorithms can evaluate user data like as browser history, search queries, and social media activity to learn about the user's preferences and personalize the user experience accordingly. And personalization can boost customer happiness and user engagement.
3. Image and Video Recognition
Pictures and videos can be analyzed using AI algorithms to determine their content. To enhance user experience, image and video recognition can be employed in UI/UX design. For instance, an online store may employ picture recognition to enable users to conduct product searches using photographs. Image and video recognition can also be used to evaluate user-generated content in order to better understand user behavior and preferences.
4. Predictive Analytics
Another area in UI/UX design where AI can be applied is predictive analytics. Data analysis is used in predictive analytics to forecast future events. AI systems can examine user data to forecast user behavior and offer tailored advice. Predictive analytics, for instance, can be used by an e-commerce site to make product recommendations based on a user's browsing and buying patterns.
5. Content Creation
Blog posts, social media posts, and product descriptions can all be produced using AI algorithms. AI algorithms can assist designers in reducing the amount of time spent on content production while also enhancing the quality of the output. Based on user information and behavior, AI-generated content can also be tailored.
A Look at the Most Popular 5 AI-Powered UI/UX Design Tools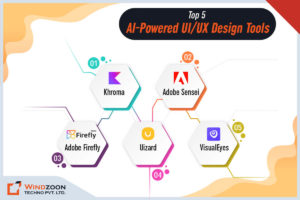 1. Khroma
Khroma is an AI color application for designers that helps them identify and save color schemes they use regularly.
The application generates an automated palette for native designs by applying AI to identify a color scheme that the developer prefers or frequently uses. Color is a crucial component for graphic designers and has an impact on the quality of their work.
The software is simple to use. Simply click the "Create Palette" button to generate a palette using the colors you've selected. Additionally, you can choose colors from images that you snap or upload.
2. Adobe Sensei
It can act as your helper while you work on creative projects, assisting you in achieving photorealistic effects, discovering relevant content with an intuitive search, and carrying out other tasks.
It offers very realistic visuals and enables you to make the necessary modifications quickly and precisely. Also, the direct search makes it even easier to find the needed material. Given all of these attributes, Adobe Sense is a very crucial tool for tech-savvy designers.
3. Adobe Firefly
With its generative fill function, Adobe Firefly, an AI/ML-powered image editing tool, elevates Photoshop to a new level by enabling you to replace background images and image parts with an exact and realistic image feel.
To insert the new element into the design, simply choose the specific region in the image, then select the generative fill option, type the type of element you want to fill into the search box, and eureka, your photorealistic masterpiece is complete.
It enables you to produce graphics for UI/UX designs, social media campaigns, and much more.
4. Uizard
Uizard is an AI-powered UI/UX design and prototyping tool that enables designers to quickly generate app UI/UX designs. The best part is that any designer, even those with only a little experience, may use this tool to create visually appealing designs.
All they have to do is choose the device they are designing for, explain the project in simple terms, and then specify the design aesthetic they require. Then, with only one click, it will produce amazing design mockups.
The Uizard software can even produce a realistic graphic representation of that screen from your preliminary app wireframe design.
5. VisualEyes
An AI-powered design feedback product called VisualEyes is more comparable to Grammarly for content. By emulating eye-tracking research and preference testing, it assesses your UI design and promises to provide predictions with an accuracy of 93%.
It puts your design through three rounds of testing: Attention Map, Clarity Score, and Areas of Interest.
Using this tool, you can develop aesthetically amazing UI/UX design by conducting A/B testing of your design options, quick preference tests, accurate design assumptions, understanding areas where people can spend more time looking at a design, and reducing clutter in a design.
Conclusion
AI has the ability to transform UI/UX design by offering insights, automating activities, and delivering personalized experiences. It can boost productivity, enhance user experience, and provide businesses with a competitive edge.
However, designers must be cognizant of the drawbacks of adopting AI, such as a lack of understanding, data privacy and security, bias, dependence on technology, and expense.
Nevertheless, it is unlikely that AI will ever surpass human ingenuity. As it can be used as a designer's assistant to quickly create beautiful user interfaces and save a lot of time for user research to provide a fantastic user experience.
At Windzoon, we have a team of imaginative UI/UX designers who constantly push AI with their ingenuity and comprehend the needs of our clients.
Contact us to avail of our best-in-class web design services and get a quote.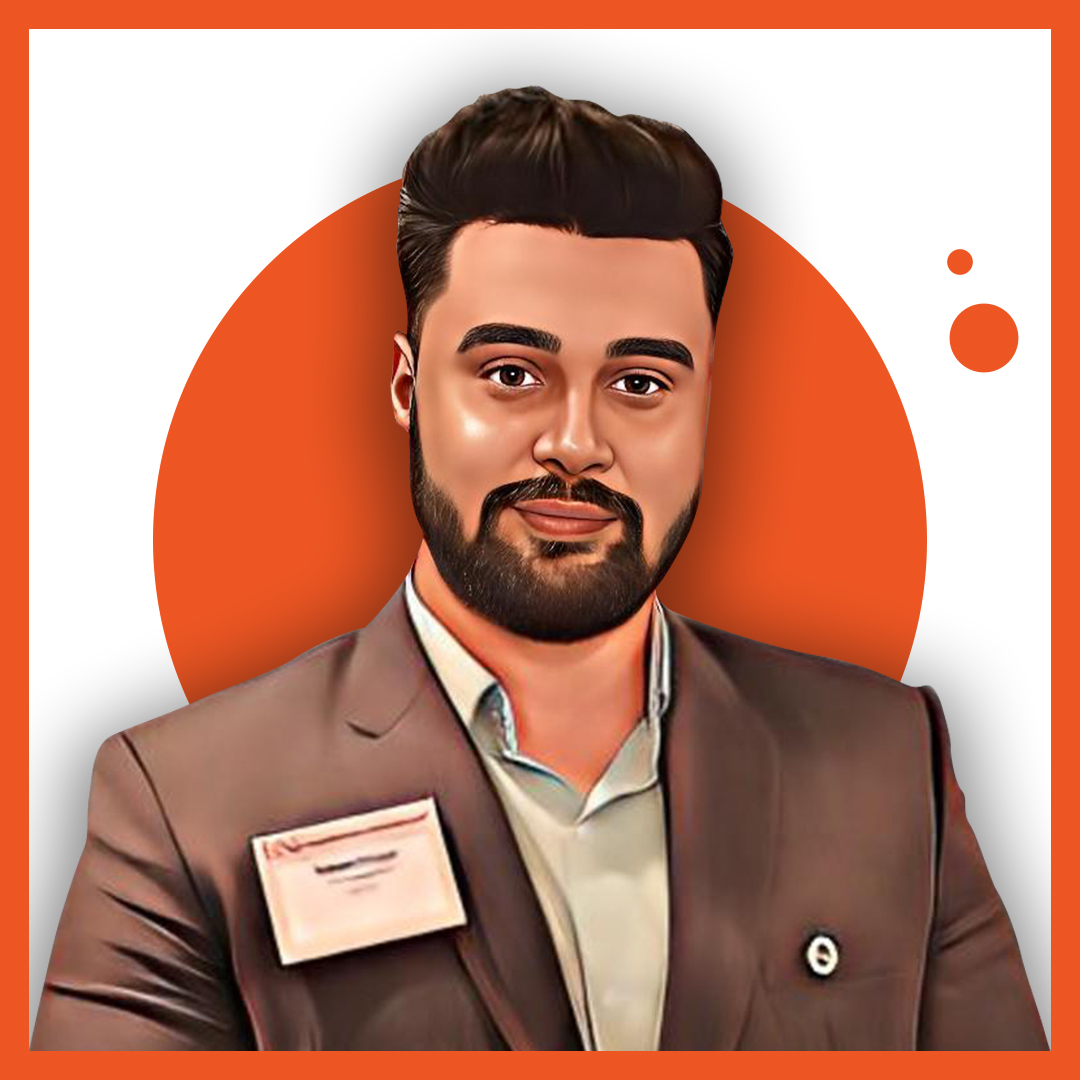 Soham Trivedi is a co-founder of Windzoon Technologies and has been working as a business development manager for more than 10+ years. He is mastered in business management but his passion for writing has driven him toward the content writing field. Apart from being a business development manager, Soham Trivedi is a successful content writer and a technology lover and has been writing across various disciplines.