Today, everything is highly digital. Every day there are numerous businesses get launched. With these countless startups & inventions, competition for the same has also increased. However, when it comes to the technical aspects of building a website, businesses always keep on looking for development companies that can elevate & boost their business online.
Every entrepreneur starts his business with the aim to expand & make a profit. But, the toughest part is to choose an appropriate trustworthy web development company that can support them to achieve their goal. When it comes to developing a website, Laravel is always the right option to go for. A reliable & skillful Laravel Development Company can help you get successful results.
In this article, we will help you decide why to Hire Laravel Developer & How a Laravel Development Company can elevate your business growth!
Why is laravel good for website development?
Multiple web development groups choose PHP to create their websites. Laravel is one of the top choices among all the frameworks. Laravel have rapidly taken an upvote due to its explicit syntax and refinement. Numerous international brands opt for Laravel as it is adaptable and facilitates several tasks.
Usage of laravel across the world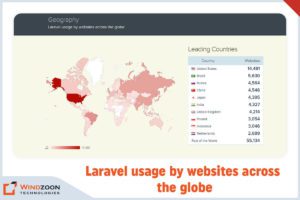 Laravel usage by websites across the globe. Source: https://www.similartech.com/technologies/laravel
Laravel lessens developers' daunting job of coding and designing applications with less time and exertion. The usage of Laravel assures that the designed website is universal & versatile.
Businesses are increasingly accepting the digital route to enhance their audience outreach. Laravel can deliver the finest quality and the required features on the website. It can ultimately make a huge difference in your profit. All these aspects contribute to making Laravel the best in the web development industry. And it is rapidly becoming the default preference to design big and detailed apps among developers.
Read More: Top 12 Benefits / Features of Laravel PHP Framework
10 Ways Laravel Development Services Give a Boost to Your Business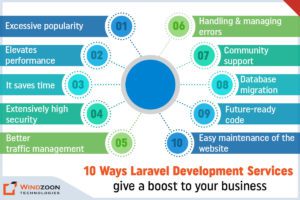 10 Ways Laravel Development Services Give a Boost to Your Business
1. Excessive Popularity
Everyone wants a robust, attractive, & easily navigational web application.
Laravel is the most widespread, popular, & trending framework in the market. You easily get support from a large & skillful community of web developers. With the support of amazing, competent, and innovative developers any bug can be solved anytime & anywhere.
2. Elevates Performance
To boost the business you require to reach your target audience and require to add unique products and service tabs. For all of this, you require the app to perform quickly so your audience doesn't have to wait much longer. Primarily laravel endures difficult procedures fantastically. Laravel caches things in a file store driver.
It offers to index the database and tries to use less memory. This as result boosts the speed of laravel app. It also gives support to diverse back-end technologies which as result elevates business growth.
3. Extensively High Security
Technical mechanisms that exist within Laravel deliver security to Cross-site scripting (XSS) & Structured Query Language injections. It likewise supports encrypting passwords utilizing the Bcrypt algorithm. A potential DDoS (Distributed Denial-of-Service) attack can cost a business thousands of bucks, and the strong structure of this framework also enables it to counter such attacks.
Laravel is a highly secured framework that offers rigid security against all sorts of threats.
4. It saves time
Designing a website with Laravel framework needs less time as it develops websites easily. It is based on the model-view-controller framework that has the most essential way to design an application. Even Laravel has multiple pre-built features to lessen the time of coding. As a result, it saves a lot of time in designing websites and entirely impacts your company's revenue.
Therefore, Less designing time enhances productivity & eventually elevates revenue generation.
5. Better Traffic Management
Nowadays, the victory of any company relies on the traffic of the website.
A Laravel website is tied to draw an improved ratio of traffic.
To host a website is a pricey affair as with the growing traffic your hosting will start getting more requests at once. When the website gets better traffic than it can control, it can eventually collide, which will lead to overall data loss. However, a Laravel Development Company can solve it at the correct time so it doesn't impact the company in making its revenue.
Laravel sustains a distinctive queue method to balance traffic, that is how the server stays beneficial.
Therefore developing websites on laravel will help elevate your business.
6. Handling & managing errors
A very common difficulty is configuring an app that can easily handle errors and bugs. Each app must be robust enough to render error notifications & report the users regarding inaccurate data entrances.
Because of this amazing feature, helps boost your business in many ways!
7. Community Support
Another advantage of selecting Laravel for app development is that you can get comprehensive community backing up. As it is an open-source platform that has a big community of professionals functioning behind them. So that, while developing a website you get stuck at any point, then you can effortlessly avail yourself service instantly from the community.
As this can resolve all your concerns quickly, it can ultimately elevate your performance.
8. Database migration
Synchronization of the database is certainly difficult even for the experts. This is the finest thing about Laravel that it aces in the database migration as well. In the Laravel framework, the database migration tool has made it easy to migrate from one platform to another without any loss of data.
It is easy to also transfer the data with other team members, This preserves time in the entire development procedure. This characteristic of Laravel makes it the best framework for PHP.
9. Future-ready code
Websites should keep up with the latest updates with scalability and flexibility. A website must be updated with all the latest technology & likewise deal with growing consumers. Partnering with Laravel & Hire Laravel Developer will enable you to do all this with ease as they are always in the procedure of scrutinizing latest technologies and mechanisms.
To design a website successfully, you require a responsive website. Therefore, laravel's future-ready code feature can help elevate your business.
10. Easy maintenance of the website
Websites should efficiently and swiftly rectify every problem on the site. Maintenance of the site can be efficiently done with the support of the debugging mechanism that laravel comes with. A Laravel Development Company supports efficient validation code and maintenance data.
Ultimately, easy maintenance of the website can help elevate your business growth.
Conclusion
Laravel framework verifies to be a sound and adaptable framework for developing excellent apps for businesses of all sizes. This framework has creative attributes that support designers as well as businesses internationally. Entrepreneurs choose a Laravel development company for a scalable, feature-rich, secured app & website.
With the help of Windzoon's Laravel Development Service, you can assure tailored and feature-rich apps that elevate your brand's competency. Our experienced Laravel developers catch the essence of trendy and practical web solutions to lessen the chance of technological bugs with reusable & steady codes. Our extensive Laravel development techniques can assist your business evolves over time.
So if you want to hire the best Laravel developer, then consider picking our professional team for responsive development. Contact us at [email protected] to get a quote or know more about our services.
Dharati Thakkar is professional PHP web developer with more than 8+ years of experience. She is mastered in computer application and started her career as a PHP developer. Dharati Thakkar has expertise in Laravel and many other PHP frameworks and likes to write blogs on this disciplines.