Have you ever wondered what people do first when they learn about a new company or brand? They simply conduct an internet search for that brand or company to learn more about it.
And what is their first choice of internet information source for their search query? The first place to look for trustworthy information is the website of that specific business or brand.
We are leaving an era in which digitalization is at its height. Today, approximately 59% of the world's population is online. And each day, they use the internet for an average of 6 hours and 54 minutes. Given the reach and effectiveness of the online marketplace, many businesses have moved their operations online. As a result, the World Wide Web now hosts approximately 1.9 billion active websites.
But will having a website on the internet be sufficient to bring in new clients? Definitely not. The mere existence of a website is never sufficient if it fails to draw in visitors. or is unresponsive and slow for visitors to your website because 88% of internet users are less likely to return to a website after a bad experience.
Therefore, when it comes to going digital, an excellent website should be at the top of every company's priority list. It is not easy to design and develop a good website. However, you can simplify it by outsourcing it to a capable web development company in India & the USA.
In this blog, we will share some essential tips to choose the right web design & development company for your web development project.
So, before we go forward to tips let's first know about the services offered by web design/development companies.
What Services Does a Web Development / Design Company Offer?
Website Development Company provides the following services for web design & web development.
Website Development Services
– Static Website Development
– PHP Website Development
– Custom Website Development
– Front-End Web App Development
– Back-End Web App Development
– CMS Website Development
– E-Commerce Website Development
– Maintenance & Support
Website Design Services
– Custom Website Design
– Branding & Graphic Design
– UI/UX Design
– Web App Design
– Mobile App Design
– Wireframe Design
– E-Commerce Website Design
– PSD to HTML5 Conversion
Now, let's see the characteristics of a good website design/development company.
Signs/Characteristics of a Good Web Design / Development Company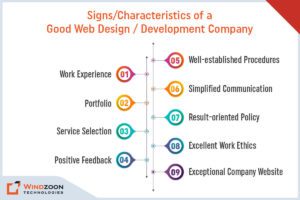 Signs/Characteristics of a Good Web Design / Development Company
Any prominent Website Development Company consists of the following characteristics.
1 Work Experience
Diverse projects, industries, and clients demonstrate web development companies' experience. And companies with extensive experience in a variety of technical cases are regarded as competent Web development firms.
2 Portfolio
Web development firms post their portfolio on their own websites or on specialized platforms such as Clutch and GoodFirms. If the portfolio contains a variety of samples, it demonstrates the company's technical expertise and development skills.
3 Service Selection
Professional IT firms that offer a wide range of web design and development services are regarded as excellent choices. Their comprehensive range of services includes setup, UI/UX design, development, quality assurance, maintenance, & support.
4 Positive Feedback
Positive customer feedback on the website or business listing website is considered a good sign. It demonstrates the web design company's credibility and efficiency.
5 Well-established Procedures
Well-defined development processes are essential for completing work on time and within budget. A web development company with well-established processes and methodologies is always thought to be cost-effective and skilled.
6. Simplified Communication
A dedicated web design and development company always shares updates with its clients and expresses business-related concerns. Therefore, a business that follows a proper communication methodology is thought to be the best at delivering results and fulfilling the goals of its clients.
7 Result-oriented Policy
A result-driven development firm collaborates with the client to formulate a project vision. A web design and development company that focuses on results will help you save time and money on significant changes that occur during the development process.
8 Excellent Work Ethics
Work ethics are the moral standards that govern a person's behavior. A reputable web development company with a strong work ethic will generate high-quality results. Additionally, the company's staff will communicate with you and be attentive to your needs.
9 Exceptional Company Website
Investigating the web design and development firm's overall online presence can reveal more about its quality standards. Therefore, to do that, examine the company's website, social media profiles, and content.
With this, we have come to the most important topic of our discussion.
11 Essential Tips to Choose the Right Web Design / Development Company for Your Project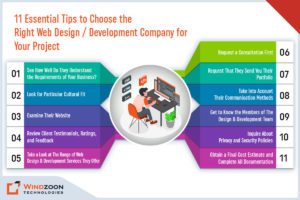 Tips to Choose the Right Web Design / Development Company for Your Project
1. See How Well Do They Understand the Requirements of Your Business?
To begin with, pay attention to how they react to your business needs. Get a list of their clients, then research the previous solutions they have offered. His or her solutions should be tailored to the specific industry of each client.
Do all of their solutions share common traits? They used pre-built templates at random, or did they do any research on the target market for the clients? Or did they just use the same old trendy designs without any ingenious designs that represented the brand?
A seasoned web development company puts itself in your shoes and offers solutions that are tailored to your needs, brand, goals, and audience.
2. Look for Particular Cultural Fit
The project's success or failure depends on the cultural similarities and differences between you and your web development company.
Thus, check to see if their pace, personality, and culture are similar to your own. And ensure that the agency has an agile development culture that allows it to respond quickly to unexpected changes through constant information sharing and interaction mechanisms.
In addition, inquire about the technology partners' strategies for adapting to changing technologies and trends.
3. Examine Their Website
Analyze the web development company's website and surmise it as your own. Do you like the layout? Is it appealing? Is it responsive?
Responsive websites are intended to provide the best viewing experience possible for desktop monitors and mobile phone users.
If you're looking for a web development company to create a responsive website, make sure they've worked with responsive design before. And also ask to see some of their previous work.
4. Review Client Testimonials, Ratings, and Feedback
Almost every website development company has a section on their website where customers can leave reviews or testimonials. Undoubtedly, it will all be positive for all visitors to see.
Hence, to ensure the credibility of the testimonials, spend some time investigating your potential web design & development partners on search engines and other third-party platforms, such as Clutch and GoodFirms.
You can also ask previous clients about the firm and learn about their experiences.
5. Take a Look at The Range of Web Design & Development Services They Offer
Web development firms provide a plethora of services. And you might not require all of the services included in a package.
The best way to determine which web design & development service you require is to inquire about the various services available. And determine whether they are a better fit.
If you're just getting started, it's best to look for an end-to-end service provider. It can walk you through each stage of website development.
6. Request a Consultation First
Every online business is a unique entity that adheres to particular procedures for a specific target market. Therefore, seeking consultation is essential. By doing so, you'll know if you're selecting the right web development company for your industry.
7. Request That They Send You Their Portfolio
A portfolio demonstrates a web design & development company's completed projects. There will always be a portfolio section on the website of a reputable web design & development firm. Here, it highlights its prior successes.
Therefore, carefully examine it to know the breadth of expertise of the design & development firm. You can even inquire about the firm's involvement in the projects you're interested in.
8. Take Into Account Their Communication Methods
A key component of a web design & development agency is its ability to communicate. Your project may go wrong if there are any communication gaps. Thus, before signing the contract, contact the service provider. And evaluate their communication culture by asking the following questions:
– Is their communication and collaboration methods on par with yours?
– Will the design & development team be available via multiple communication channels such as phone, e-mail, Skype, and so on?
– Who will you contact with any questions, comments, or concerns you may have?
– How long will it take for your queries to be answered?
9. Get to Know the Members of The Design & Development Team
A great team can make a significant difference to your project. Thus, try to get a team that is skilled in all facets of web development from programming to design.
And you can find such a seasoned team only at a reputable web development company. So, take out some time, and meet the team members who will be working on your project. It will make you assured about their skills &  competence.
10. Inquire About Privacy and Security Policies
In every web design & development business, there are concerns about the security of confidential data. These sensitive data are necessary for many software projects. And, if unprotected, could put the operations of the company in danger.
As a result, a Non-Disclosure Agreement (NDA) is a requirement of law and ethics for all software development businesses. To protect your sensitive data from prying eyes, most web design and development firms follow this agreement.
11. Obtain a Final Cost Estimate and Complete All Documentation
When it comes to any business decision, the cost is always the deciding factor. Avoid companies that give you estimates that are twice as high or half as low as those from competitors.
It is crucial to inquire about the development costs of the company. Some organizations might upgrade their offerings by adding new resources and tools.
Talk about how they affect the operation of your project. You need a website that prioritizes user-friendliness over all else. Spending money on other flashy features is a waste and adds unnecessary expense.
Questions to Ask Before Hiring a Web Design or Development Company
The following questions will help you comprehend the offerings of top-notch web design & development companies. And assist you in determining whether they are the right fit for growing your online business:
What is the experience of the people who will be working on the project?
What types of web design, development, and related services do you provide?
What is your method for staying up to date with the latest industry & technology trends?
Could you please give some examples of successful case studies and portfolio items? Why were they successful?
Do you have any prior experience in our market, or industry, or resolving a problem similar to ours?
What is the project management process for a website design/development project?
Do you include SEO optimization in your web design projects? Do you have a professional on staff?
How frequently will you evaluate the outcomes, and which metrics will you apply?
What are the costs of your services, and should we be prepared for any extra charges?
After the site goes live, do you provide ongoing support and maintenance?
Conclusion
In the digital world, your business is represented by its website. Hence, your website must effectively and efficiently reflect your core values. As a result, you should never skimp when designing and developing it.
As a reliable web design company, Windzoon offers high-quality web design & development services at the best market price. We have talented web designers and developers who are proficient in a variety of programming languages and can build custom websites to suit your company's needs and budget!
You can count on us for everything from mobile app development to website services. To find out more about our services or to request a quote, go to windzoon.com.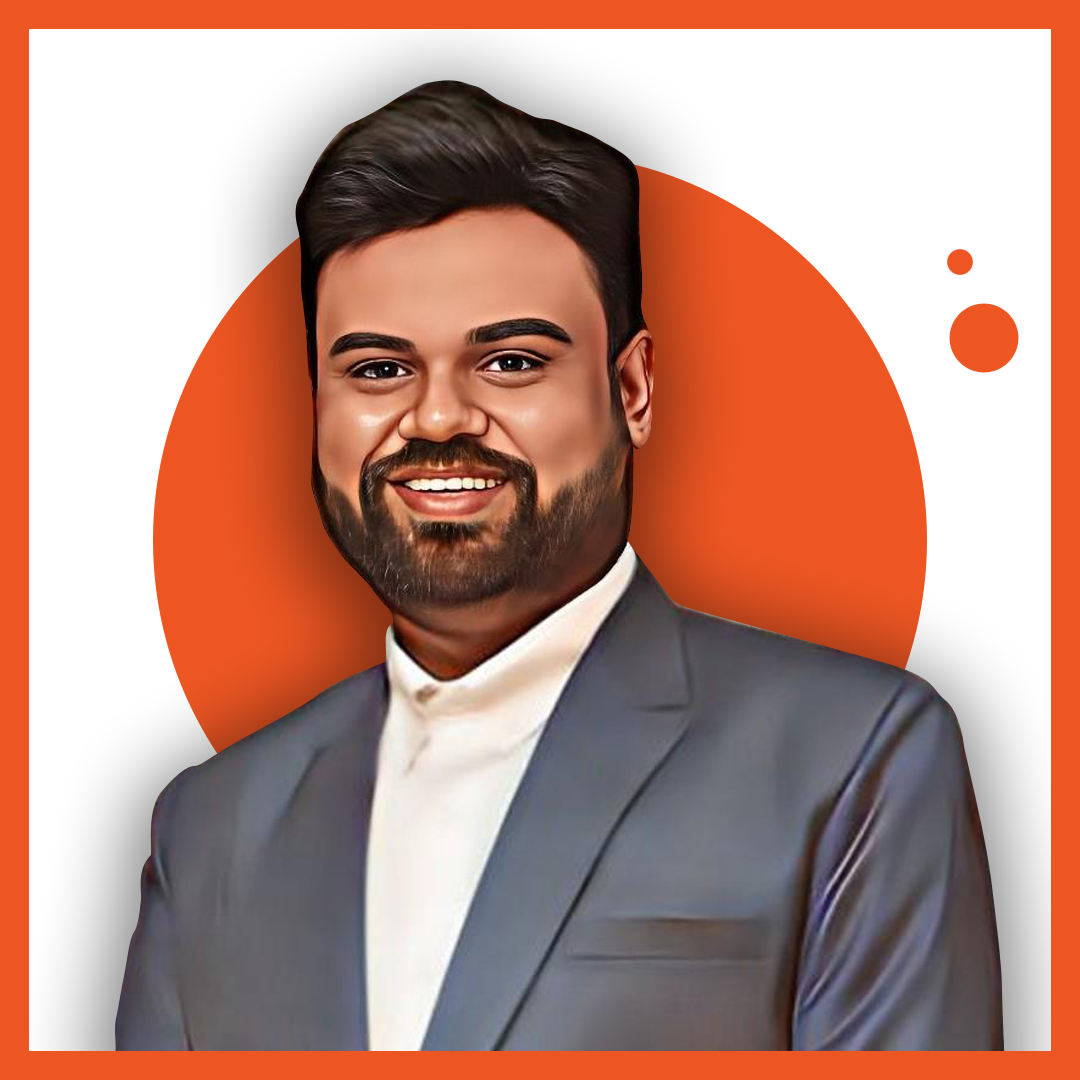 Nilesh Pujara is the CEO & Founder of Windzoon Technologies. He is mastered in computer application but his love for IT and marketing has driven him toward the field of digital marketing. Nilesh Pujara is handling the operations of a digital marketing strategist for more than 10+ years and has expertise in SEO, SMO, & PPC.