In this digitally competitive era, every business desires to build the best impression on the internet. This tends to boost any business's user base.
Though it is not an easy task to develop a responsive and attractive website. Entrepreneurs usually get confused when it comes to choosing a framework that works well for their business. To captivate and retain their users, an interactive design with easy navigation is extremely vital.
Some businesses always look for experienced assistance to make sure that the appearance of their web apps is authentic & appealing. While there are many front-end development companies available, an AngularJS Development Company is surpassing all the expectations. Amidst the crowd of technologies, JavaScript delivers astonishing frameworks that cater best UI for your apps.
Now let's quickly move toward the content of the blog.
What is AngularJS?
AngularJS was launched in 2010.
Since then, it has been quite famous among developers to design responsive websites & apps. AngularJS is an open-source framework that allows designers to preach the complications linked to web or app development.
Due to its progressive characteristics, entrepreneurs always prefer AngularJS for development. It is largely used for designing flexible and strong SPAs i.e. single-page applications. It eases the entire front-end development procedure. In this framework, code templates with HTML scripts come handy.
Businesses Hire AngularJS Developer to design feature-rich and strong apps that offer the needs of their customers. When comparing AngularJS to other frameworks of JavaScript, it is quick and can efficiently be integrated with different frameworks.
In this blog, we will be discussing the growing demand, its benefits, & the reasons to pick AngularJS for your next development project!
Growing demand for AngularJS Development
An AngularJS framework has evolved much in the past, as now it is a leading choice for overseas developers. It has features that let the developers build the most feature-rich & scalable web apps. It assists in constructing interactive components of a website or app.
Due to its rich characteristics and features, AngularJS has appeared to be a versatile evolution in the web development industry. It is now tough to visualize the construction of a new-age single-page app without utilizing AngularJS.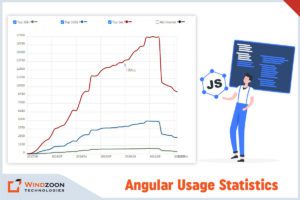 Angular Usage Statistics
As per the research, web development using AngularJS has rapid growth as compared to other frameworks.
The benefits of AngularJS Development
It helps in the design of a compelling user-friendly interface.
It is competent with libraries that enable simple template creation.
It enables data binding and explicit routing.
It enables you to create your DOM i.e. document object model.
It keeps the data in sync with the model view.
It has the HTML syntax extension that develops reusable codes & elements.
Top Reasons to Choose AngularJS Framework for Web Applications Development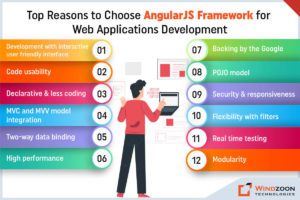 Top Reasons to Choose AngularJS Framework for Web Applications Development
1. Develops with interactive user-friendly interface
This framework enables the development of an interactive interface. AngularJS is designed with customizable features. It makes the development easy & lightweight.
AngularJS uses HTML script to specify the code & design an engaging user interface that allows developers to write code.
This clarifies why this framework constructs an engaging, lightweight, feature-rich application.
2. Code usability
Code usability is an important feature that this framework has to offer.
AngularJS enables developers to reutilize the code that writes effectively. It helps save a lot of time and exertion and therefore it speeds up the web development process. Customization of the application can be done effortlessly by integrating only the required modifications in the code.
If you Hire AngularJS Developer, he can easily deliver the project within the least possible time.
3. Declarative Coding
This framework comprises declarative coding, which makes the code very simple to read. Only the required code is written, which simplifies all the coding.
Also, AngularJS uses HTML, which makes things a lot more effortless & easier.
4. Model-View-Controller & Model-View-View Model Integration
This framework utilizes the Model-View-Controller & Model-View-View Model architecture. This enables the development of engaging & strong applications.
With different frameworks, designers split the app into Model-View-Controller segments. The designers have to then write a code to hook & bind them up. AngularJS handles the rest by performing as a pipeline that joins the codes.
5. Two-Way Data Binding
Two-way data binding is an attractive & appealing characteristic of AngularJS. This feature modifies & makes the user interface responsive. This attribute of AngularJS enables designers to make convenient modifications to the coding.
It incorporates the data between Model & View.
Thus, if it finds any modifications in data, these two elements get revised in real-time.
And this is the reason why this framework is booming in the development community.
6. High Performance
AngularJS is a feature-rich framework, which is why it helps boost app performance. It has a better-integrated development environment compared to other JavaScript frameworks.
This framework supports strong attributes such as Filters, Animations, API Client, Routing, and much more. It enriches the development in a very short time which makes it a high-performing framework.
7. Backing by the Google
Due to AngularJS's extensive google community of professionals, your queries will always solve in no time. The Google community will support you with clearing doubts & queries about AngularJS development.
Holding a plethora of experience in AngularJS development, the community has specialists who qualify to decode even the most complicated situations. They also deliver Long-Term Support to Angular, so the web & app development businesses get enhanced.
If you get stuck anywhere with any technical issues, then there are many google platforms that help solve your queries.
8. POJO Model
This framework makes use of the Plain Old JavaScript Object i.e. POJO model.
POJO model delivers common features of JavaScript for object manipulation. This reduces the need for more elements while integrating AngularJS into data sources. It even supports creating objects that are well-planned & spontaneous.
9. Responsiveness & Security
JavaScript framework is a flexible and strong setup that enables the implementation of third-party libraries. It supports building responsive web & apps. AngularJS entrenches security characteristics and makes your app secure, even after any updates.
Utilizing the revised versions & libraries of AngularJS is a great way to get a security-centric app. Designers can also leverage safety linters to execute basic code analysis & show red flags the bugs, errors, or security exposures.
10. Flexibility with the filters
AngularJS is a framework that is very flexible & adapts all the filters. Filters are used to filter the information before it makes its way to the view. They implicate functions like rebounding the order of a collection, organizing the decimal positions, executing pagination, filtering the parameters, etc.
11. Real-Time Testing
This is a very important reason why most developers choose AngularJS over others. It enables them to try the app they create on it to make sure everything is functioning well before tossing it out to the public. They can test the app as many times as needed to assure that it is free from bugs. This approach exceeds the traditional approach of testing apps. That involves developing unique test pages that gather one element and then interact with it to see if it functions well.
12. Modularity
Modularity enables the developers to break down the framework into different little modules that rely on one another. Developers can make sure that your complicated web platform is built. The development of AngularJS will take less time than any other framework.
Modularity helps in the collaboration of many developers on a single task to complete & deliver the project on time.
To evolve any business, creating web and mobile apps using AngularJS will deliver feature-rich user interfaces, speed, and productivity. As per the Stack Overflow Developer Survey, 30.7% of software engineers now use Angular JS for user interfaces. The Angular developer community grew by a staggering 50% last year.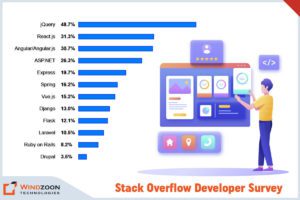 Stack Overflow Developer Survey
Currently, AngularJS inbuilt with Model-View-View Model architecture is chosen to design interactive web & apps.
Key Takeaways
AngularJS Development Service is in high demand for its interactive, captivating, compelling, & strong web apps.
AngularJS is gradually evolving into one of the leading picks for designing websites and mobile apps. This framework surely supports you to draw more traffic and boost your engagement.
At Windzoon Technologies, we offer you a complete AngularJS service. We assist you in making strategies for designing cross-platform apps. You can also know the exclusive features of Angular web development company in India before hiring us. Let us know your specifications & hire us to create scalable and adaptable web apps.
To avail of our best services connect us at [email protected] to get a quote or know more about our services.
Dharati Thakkar is professional PHP web developer with more than 8+ years of experience. She is mastered in computer application and started her career as a PHP developer. Dharati Thakkar has expertise in Laravel and many other PHP frameworks and likes to write blogs on this disciplines.