There was a time when businesses did marketing and brand building through newspapers, pamphlets, billboards, salespersons, radio, and TV advertisements. These all are popular forms of marketing new products and businesses before the evolution of the internet & the world wide web.
Although these old forms of marketing are still in use, the rise of the internet and the world wide web have given birth to digital marketing. Digital marketing, also called online marketing, uses the internet and other digital/online platforms for marketing.
According to Statista, It was calculated that digital advertising spending worldwide amounted to $521.02 billion in 2021. The source projected that by 2026, the spending would reach 876 billion dollars.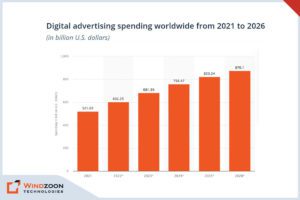 Digital Advertising Spending Worldwide
It is one of the most famous & influential means of marketing in the contemporary world. To take the optimum benefit of this modern way of marketing, contact Windzoon, a top Digital Marketing Agency in India & USA
However, the most vital & effective components of digital marketing are SEO & SMO. The term SEO stands for search engine optimization, while SMO stands for social media optimization. SEO is mainly used to improve the website's ranking on search engines. On the other hand, SMO uses social media to increase traffic to a website.
Though both SEO & SMO are utilized to bring organic traffic to a website yet, they are pretty different from each other. However, to survive in this highly competitive market, businesses would require an effective SEO & SMO plan, preferably developed by the Best Local SEO Agency
Read More: Google Business Profile: A Beginner's Guide To Optimize Your Profile For Local Sales
Now, let's learn more about SEO & SMO and how they are different from each other.
What Is SEO?
When we search for any information on a search engine, we mainly evaluate only the first two or three pages of the search engine result pages(SERPs). Thus, businesses need higher rankings for their websites on search engine result pages to remain in customers' visibility. Getting your website or content to the top of a SERP is crucial. However, to fulfill this task, businesses require the help of SEO services.
SEO or Search Engine Optimization Services use organic ways to improve a website's rankings on search engines. It uses search engine rules & regulations to increase the number of visitors to a website.
Hence, it helps business organizations to expand and boost their consumer reach by growing their network online.
To grow website traffic and consumer, we need to do SEO activities or methods.
SEO uses two different modes of activities to enhance your business ranking on various search engines like Yahoo, Google, Bing, etc. These two modes are On-page SEO activities & Off-page SEO activities.
Following are the On-page & Off-page Activities of the SEO:
On-page Activities
Keywords research
Keyword planning
Creating Meta title & Meta description
Creating user-friendly content
Image optimization
Forming URL structures
Internal linking
Body tag
Enhancing page performance
Off-page Activities
Competitor analysis
Commenting/Blog Commenting
Influencer outreach
Guest author/posting
Link building
Content marketing
Newsletters
Forum and Ques Ans
Google local business listing
What Is SMO?
Social Media Optimization(SMO) is one of the effective methods of Digital marketing. Social media platforms like Facebook, Instagram, Twitter, Linkedin, and Pinterest are effective ways to reach the maximum number of people.
SMO activities increased brand visibility and conversion rates by developing engaging social media profiles & content. Also, it provides an opportunity to build a strong bond between customers & business organizations.
Thus, it helps business organizations to promote their brand or website more accurately & effectively. However, to utilize social media platforms effectively, get in touch with our Social Media Marketing Company in India and USA
Which Activities Come Under SMO?
Social media optimization or SMO uses various social media sites to promote your business. It increases brand awareness of your business through different organic activities.
Read More: 15 Social Media Optimization (SMO) Tactics for Faster Growth 
The following are some of the significant activities of the SMO.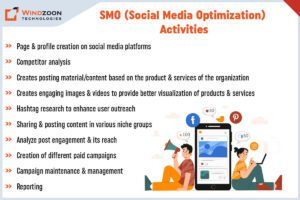 Social Media Optimization (SMO) Activities
SMO Activities
Page & profile creation on social media platforms
Competitor analysis
Creates posting material/content based on the product & services of the organization
Creates engaging images & videos to provide better visualization of products & services
Hashtag research to enhance user outreach
Sharing & posting content in various niche groups
Analyze post engagement & its reach
Creation of different paid campaigns
Campaign maintenance & management
Reporting
The Main Differences Between SEO and SMO
| | |
| --- | --- |
| Search Engine Optimization(SEO) | Social Media Optimization(SMO) |
| SEO helps in increasing your website traffic. | SMO helps in building a solid & long customer base. |
| SEO uses both On-site & Off-site activities to fulfill its purpose. | SMO uses only social media platforms like FB, TW, IN and Linkedin to fulfill its purpose. |
| A site's ranking is based on coding. Thus, HTML codes, keywords, and site design are essential elements in SEO. | SMO activities do not need any coding & tags. Instead, they require visual attention to make an impact on people. |
| SEO utilizes quality content to gain good rankings in a search engine. | SMO used quality content to grab readers' attention. |
| SEO analyzes the impact of any changes on the website's ranking. | SMO analyzes the type of content which can easily catch the attention. |
| SEO activities are done by Finding relevant keywords, Creating & optimizing the page, Making an accessible website, Building relevant links, etc | SMO activities are done by, Microblogging, Social networking, Promoting videos or images, Advancing RSS feeds, etc |
| Moreover, SEO is all about site structure | While SMO is all about quality content |
| SEO is a time-consuming process that takes longer to show results. | SMO is quicker than SEO which is only concrete in terms of results. |
| Google, Bing, & Yahoo are popular platforms for SEO activities. | Facebook, Twitter, Instagram, & LinkedIn are famous platforms for SMO activities. |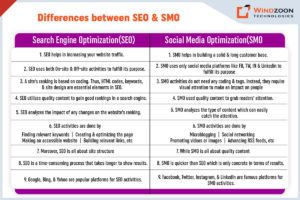 Differences between SEO and SMO
Read More: SEO Vs PPC Advertising – Pros, Cons, & Which Strategy is Useful?
How Do SEO & SMO Strategies Help Your Brand to Grow?
There are numerous benefits that businesses can leverage by implementing SEO or SMO or both in their organizations. It will significantly help them to improve their relations with their both present & prospective clients. Plus, help them to drive more revenue & qualitative leads to their business. Now, let's learn in detail about the benefits of including SEO & SMO activities in your business.
Benefits of SEO For Your Business
An effective SEO strategy can derive organic traffic to your website. It helps your website to rank higher for relevant search results and become more visible to users. With more people visiting your website, you can expect more customers for your Business.
SEO optimizes your site with high-quality content, relevant products, and services. Plus, it also enhances the page performance on your site. As a result, your site will become more visible to the right set of audiences or target markets.
SEO is the most cost-effective method of marketing in comparison to other marketing methods.
An effective SEO strategy provides you with an edge over your direct competitors. It will help you to gain a higher ranking for relevant searches making your brand popular & bringing you new customers.
Though SEO strategy takes time to deliver your desired results, it can help you build trust & reputation among your target audience. This trust & reputation will put your brand in a promising position to become a thought leader in the relevant industry.
Benefits of SMO For Your Business
SMO helps brands through regular engagement with their audience on social media. This regular engagement builds trust among the users, and your users start recommending your brand/product/services fervently.
A strong SMO strategy is essential for building & maintaining a solid online presence. It will help your business get more earned promotions from followers as more users start getting familiar with your brand.
Websites with high backlinks from social media platforms will receive more views on search engines. This increased visibility of the website significantly affects the ranking factors of search engines. Hence, your strong presence on social platforms will complement your SEO efforts.
How Do SEO & SMO Work Together to Increase Your Business?
Although both SEO and SMO operate in different spheres, they have one common goal; to drive maximum traffic to your website. SEO focuses on enhancing website ranking while SMO brings traffic to a website via social media platforms.
However, no one knows the factors contributing to a website's ranking on Google. Still, it has become clear that a larger presence on social platforms drives traffic & increases brand awareness of the business. It also indirectly affects the website's ranking on SERPs. Which describes the effects of SMO activities on SEO
Similarly, when you redirect visitors to your website & try to obtain leads for your businesses through social media, you must have a high-quality website with good UX. If you don't have a faster website with good functionality, then your site visitors will bounce back to your rival's website. Here, the important point is the user-friendliness of the website, which comes under SEO. Thus, it is proven that SEO also has an impact on SMO.
Hence, this proves that both SEO & SMO are equally important for the development of the Business. They both are the two faces on the same coin; no one is less than the other.
Read More: Important Reasons Why Business Need a Digital Marketing Strategy
Conclusion
You have to make a lot of efforts to balance SEO & SMO activities. Nevertheless, you can get help from professionals if you don't know much about this field or don't want to hire internal SEO and SMO experts. You can take help from WIndzoon Technologies, and we can take care of all the digital marketing activities on your behalf.
We have experienced & skilled SEO and SMO experts that can smoothly handle your company's digital marketing activities. Besides, we also provide SEO, PPC, & Social Media Consulting Services. If you are interested in our digital marketing services & want to know more about us, then visit windzoon.com and get a quote.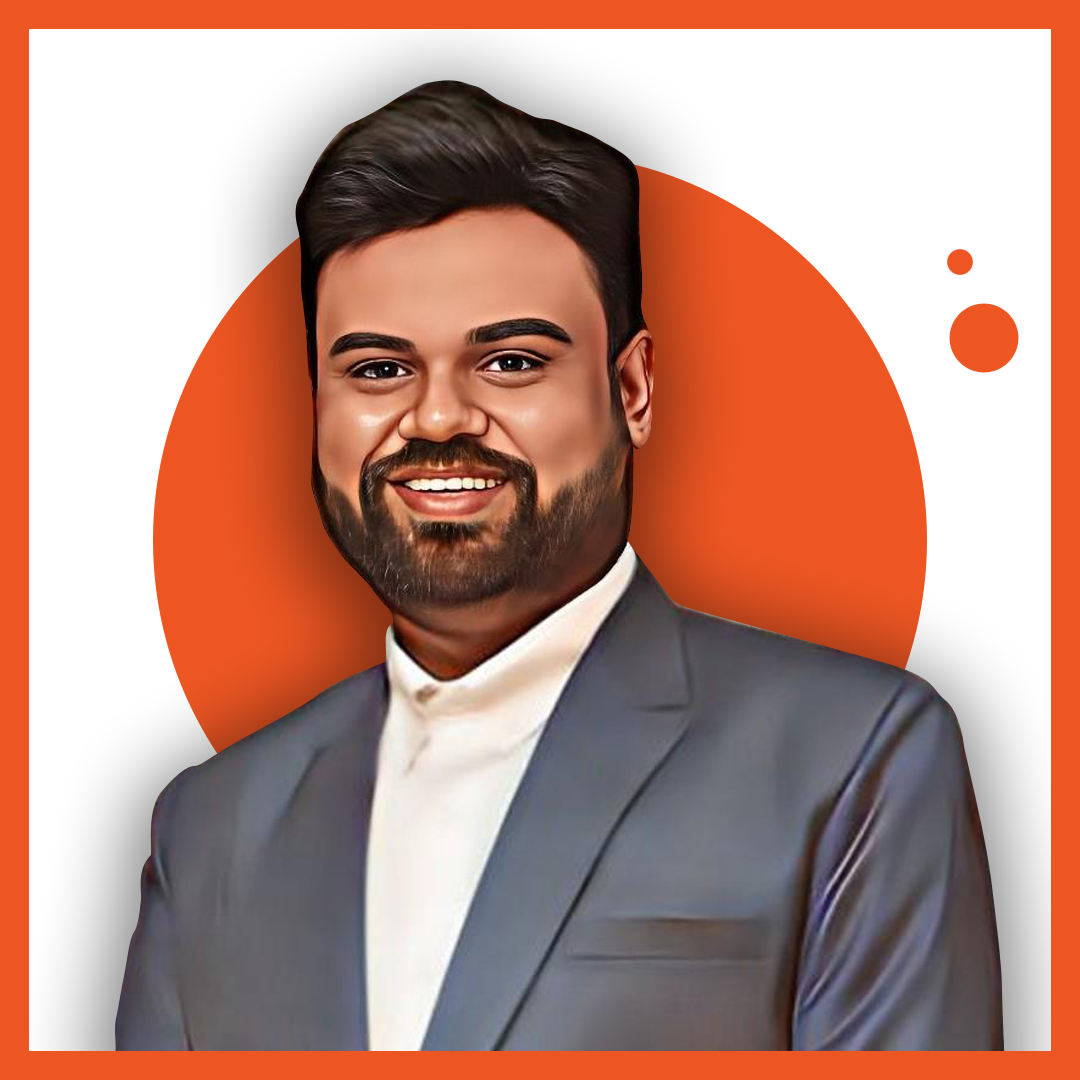 Nilesh Pujara is the CEO & Founder of Windzoon Technologies. He is mastered in computer application but his love for IT and marketing has driven him toward the field of digital marketing. Nilesh Pujara is handling the operations of a digital marketing strategist for more than 10+ years and has expertise in SEO, SMO, & PPC.