The foundation of the e-commerce business which we all are witnessing reaching new heights was laid back in 1969 by an American e-commerce company CompuServe. However, in 1995, when the launch of two major e-commerce companies Amazon and eBay took place it started to gain more global recognition and acceptance.
Since that day, the e-commerce sector has gone through many highs and lows. From initial weak response from the public to sky-scorching popularity it has seen it all. With around $6.3 trillion in retail sales, the e-commerce business has now, acquired approx. 20% of total retail sales worldwide.
This clearly indicates the growing desire or we can say the need of people to buy online. To take advantage of this growing public demand, building an e-commerce store is the wisest decision. But the question is how to build an e-commerce store that engages people and drives you to profit.
Well, as a leading e-commerce web development company, we have accumulated years of experience developing e-commerce stores to this guide. It will assist you with every piece of information you need to know to develop an excellent e-commerce store. Hence, let's delve deep into the world of e-commerce and navigate a path to success.
A Step-by-Step Guide to Build e-Commerce Store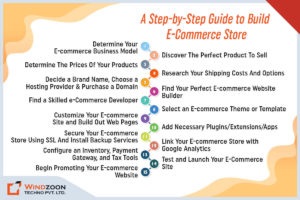 1. Determine Your e-commerce Business Model
It's essential to establish your business concept before you start developing your online store. Your e-commerce business model specifies how you will operate, engage with customers, and ultimately sell your goods or services. When creating an e-commerce business strategy, keep the following things in mind:
Business-to-consumer (B2C): This is the most typical model, in which a company sells goods or services to customers.
Business-to-business (B2B): In this model, companies sell goods or services to other companies.
Customer-to-customer (C2C): This model is also referred to as online marketplaces that link consumers to traders and sell goods or services.
Customer-to-business (C2B): Here, individuals sell their products or services to various businesses.
Once you choose your desired business model, consider sales and marketing strategies for your products and services. Here are a few suggestions for it:
Direct-to-consumer (D2C): Sell your own products to customers directly, bypassing wholesalers and retailers. With this approach, you have more influence over how customers interact with your brand and how your brand is presented to them.
Drop shipping: Dropshipping involves partnering with suppliers who handle inventory and fulfilment. When a customer places an order on your e-commerce store, the supplier ships the product directly to the customer, eliminating the need for you to hold inventory. Additionally, Dropshipping also offers a multi-payment acceptance facility. Hence, it's simple and affordable to launch a drop shipping business. Besides, Shopify dropshipping store development is much easier than developing a regular online store.
Wholesaling: Purchase things in bulk from manufacturers and resell them in huge quantities at a discount to retailers or other businesses. Retailers then resell these products to end users.
White label: White-label products are manufactured by one company and marketed under a separate company's name. In this case, your online store would buy products from a manufacturer and sell them under your brand name.
Private label: Employ a manufacturer to make a product that will only be available through you. In this case, you have more control over the product's characteristics, packaging, and design.
Subscription: The subscription model provides products or services on an ongoing basis. Customers may receive ongoing services, access to premium content, or recurrent deliveries. For example, you may supply products like milk or fresh vegetable boxes on a weekly or monthly basis to regular clients who value convenience.
Bonus Tip: When you define your e-commerce business model, take time to analyze your target audience, industry trends, and competitive landscape. Understanding these factors will help you choose the most suitable model that aligns with your goals and ensures a successful e-commerce venture.
Remember, your e-commerce business model will influence various aspects of your store. (For ex. product sourcing, marketing strategies, pricing, and customer interactions.) Hence, careful consideration and research at this stage will set a strong foundation for your e-commerce journey.
2. Discover The Perfect Product To Sell
Once you've established your e-commerce business model, the next critical step is to find the ideal product to sell on your online store. Your e-commerce business's success depends on picking the right product or market segment. Here are some key factors to consider while selecting the best products to sell on your online store:
Find Your Niche: Start by identifying a niche or a specific segment of the market that you are passionate about or have expertise in. A niche allows you to focus on a particular category of products or services. This makes it easier to target a specific audience and help you stand out from competitors.
Do Market Research: The next step is to conduct extensive market research to have a complete understanding of current trends, customer preferences, and demands. Then analyze all this information to know the desires and issues of your target market. And established products or services that can solve their issues or satisfy their needs.
Analyzing Your Competitors: Another most important thing to do is to research your rivals in both your niche and the whole e-commerce sector. Look for market gaps or places where you may provide a unique selling proposition (USP) to set your items apart from the competition.
Make Product Validation: The next important thing to consider before finalizing a particular product is to test selling that product on a small scale or by starting a pilot project to determine its likelihood of success. This will assist you in determining client interest and obtaining insightful feedback.
Consider Seasonality: Seasonality is one of the key things to consider before deciding on a particular product. Hence, depending on your product's characteristics, think about how seasonal trends may affect your product. Because to ensure a regular flow of sales, you need to make sure that the demand for the product you have chosen is steady throughout the year.
Emphasizes Quality and Reliability: Now, pick products that are of excellent quality and obtained from dependable vendors. As building a loyal customer base depends on providing satisfying customer experiences and quality products.
Think About Scalability: When you are going to start selling particular products, you will find that process quite adventurous. However, during this product-selling process, you should always think about how your e-commerce store will grow by selling your products. So, consider how you might increase the range of your product offerings in the future to serve a larger clientele.
Keep Up with the Latest Trends: To make sure that your chosen product remains relevant over the long term, keep up with current market trends and project future demand.
Finally, it would help if you remember that selecting the ideal product to sell is a dynamic process that necessitates careful evaluation and deliberation. Thus, think about all of your alternatives carefully, and only make judgements after doing extensive research.
3. Determine The Prices Of Your Products
The third important step is to determine the prices of your product. Because the success of your e-commerce store depends on how well you price your products. Thus, calculate all costs associated with production or sourcing, including both direct costs (such as manufacturing and packing) and indirect costs (such as marketing and website upkeep).
Next, to understand market prices and position your items competitively, conduct a competitive study. Strike a balance between profitability and competitive pricing by taking into account the special value your items provide to clients.
Last, test several price points to find the best one. Then plan sporadic discounts and promotions on your product. However, before offering discounts and promotions make sure they don't affect your profitability. To stay on top of market developments and uphold a successful pricing strategy, keep a close eye on performance and make necessary price adjustments.
4. Research Your Shipping Costs And Options
Once you decide on your product pricing, the next important thing to consider is your product shipping options and their costs.
Because efficient shipping has a significant impact on consumer satisfaction and purchasing behaviour, it is essential in e-commerce. Thus, determine the cost of shipping considering the product's weight, size, shipping distance, and carriers. To encourage customers, think about providing free shipping beyond a specific order threshold.
Then investigate several shipping companies and services, evaluating aspects like responsiveness, dependability, and global reach. Use real-time shipping rate estimators to show customers accurate shipping prices during the checkout process.
While doing all these, keep in mind customs laws and additional expenses when providing international shipping. Additionally, improves the packing for secure delivery and lowers shipping costs.
And last, for improved customer communication, provide shipping tracking information and order status updates. As well as Create a simple returns procedure to increase consumer loyalty and confidence. As a well-thought-out shipping strategy boosts the performance and consumer experience of your e-commerce store.
5. Decide a Brand Name, Choose a Hosting Provider & Purchase a Domain
Choosing the ideal brand name can completely transform your e-commerce business. However, it ought to be distinctive, memorable, and represent the products or services you offer.
Once you choose a brand name, your next task is to decide on a domain. Look for a hosting company that can supply your store with the dependability and speed it requires. GoDaddy is a popular option for budding e-commerce business owners due to its reasonable plans and consistent support. They offer an all-in-one hosting solution and even make the process of purchasing a domain name simple.
However, keep in mind that your domain name should reflect your brand and be simple for clients to recall. If you get this trio perfect, your online store will start off strong.
6. Find Your Perfect E-commerce Website Builder
Selecting the ideal website builder is essential if you want to create your own online store. Here is a brief summary of some well-liked options for website builders:
WooCommerce: WooCommerce is an open-source plugin for WordPress that allows for a great deal of customization. It allows you to establish a highly customised store, making it perfect for individuals with some technological know-how. Besides, considering the popularity of WordPress, you can easily find any Custom WordPress Development Company to help you build an e-commerce store to your liking.
Magento: If you want to scale, Magento is the best option. It's ideal for growth because it has excellent features and flexibility. Despite requiring considerable technical know-how, it offers a wide range of customization options and third-party integrations.
Shopify: Looking for a simple setup process? The solution is Shopify. It serves both novices and specialists and is renowned for its user-friendly design, vast template library, and hosting options. To accommodate varying business needs, they provide multiple pricing tiers.
Customization, spending capacity, and technical proficiency are all important considerations when choosing a platform. To choose which is the greatest option for the success of your online store, compare their features, costs, and customer support.
7. Find a Skilled e-Commerce Developer
As your online business takes shape, think about hiring a qualified e-commerce developer.
A skilled developer can make final adjustments to your e-commerce website to make sure it runs smoothly and effectively.
Depending on the website builder you choose, Hire web developers with experience in e-commerce systems like WooCommerce, Shopify, or Magento. To evaluate their talents, look through their portfolio for prior e-commerce projects, client testimonials, and reviews.
Working with an experienced developer can help you save time, improve the performance of your online store, and handle technical difficulties successfully. Besides, it also enables you to concentrate on expanding your online store and improving the client experience.
8. Select an E-commerce Theme or Template
Now comes the exciting part: choosing the ideal e-commerce theme or template for the design of your store. Select a theme that complements your brand's image and improves the presentation of your products.
Many website builders have a large selection of pre-designed themes that you may modify to fit your preferences in terms of colours, fonts, and layouts. To give clients a great browsing experience across devices, look for mobile responsiveness and user-friendly navigation.
Make sure the theme you choose is compatible with crucial e-commerce features like product galleries, shopping carts, and secure payment processors. With a well-selected theme, your e-commerce site will look polished and professional, paving the path for its success in the online market.
9. Customize Your E-commerce Site and Build Out Web Pages
Now that the structure is established, it's time to customize your e-commerce site to give it a distinctive look.
You may begin personalizing your online store by making a customized design and selecting the proper color palette and layout that go with your brand identity.
These days, a lot of website builders provide simple customization options that enable you to tailor your store without any coding experience.
Therefore, when you begin customizing, don't forget to develop and customize important web pages like the homepage, product pages, about us, contact us and FAQs.
Following that, create captivating content that shows the benefits of your products and resonates with your target audience. After that, put in place easy-to-use navigation so that clients can find what they're looking for.
Moreover, remember to make your website mobile-friendly to accommodate customers who are constantly on their mobile devices.
A well-customized website improves the purchasing experience and promotes return visits.
10. Add Necessary Plugins/Extensions/Apps
After customisation, your e-commerce store's functionality should be improved. To do this, explore the world of plugins, extensions, and apps. There are a variety of add-ons available to improve the functionality of your site, depending on your website builder.
Integrate necessary plugins for analytics, social media integration, and SEO optimization to increase visibility and monitor user behavior. Additionally, to engage and delight your consumers, think about including facilities like live chat, client feedback, and a wishlist.
Also, don't forget to include security plugins to secure client data from cyber threats.
However, before you install any plugins, make sure they are compatible with your website builder and will not slow down or degrade the user experience of your site.
Because a well-chosen selection of plugins can elevate your online store and provide clients with a seamless purchasing experience.
11. Secure Your E-commerce Store Using SSL And Install Backup Services
Security holds the greatest significance for any online store. Thus, to secure your online store, install an SSL (Secure Socket Layer) certificate. As it plays a pivotal role in protecting the confidential data of your customers.
SSL encrypts data while it is being transmitted, guaranteeing secure online transactions and fostering customer confidence. Most website builders make it simple to include SSL certificates for additional security.
Also, don't underestimate the significance of regular backups. Install backup services to make sure that the data on your online store, including product details, customer information, and order history, is securely maintained.
Backups act as a lifeline in the event of a technical malfunction or data loss, allowing you to quickly recover your online store. Therefore, to safeguard the integrity of your e-commerce store, invest in reliable backup services or make use of built-in features provided by your website builder.
12. Link Your E-commerce Store with Google Analytics
Knowing how well your store is performing is essential for its expansion since knowledge is power. Therefore, incorporate Google Analytics into your online store. It is a strong tool that offers insightful data on user behavior and website traffic.
By connecting your store to Google Analytics, you can track important data such as conversion rates, bounce rates, and popular product pages. Analyzing this data and user activity will assist you in optimizing your marketing strategy and improving the user experience.
Additionally, Google Analytics also offers e-commerce tracking. It allows you to keep track of sales, revenue, and other transaction-related statistics. With this knowledge, you can make data-driven decisions to improve the operation of your online store and boost its success in the cutthroat online market.
13. Configure an Inventory, Payment Gateway, and Tax Tools
Now at this point, your e-commerce store is almost ready to roll. But first, let's make sure that inventory is managed effectively and transactions are seamless. And for that, install a trustworthy payment gateway that safely handles client payments.
Popular choices like PayPal, Stripe, or Square improve customer confidence in your store by offering easy interfaces and supporting a variety of payment ways.
Following that, use inventory management software to keep track of product availability. They will handle product variations with ease and control your inventory while setting stock alerts. A well-managed inventory guarantees prompt replenishment and eliminates overselling, which boosts customer satisfaction.
Lastly, remember to pay your taxes! Configure tax calculators to automatically determine and apply the proper taxes on purchases based on your location and customer base. Stay compliant and save time by automating tax calculations, leaving you more room to focus on growing your business. Automating tax computations will help you stay compliant and save time, giving you more time to concentrate on expanding your e-commerce store.
14. Test and Launch Your E-Commerce Site
You're almost there; now is the time to test your e-commerce site ahead of the major launch. Test your website thoroughly in all areas, including the contact forms, payment process, and product listings. Verify that all functions are working properly and that there are no broken links or formatting errors.
Make several test purchases to validate the payment procedure and ensure that customer orders are properly processed. To get feedback on the user experience and identify any potential problems, enlist the assistance of friends or relatives.
Once you've made the necessary changes and are confident in your store's performance, it's time for the big unveiling! Use social media, email newsletters, and advertising efforts to spread the message.
And last, celebrate this achievement and look forward to the exciting road of running your e-commerce store. Success will come as a result if you continue to pay attention to customer feedback and look for ways to make your online store run more efficiently.
15. Begin Promoting Your E-commerce Website
Congratulations on opening your online store! It's now time to spread the word and get customers to your online store. To do this, put in place a comprehensive marketing strategy to increase visitors and sales.
Make use of social media networks to provide interesting content and promote your products or services. Social media platforms are an ideal platform to interact with your audience, address their inquiries, and develop a loyal following.
You can also use email marketing campaigns to keep clients up to date on new items, discounts, and promotions. Because timely and customized emails often persuade customers to make repeat purchases.
Additionally, work with influencers or industry partners to reach a larger audience. Influencer collaborations and endorsements can generate buzz for your business.
Furthermore, invest in search engine optimization (SEO) to boost your website's visibility on search engines. Use relevant keywords and optimize your product descriptions to appear higher in search results.
Next, think about implementing loyalty programs, seasonal price reductions, or special offers to entice people to visit your online store again. Satisfied clients are more likely to recommend businesses to others and help them succeed in the long run.
Finally, to reach a larger audience, think about using paid advertising on websites like Google Ads or social network ads. Customize your adverts to appeal to certain demographics and interests.
And don't forget to review website analytics on a regular basis in order to evaluate the success of your marketing initiatives and make fact-based judgments.
Because promoting your e-commerce website is an ongoing process. Therefore, to maintain your online store flourishing and expanding, always try out new marketing techniques, pay attention to client feedback, and adjust to industry trends. With dedication and persistence, your e-commerce venture is sure to flourish in the competitive digital landscape.
What are the Benefits of Selling Online and to Create Own Online Store?
Developing an E-commerce store is a fantastic method to expand your consumer base and diversify your customer channels.
Selling online is also a terrific strategy to enhance income because you may reach a broader audience than through traditional retail techniques.
The statistics show that there are 268 million digital consumers in the United States, and this figure is anticipated to rise to 285 million soon. There is no question that you must be online if you want to reach a sizable customer base.
In addition to accessing a larger audience, online stores provide numerous other advantages, such as:
24×7 accessibility: Customers may view products at any time, regardless of their time zone.
There are no restrictions based on location: Customers are able to buy from any part of the world.
Product selection: Compared to traditional retail establishments, e-commerce stores frequently have a far wider range of products available.
Customized shopping: Customers can shop based on their own requirements and individual tastes.
Direct-to-consumer sales channels: You may minimize costs for both you and your customers by doing business online and cutting out middlemen.
Faster reaction to market demands: Because e-commerce storefronts are digital, e-commerce proprietors can update their stores considerably more quickly in response to consumer demands and desires.
Conclusion
A quality e-commerce website offers more than just a platform to buy and sell products. It's where a company can design an encounter that builds brand equity, attracts new clients, and turns occasional customers into ardent advocates.
Choosing the correct e-commerce platform and developing a marketing strategy to launch a successful online store can put you ahead of the competition.
If you require assistance in developing an e-commerce store, you can seek assistance from a professional e-commerce web development company.
As a reputable e-commerce web development company, Windzoon offers top-notch e-commerce website development services at the most economical rates and with the quickest turnaround times. Our expert developers can construct one-of-a-kind e-commerce web solutions tailored to your company's needs.
Contact us to get a quote and more information about our e-commerce store creation services.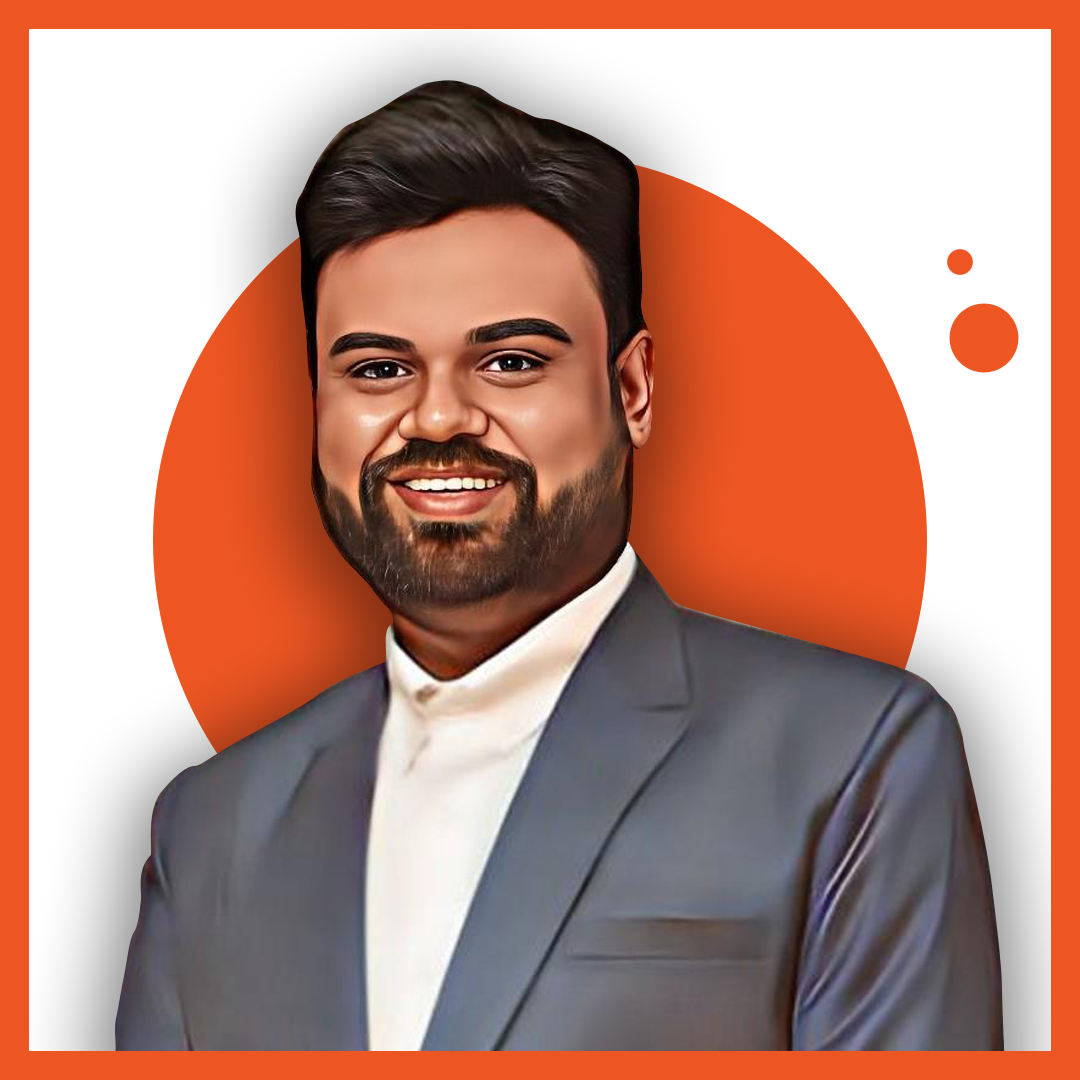 Nilesh Pujara is the CEO & Founder of Windzoon Technologies. He is mastered in computer application but his love for IT and marketing has driven him toward the field of digital marketing. Nilesh Pujara is handling the operations of a digital marketing strategist for more than 10+ years and has expertise in SEO, SMO, & PPC.