Marketing has always been an essential part of business activities. It provides visibility to a company. The visibility creates brand awareness & helps the company grow its business by connecting with its customers.
However, to create this brand awareness company uses different marketing strategies. These strategies include both traditional & contemporary ways of marketing. Traditionally, newspapers, pamphlets, magazines, billboards, & salespersons have been used for brand building.
Nonetheless, with the advent of the internet, traditional marketing has lost its lustre to digital marketing. Now comes the question: What is digital marketing?
Digital marketing, also known as online marketing, is a modern way of Marketing. It uses the internet, computer, & other online/digital platforms for marketing. However, for effective digital marketing, companies need to implement some competent digital marketing strategies. So now comes the question;
What is a Digital Marketing Strategy?
As the name implies, a digital marketing strategy outlines how your business will achieve its marketing goals through various online channels. These online channels consist of search & social media platforms.
Hence, the plan summarizes which online channel & marketing tactics you use and how you will implement them. Plus, it also mentioned how much the business would invest in these channels & tactics.
After learning about digital marketing strategy, let's understand its importance for businesses.
Why are Digital Marketing Strategies Crucial Nowadays?
Nowadays, people have started to rely more & more on the internet to acquire anything they want. And globalization, the increasing number of mobile users, & covid-19 pandemic are the reasons behind this drastic change.
As per Statista, in 2021, global e-commerce sales accounted for around 20% of total retail sales. However, forecasts indicate that by 2025, it will make up close to a quarter of total global retail sales.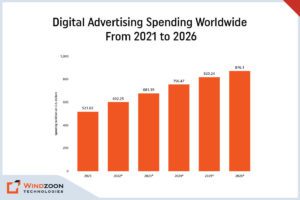 Digital Advertising Spending Worldwide From 2021 to 2026
It shows that a lot of business has turned toward online platform. And this change has made them choose digital means to market their products & services.
According to Statista, global digital advertising spending amounted to $521.02 billion in 2021. However, the source projected that by 2026, the spending would reach 876 billion dollars.
These statistics clearly show how famous & influential digital marketing has become. Businesses must prepare good digital marketing strategies to avail of optimum benefits from it. Hence, hiring a professional Digital Marketing Agency is advisable to build excellent marketing strategies.
Now after learning about the importance of digital marketing strategy, let's see some of its examples.
Some of The Significant Examples of Digital Marketing Strategies
You can't gain the full advantage of digital marketing if you stick with only one tactic. There are various strategies for digital marketing. And to attain better results, you need to use multiple tactics. It will help you to increase your brand awareness and keep you ahead of your competitors. Below we have mentioned a few examples of digital marketing strategies.
– Content Marketing
– Search Engine Optimization
– Search Engine Marketing / PPC
– Social Media Marketing
– Email Marketing
– Affiliate Marketing
– Influencer Marketing
– Instant Messaging Marketing
– Video Marketing
– Audio Marketing
– Mobile Marketing
Top 12 Reasons behind Having a Digital Marketing Strategy for Business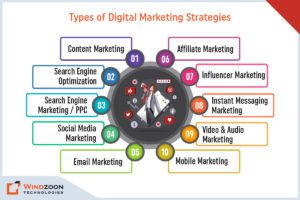 Types of Digital Marketing Strategies
Even after reading all this information & data on digital marketing, you may still feel hesitant. And you think that it is worth it for your business? Well, read the reasons we have mentioned below. It will certainly clear all the doubts in your mind.
1. It will significantly expand your consumer/audience reach
Expanding your business in a new geographical region is challenging with traditional marketing. However, with the help of the internet & social media platforms, you can make this task easy & effective.
Social media platforms like Facebook, Twitter, Youtube, & Instagram enable you to establish communication with a worldwide audience. With a digital marketing strategy, you can effectively utilize these mediums to reach a wide range of audiences.
Moreover, it helps your business by expanding your consumer base.
2. It gives accuracy in targeting your potential customers
If you want to increase your business's conversion rate, you need to have information about your customer. And the primary purpose of any marketing strategy is to target the right audience.
It will help you to know about your potential customers. However, with a digital marketing strategy, you can target your customers with more accuracy & ease. It uses analytics tools that can target the precise audience based on location, demographic, & psychographics.
Besides, digital marketing allows you to take on a highly targeted campaign. And that helps you to make your campaigns more effective.
3. It increases conversion rate by converting your lead into sales
You can evaluate the success of your business by how many target audiences are turned into your customer.
The significant amount of traffic on your website won't make any difference if your conversion rate is low. Conversion rate means converting your lead into sales. It plays a significant role in the success of the business enterprise.
With a well-planned digital marketing strategy, you can successfully convert leads into sales and increase conversion rates.
4. It helps you choose the best strategy & earns you better revenue & ROI
The implication of digital marketing strategy in your company can enhance your revenue generation. According to Google, companies using digital marketing strategies have 2.8 times better conversion rates and revenue growth.
Additionally, digital marketing will improve your ROI using analytical tools. These tools help you to understand which strategy will be good for your business & gives high ROI.
Hence, you can choose your business's most appropriate digital marketing strategy based on your budget.
5. It is more cost-effective than traditional marketing strategies
In comparison to traditional marketing, digital marketing is a more cost-effective option. It promotes your business/brand to a vast audience within your budget.
Especially in cases of small & medium businesses, it becomes a ray of hope. Digital marketing helps them reach the maximum number of people without any significant investment.
6. It uses Artificial intelligence-driven data to prepare & improve your marketing strategies
A significant reason behind having a digital marketing strategy for every SME is, that it uses Artificial intelligence to accumulate & analyze data.
AI is an assemblage of various technologies that can execute the tasks that usually require human intelligence. And the use of AI in marketing is called AI marketing. It is a game-changer for small & medium businesses. As per a recent survey, around 13.6% of small & medium business owners have invested in AI marketing solutions.
They can utilize AI to collect data & customer insights. To anticipate customer behavior and make automated decisions. For that, businesses can use various AI tools like Import.io, Uberflip, Tact.ai, NGDATA, Crystal Dash, & OptinMonster. Plus, they can also apply machine learning & AI-infused CRM in their organization.
It will provide a better understanding of customer behavior to business owners & marketers. Thus, they can use this information to implement the right strategies that suit their target market. So that they can gain more customer retention. It will also provide them with benefits like cost reduction & time efficiency. Plus, improvement in results & responsiveness.
7. It utilizes Augmented & Virtual Reality to enhance user experience & boost sales
Another reason to have a marketing strategy for business is it utilizes Augmented & Virtual Reality to enhance user experience & boost sales.
The creation of a simulated world with the help of computer technology is called virtual reality(VR). While using computer-generated perception to provide real-life experience is called augmented reality(AR).
SMEs can adopt these futuristic technologies by using different AR & VR tools. These tools are not so expensive. Instead, they are more versatile & potent than many other tools businesses use nowadays. Using AR & VR tools in business elevates the efficiency of marketing & sales efforts.
Additionally, SMEs can use these technologies on their website or preferred social medial platforms. It will enhance its customers' shopping experience by providing features to test products or services without paying for them. And this will increase customers' trust in the brand & also boost sales.
Besides, businesses can also use AR & VR tools to record customers' interests, preferences, & purchase patterns. This information helps businesses to customize their marketing plan. And also redefine their target audience goals.
8. It employs a Video Marketing tool to provide your brand with effective customer engagement
Social Media platforms hold the most crucial place in digital marketing. Nowadays, social media platforms have provided a new space for enterprises to promote their product & services. And many enterprises utilize that space for video marketing to increase their customer base.
Video Marketing is a significant digital marketing tool. It can effectively engage the targeted audience. Besides, it is a cost-effective way to reach the maximum people and promote the brand. And that's why many SMEs have included this tool in their digital marketing strategy.
They use this tool by developing & posting content-rich & enthralling videos on Linkedin & various social media platforms. (Ex. Facebook. Instagram, TikTok, YouTube)
These videos can easily attract people's attention & even influence their buying decisions. And if they become viral, they can provide the business with overnight publicity & recognition.
9. It operates Omnichannel Marketing to attract customers & engaging them even after sales
Omnichannel Marketing is one of the valuable ways of digital marketing. Digital marketers utilize it to reach the target audience. And for that, they use various digital mediums to promote, engage, & serve customers. Omnichannel marketing has numerous benefits, some of which we have mentioned below.
– It draws new customers & market segments.
– It keeps engaging customers even after sales.
– It enhances customers' trust & loyalty toward the brand.
– It increases sales & customer satisfaction.
– It helps business owners & digital marketers to understand customers' demands & needs.
These benefits have made omnichannel marketing a popular marketing tool among SMEs. Because it provided them with equal opportunity to compete & make their place in the market.
10. It helps you to utilize Social Media Shopping for selling your products & services
With time, Social media platforms add new features to facilitate businesses. And social media shopping indeed comes under these features. Social media shopping is an integration of social media & e-commerce.
It has created a new marketplace for customers to buy products & services that match their expectations. And digital marketing strategy helps businesses with effective use of social media shopping to sell their products & services. Plus, establishing close contact with their targeted audience.
Read More: Social Media Optimization (SMO) Tactics for Faster Growth
11. It helps you to gain reputation & customer loyalty through Long-Form Content Marketing
Content marketing is indeed a crucial part of online marketing. And in content marketing, long-form content holds a significant part of it. It is often used by businesses( especially SMEs) to promote their product & services.
Long-form content usually contains blog posts or articles that have around 3000 words. It helps businesses to increase their visibility & showcase their industry expertise. Besides, it also provides some other benefits:
– It draws traffic to the website
– Increase website ranking on search engine research pages
– And boost customer engagement & interaction.
Moreover, long-form content helps companies to interact with & educate their audiences. And that facilitates them with increased reputation & customer loyalty.
12. It helps you to avail benefits from Influencer Marketing to enhance your revenue
Social media platforms like Facebook, Instagram, YouTube, & TikTok hold significant power to influence the general public. And that becomes the reason behind the birth of the influencers.
Social media influencers are individuals or groups who have a large fan following. They use their incredible power to influence the decision of their fan following. Digital marketing utilizes the power of influencers' image & goodwill to promote brands & boost sales & revenue for businesses.
Conclusion
We hope this blog has given you a better understanding of digital marketing & why it is necessary for your business.
We live in the digitalization era, where so many activities are done online. And to keep pace with this change & avail it to flourish our business, digital marketing is crucial. It doesn't matter in which industry you are working or the size of your business. It helps to grow every type of business.
However, you ought to prepare a solid digital marketing strategy to get the best from digital marketing. And for that, you require assistance from a professional digital marketing agency.
Windzoon is a prominent Digital Marketing Company that helps businesses to form well-researched & robust digital marketing plans. If you want to avail of our digital marketing services & want to know more about us, then visit windzoon.com and get a quote.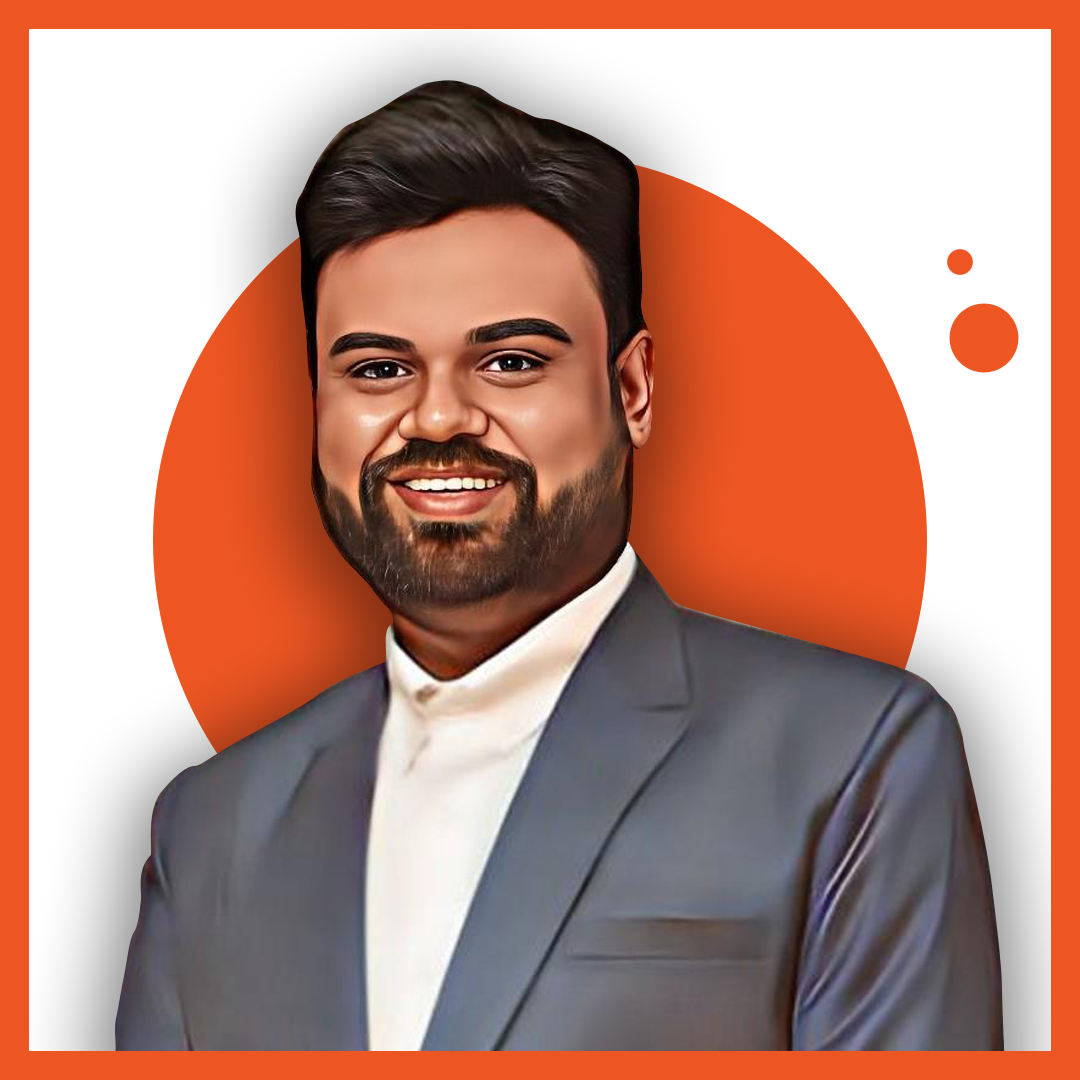 Nilesh Pujara is the CEO & Founder of Windzoon Technologies. He is mastered in computer application but his love for IT and marketing has driven him toward the field of digital marketing. Nilesh Pujara is handling the operations of a digital marketing strategist for more than 10+ years and has expertise in SEO, SMO, & PPC.