Starting a new business can be exhilarating but challenging as well. A lot of thought, effort, and research goes into building your own company. With the constant change in the economy, up-and-coming businesses, intense competition in the market, and many other influencing factors, several businesses fail to thrive. But many newcomers have managed to accelerate their business, and the secret to their success lies in digital marketing.
In recent years trends of digital marketing have increased with the enormous popularity, accessibility, and success of social media platforms.
As per the Statista source, there are around 3.5 billion-plus active social media users in the year 2019-20 and it is expected to reach 4.47 billion-plus active social media users in the year 2025. These users are around 51% of the world population and 83.36% of internet users. According to 90% of marketers have used social media platforms to promote their business.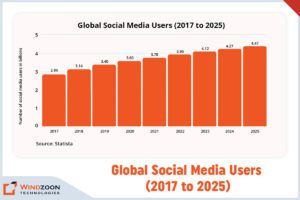 Global Social Media Users Growth Chart
An essential digital marketing strategy for several years has been the use of SEO techniques. They understand the search algorithm and create top-notch material that ranks them in the SERP's leading results.
However, a relatively new digital marketing strategy that has changed the future of businesses is the use of SMO techniques. SMO services in Ahmedabad aim at maximizing and honing a brand's online presence through social media networking.
What is Social Media Optimization?
SMO is the use of a number of social media outlets to increase the awareness of a business, brand, product, or service to generate publicity.>
As a digital marketing strategy, SMO helps businesses in-
1. Increasing awareness.
2. Improving rapport with existing and potential customers
3. Enhancing website audience
4. Increasing revenue, sales, and overall growth.
If every company is adopting SMOs to build their business, how will SMO strategies be any different for your business? An SMO service applies the best techniques to your SMO to make your business unique to the audience.
Read More: Difference between SEO and SMO services
Here are seven SMO tips that can boost your business with the help of SMO service providers in Ahmedabad.
Top 15 SMO tips that give exposure to your business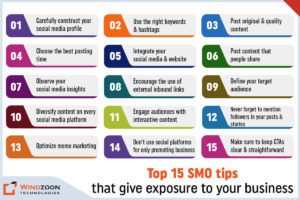 Top 15 SMO tips that give exposure to your business
1. Carefully Construct Your Social Media Profile
A social media profile is one of the areas of SMO that is frequently overlooked or ignored. The profile page is the foundation for establishing a powerful presence on any social media platform. If people come across your company on social media for the first time and are looking for relevant information, it should all be available there.
Always make sure to use the company name as your username to avoid any confusion.It is best to use the company logo as a profile picture. If the social media platform requires a cover photo, use something engaging to attract the users.
Clearly state what your company does, and provide a trackable link to your website. To improve flow, try to include important keywords in your bio. Some platforms allow you to give more information, so make an effort to fill everything in.
2. Use the Right Keywords and Hashtags
If you already use SEO techniques, keywords are a familiar term you have come across multiple times. For SMO, too, you require trending keywords related to your business. To increase engagement with your social media posts, include relevant keywords in your social content or posts.
On platforms like Instagram, hashtags are a common way to organize and search for information. SMO companies in Ahmedabad suggest that knowing which hashtags your target audience uses will help you integrate them into your strategy effectively. Users would be able to reach your content when they look up these hashtags.
3. Post Original and Quality Content
Creating compelling content that is specific to your target audience is very crucial. Original content is an excellent way to pique people's interest in the business. Users can be directed to other social media platforms, websites, or blogs.
SMO techniques like visual content are more entertaining, catchy, and appealing to most viewers and will help you gain attention. Include images, videos, infographics, or other types of media in your content.
If you come across posts that your target audience might like, post them on your social media accounts and invite them to leave their thoughts in the comments section. This is a fantastic way to get your followers to engage with your brand.
4. Choose the best posting time
The ideal time to post depends on your audience and the social media platform you're using. You would also want as many people as possible to see your posts without flooding your followers' feed and timeline.
The platform will influence the time frame in which you post. People use different social media sites at various times, and this varies by demographic. You need to figure out when your target audience is most likely to use each platform.
5. Integrate your Social Media and Website
It is critical to combine your social media with other mediums for effectiveness. Adding buttons that link your social accounts to your official site is a simple SMO strategy to encourage visitors to connect with you on multiple platforms.
Include direct connections from your website to your social media channels. Also, you can include social media sharing buttons on your blogs. These buttons make it easy for readers to share your content on their social media networks.
6. Post Content that People Share
It is critical to get your content shared to increase the reach of your post. SMO services use visual elements such as images, GIFs, and videos, to capture the public's attention and increase your chances of engagement.
Another technique for boosting your chances of going viral is the simple use of a CTA.  Add a direct share button to your page and encourage users to use it. However, be careful not to give the audience the impression that you want to go viral. Always prioritize meeting the audience's needs and desires.
7. Observe your Social Media Insights
You should always track the performance of your social media posts to assess which strategies are most beneficial for your business. This will reveal a lot about what types of posts are effective and which ones are not.
You can evaluate performance measures such as impressions, clicks, and engagements. If a post receives a lot of engagement, it is a strong indication that it is appealing to your intended audience. You can use this SMO technique to determine which types of posts are most successful.
8. Encourage the use of external inbound links
To take maximum advantage of social media and to improve social media optimization for your business, you should be encouraged to link more & more external sites to your content. The more diverse external links you get the more you gain authority in Google.
Albeit, to achieve this milestone you have to make sure the continuity and quality of your social media content on your social media page. To provide better exposure to your social content, you have to share it on existing threads and discussion forums.
It will significantly maximize your external link sources and help your business to emerge as an authoritative leader in your domain.
9. Define your Target Audience
You have to build your social media strategy, keeping in mind your audience. It will help you figure out plenty of things about your audience. Your knowledge about your audience will help you to create the messages that reecho with them.
The success of your marketing strategy lies in the hands of the audience. So, first, define your target audience and try to earn support from them.
It is necessary to address your audience's questions, concerns, and problems. For that, you have to connect with your audience. Connecting with the right audience is a very challenging task for businesses. You can overcome this challenge by figuring out your target demographic and what social network they use.
10. Diversify content on every social media platform
Updating and syncing content on your social accounts is not that difficult task. You can do that like a pro. But if you want your content to be noticed then you have to make your content unique. You can do that by using high-definition videos on Facebook and meme posts on Twitter.
When you try to diversify your content, you have to ensure that the content properly represents your company's goals and missions.
11. Engage audiences with interactive content
Your company can gain impressive exposure on social media if you successfully engage the audience with your social content. From Twitter polls to ask me anything on Instagram, there are various ways to engage your audience. It will also help you to diversify your company's content.
With the help of interactive and engaging content, you can establish a connection with your audience and make them aware of your products. To gain maximum social exposure, you need to think about how your competitors engage their audiences and implement those strategies in your company. You can even ask the suggestions from your audience, so you should know about the content they wish to see.
12. Never forget to mention followers in your posts and Stories
A great way to ensure quality material for your social feed is to collect user-generated social content through various contests and branded hashtags. You can also utilize UGC, It is also a powerful and effective source of social proof.
To get even better results, you can tag or share your follower's content on your social media channels. It will help you in establishing relations with some of your prominent fans.
If your fan or follower will tag you on social media platforms, you will receive a notification or message. Ensure that you will reshare it because it is a simple win-win condition.
13. Optimize meme marketing
Nowadays, meme marketing is one of the significant social media marketing strategies. With the help of continuous hype on social media platforms, meme marketing has successfully transferred thousands of brands' social media strategies.
Memes are famous for their sarcasm and unique humor. You can measure the popularity of memes by knowing that numerous social media profiles are exclusively dedicated to posting memes.
Meme marketing strategy is utilized by many brands due to its ability to go viral in a limited time. It not only provides ample exposure to your brand but also can drive a large amount of traffic to your website.
14. Don't use social platforms for only promoting business
Customers often feel bored or lose their faith in your brand, if you only use social media platforms to brag about your brand and products. It sounds fake and ridiculous.
Posting about your business's achievements, products, or services once in a while is perfectly ok, but not every time. It will be even better if you covered your business promotion in some valuable and engaging content.
It will be a give-and-take situation between you and your customers. They will give you their valuable attention, money, and online exposure and you will provide them with your product/service and quality content.
15. Make sure to keep CTAs clear & straightforward
CTA stands for call-to-action, which is important for conveying marketing messages to your customers to get the desired action from them.
If you use CTAs in your social media posts, then try to keep them clear and straightforward. Try to avoid using more than one CTA in a single post, because it might confuse your customer about what to do next.
If your customers get confused, they will just continue scrolling or they might go elsewhere or even get clutched by your competitors.
Conclusion
Your company's marketing plan is incomplete without a foolproof social media marketing strategy. Because using social media to attract and interact with an audience will effectively improve your customer outreach.
Social marketing requires specific skills, and handling it with other business operations will significantly increase your workload. You can confound this problem by making the best use of our SMO services.
Windzoon Technologies is one of the prominent SMO service providers in Ahmedabad. Our SEO and SMO services will help you to take your business to greater levels. If you wish to know more about our services kindly contact us.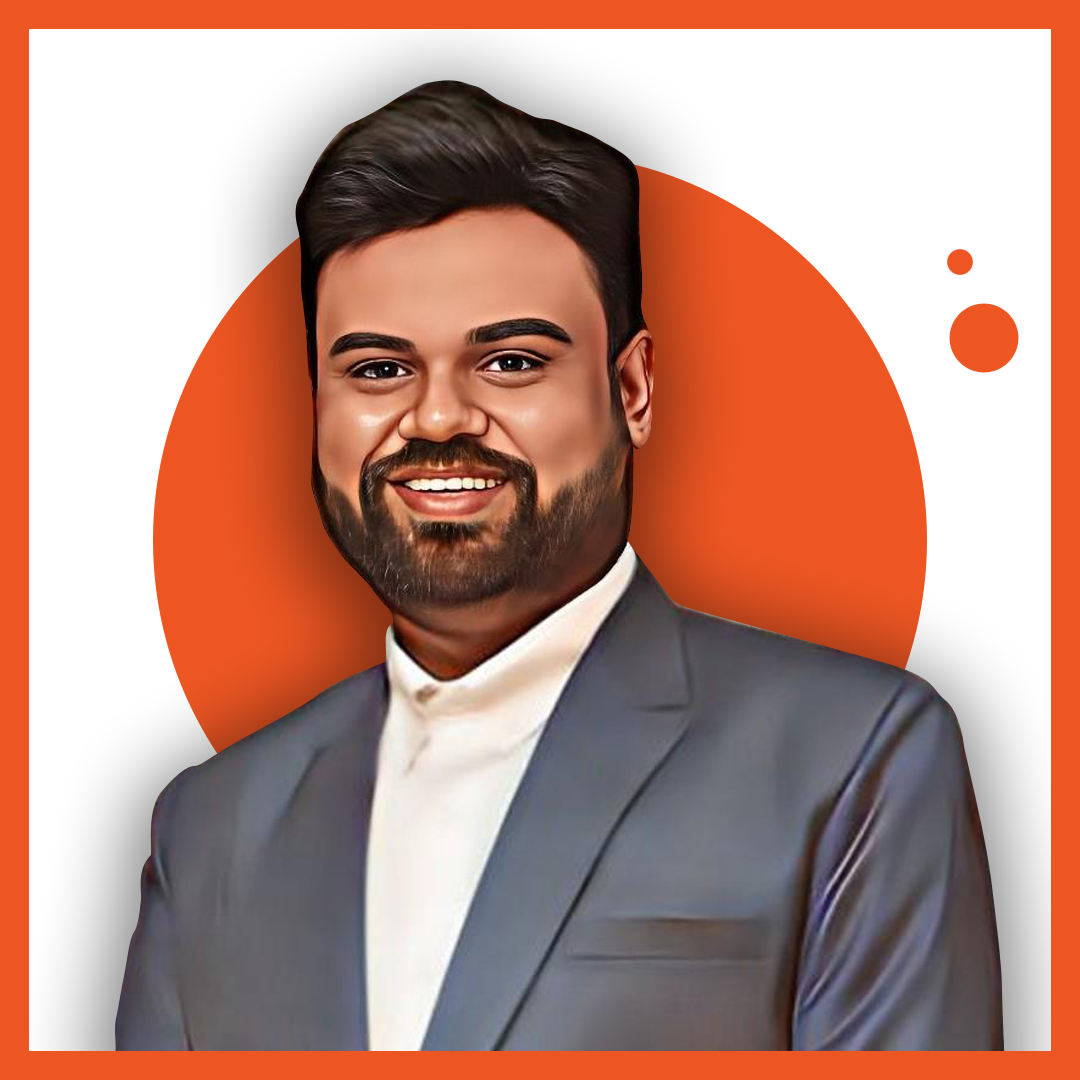 Nilesh Pujara is the CEO & Founder of Windzoon Technologies. He is mastered in computer application but his love for IT and marketing has driven him toward the field of digital marketing. Nilesh Pujara is handling the operations of a digital marketing strategist for more than 10+ years and has expertise in SEO, SMO, & PPC.