As we all know, there are numerous LMS (Learning Management Systems) that offer diverse elements to meet existing learning requirements. With all the different inventions & technologies hitting the world, it is quite fascinating to see that the traditional way of gaining knowledge has also been influenced to a significant extent.
Institutes offering online degrees often use LMSs to assist students to keep track of their materials and their learning improvement. As per Fortune Business Insights 2020, The global learning management system (LMS) market size was valued at USD 14.43 billion in 2021. The market is projected to grow from USD 16.19 billion in 2022 to USD 40.95 billion by 2029, exhibiting a CAGR of 14.2% during the forecast period.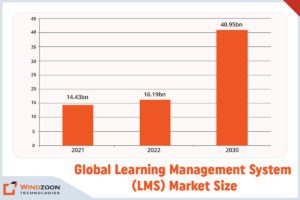 Global Learning Management System (LMS) Market Size
Moodle is a popular LMS with great versatility and reasonable scalability. You can consider to Hire Moodle Developer for responsive & attractive development.
Let us now without further ado, quickly understand what makes Moodle the suitable and best eLearning portal even now!
What is Moodle?
A modular Object-Oriented Dynamic Learning Environment is the full form of Moodle. Moodle is a learning management system software that provides a portal for e-learning. Moodle is designed by Martin Dougiamas, its agenda is to contribute to the education system and facilitate online education.
If you are a professor, learner, or administrator, Moodle can meet all your requirements. Moodle can be personalized & it comes with standard attributes.
What is LMS?
A learning management system is a software technology utilized to plan, execute and evaluate a distinct education process.
Generally, LMS delivers a professor in creating and delivering content, look after their student participation, and evaluates their overall performance. It also caters to students' ability in using interactive characteristics such as video conferencing and solving doubts over a dashboard.
LMSs are more often used by companies of every size, government entities, regional governments, traditional academic organizations, and eLearning-based universities. This system can enhance traditional academic ways, and also save time and money for institutes.
What is Moodle LMS?
Moodle LMS is a digital learning management system. It provides a choice to devise their personal website loaded with vibrant courses that expand learning, anytime anywhere. With the constant updates of features & attributes in Moodle, it makes it more user-friendly and convenient to use.
There are various kinds of LMS available in the market. The most famous of all is Moodle Learning Management System. It is open-source, easy to download, user-friendly, and supported by an international community & with millions of users globally from all kinds of industries.
10 Key features of Moodle LMS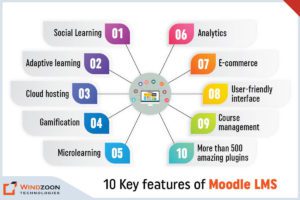 10 Key features of Moodle LMS
Moodle LMS is a customizable platform that retains multiple standard attributes & features. Here are 10 essential features of Moodle LMS that make it favored today!
1. Social Learning
There are many courses with subjects that students engage in & then they move to another new topic. That can lead to boredom. Unfortunately, Moodle LMS handles all the grievances of being monotonous.
But, people don't acknowledge that Moodle delivers customization that can enable an interface identical to famous social mechanisms with a feed of posts and integration with the students' movements and resources. It can contain easy-to-distinguish details that swiftly deliver contexts like comments, likes, or upvotes. Isn't it a cool way to learn digitally?
Thus, this customizable social learning feature makes a great feature to choose from.
2. Adaptive Learning
It is the buzzword utilized by current LMS providers that can offer tailored resources and educational activities to handle the unusual requirements of every student. This can be attained in Moodle via Instructional Design which is built for adaptive learning. It has attributes like activity access rules, course completion section, lesson training utilizing sets, quiz adaptability, & lot more.
If your course is not flexible, then no learning management system can make the education flexible. So ask your Instructional Designers to develop adaptive courses so that they learn.
Therefore, adaptive learning makes it a great attribute of Moodle LMS.
3. Cloud Hosting
Moodle is not completely free but quite reasonable. Though the original code is complimentary, there is a price applied to the server. The customization is fairly inexpensive compared to the prices applied with many other LMS.
Rather than buying pricey plans and tools for your firm, you can further diminish your expenses by choosing cloud computing. With this, you will be capable of lessening your functioning expenses. You won't have to expend on design upgrades to allow such scaling.
All these aspects make a great feature to consider Moodle LMS.
4. Gamification
Gamification is a compelling attribute to entertain and inspire users, by utilizing game mechanics. There is a distinction between game-based education and gamified education. This is altogether a separate subject but the key is both can be executed through Moodle.
Games like hangman, Crossword, Millionaire, Snake & Ladder, etc can be retained to influence the deliverable content. This gamification mechanism can be achieved via diverse Moodle plugins.
Therefore, this is a creative way to engage & attract students.
5. Microlearning
Microlearning enables the user to choose & mold it to their current requirements. It makes the training more appropriate to their course.
A prominent benefit of Moodle is that it provides you access to additional interactive & reusable content. Microlearning is for speedy learning that can be effortlessly customized to preserve publishing time. It also provides a super comfortable content invention ability that is the core of Moodle. You can also construct short interactive courses effortlessly.
Therefore, this learner-driven feature of microlearning boosts traffic and enhances training and career efficiency.
6. Analytics
Moodle analytics enables you to track submissions, lesson completions, & competencies. This is also useful while evaluating employees for upgrades or increment planning all over.
Apart from the primary tracking, it delivers a report of learning progress, a diagnosis of education engagement, and a forecast of learning advancement. With a group of instructors, it is feasible to deliver proactive notifications to the one who can efficiently speak to students or hop to the information with more detail about his/her action.
Thus, this feature of Moodle makes it a worthy portal to choose.
7. E-commerce
If you are considering a Learning Management System to generate revenues by selling courses. You should make sure that your course delivers e-commerce functionality. It must conclude with tracking & reporting attributes that enable you to track & generate income reports.
Moodle LMS has a suitable functionality & feature that helps support e-commerce. It also integrates multiple payment methods to enable users to make their acquisitions via credit cards, PayPal, etc.
8. User-friendly Interface
Businesses that use Learning Management Systems feel to replace them with something that can deliver them a more pleasing user experience.
Moodle LMS has amazing self-descriptive navigation attributes. The LMS is effortless to operate, which means you have to invest the least amount of time in the training and understanding to instruct your employees to operate it effortlessly.
Therefore, it is significant for an LMS to have an interface that is user-friendly.
9. Course management
You can easily incorporate Moodle with your institution's student data system. Moodle has an extensive amount of customization alternatives. You can decide to self-host & also install pre-made templates or create on your own. Also, if you don't have more internal system support then you can connect to Moodle's host and help with course management.
So, Moodle LMS offers an amazing course management feature.
10. More than 500 amazing plugins
Another amazing reason for the popularity of Moodle is that it has more than 500 useful plugins. It is easily configurable, highly adaptable, & feature-rich with amazing plugins designed by an international community of students, supervisors, and leaders. It lets you perform all your requirements and make learning cooperative, interesting and entertaining.
These amazing plugins are enough the reason to choose Moodle LMS.
Why hire a Moodle developer from us for your next development project?
Now that we know the beautiful features of Moodle, let's jump on why it can change the game for you if you hire Windzoon's Moodle Developer in India.
At Windoon Technologies, we have a skillful & highly veteran team of Moodle developers who know the core attributes of developing a Moodle learning app. Our developers build Moodle websites that can be operated in various types of environments like teaching, professional training, & corporate settings as well.
After choosing to Hire Moodle Developers, you can be ensured to fulfill all your digital learning necessities. We have the expertise and have concluded several victorious projects for multiple teaching domains. Windzoon's experienced developers will ensure to develop a responsive Moodle site & customize it as per your requirements.
A must-read, Why choosing a PHP web development company is a smart choice?
Conclusion
Moodle-based LMS is popular amongst all sizes of organizations, because of its highly flexible and feature-rich nature. As it has an open-source mechanism, it is known to scrutiny & designers globally can revise the codes and make them safe.
A big community of students, leaders, and managers are continuously adding the latest plugins to add unique characteristics and functionalities, to develop learning requirements. If you are looking for an LMS that meets your needs, you can consider Moodles LMS which is cloud-hosted & has tailored features and services.
So if you are looking to hire the best Moodle Consultant India, then consider choosing our expert team for responsive development. Contact us at [email protected] to get a quote or know more about our services.
Dharati Thakkar is professional PHP web developer with more than 8+ years of experience. She is mastered in computer application and started her career as a PHP developer. Dharati Thakkar has expertise in Laravel and many other PHP frameworks and likes to write blogs on this disciplines.