The global pandemic has hastened the shift toward mobile-first solutions in all industries. As more modern customers use their smartphones to pay bills, order items, connect with coworkers, and make new friends, the demand for high-quality mobile apps has skyrocketed.
Therefore, developing a market-leading app becomes essential for both startups and established businesses. Since app downloads increase steadily each year, this is not surprising. Annual mobile app downloads were as high as 230 billion in 2021, and it is still rising. A mobile app is undoubtedly a highly lucrative project that you can undertake with the aid of any mobile app development company.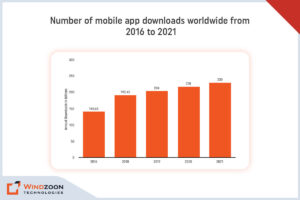 Number of mobile app downloads worldwide from 2016 to 2021
But in order for a mobile app to succeed, it must adhere to the most recent trends in mobile app development. Because if it doesn't, the app, which seems cutting-edge now, might be considered outdated later on.
Here are some outstanding mobile app development trends for 2023 that every Indian company should be aware of.
14 Amazing Mobile App Development Trends That You Need To Follow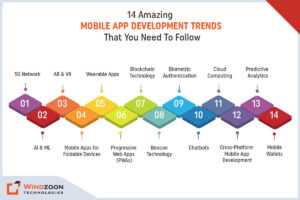 Amazing Mobile App Development Trends You Need To Follow
1. 5G Network
The fifth generation of mobile connectivity, or 5G, is soon to arrive. It will transform the creation of mobile apps in ways we never imagined. By 2026, it's predicted that 5 billion people will be using 5G, which is also seen as the start of the Fourth Industrial Revolution.
Unlike its predecessor, 5G has a latency of less than one millisecond. It will boost data transfer rates up to 100 GB/s.
5G will stimulate app development in areas such as the Internet of Things (IoT), augmented reality (AR) and virtual reality (VR), connected driverless vehicles, wireless health, and others. Next-generation apps will use this power and speed to accomplish things we never thought possible.
2. AI and ML
Mobile apps and systems are already using artificial intelligence and machine learning. Face App, Prisma, and other AI-powered applications have taken AI to the next level.
In 2023, AI will have a more significant impact on our daily lives. Along with current technologies, AI advancements like AI-based cameras, speech translations, and user projections will find a new home in smartphones.
Many businesses recognize the advantages of AI because it enables them to deliver top-notch services while significantly reducing operating costs.
3. AR and VR
A growing number of businesses are using augmented and virtual reality to improve the user experience of their mobile apps. In 2023, the AV/VR market is projected to reach $160 billion, a significant rise from $12 billion in 2020. And in the ensuing years, this trend is not likely to reverse itself.
Numerous apps in the market are already utilizing the power of AR/VR, including Google Maps, Ikea, Nike, and many others. So, if you want to use augmented or virtual reality to enhance your company's offerings, the time is now.
4. Mobile Apps for Foldable Devices
Devices with folding displays are called foldable devices. It is still uncommon to use this construction technique. However, major manufacturers like Samsung, Huawei, LG, and others actively promote their first smartphones with foldable displays.
Both manufacturers and app developers can benefit from this trend. In the coming years, digital products that can be customized for special foldable screens may become very popular. At the very least, nearly all mobile applications will be equipped with the technology necessary to adapt app size and layouts to foldable screens.
5. Wearable Apps
As the market for wearable technology expands, more digital solutions are required to support electronics. Every type of wearable device, including jewelry, smart watches, and bands needs a full-featured app.
It assists in collecting the device wearer's data, measuring and analyzing vital signs, producing advanced statistics, and more.
6. Progressive Web Apps (PWAs)
Progressive web apps are a different mobile app innovation that is anticipated to gain traction in the coming years (PWA). These applications serve as a user interface for websites and native mobile applications.
PWAs are less dependent on the network, take up less space, and load faster. Even though they aren't a brand-new development trend for mobile apps, they are here to stay and help companies achieve their goals at a reasonable cost.
Progressive web apps are more accessible and simple to design than traditional apps. That is because they are simply web pages with app functionality. PWAs are interactive, updated automatically, and very flexible.
7. Blockchain Technology
According to current trends in mobile app development, blockchain technology is all about better user experience, data privacy, and security.
Blockchain can be used for various purposes, including storing passwords on decentralized networks, using smart contracts to feature in-app transactions between users, blockchain gaming or metaverses, and more.
With the proliferation of blockchain technology and mobile banking, more and more apps will incorporate blockchain solutions.
8. Beacon Technology
Beacons are one of the most recent innovations in proximity marketing and location technology. They are discreet wireless transmitters that communicate with nearby smart devices using low-energy Bluetooth technology. And that way, they link to smart devices and transmit data, facilitating and improving location-based interaction and search.
It makes purchasing goods and services simple and convenient. Hence, many businesses are now using beacon trends to promote their products and services. Additionally, it helps them to learn more about their customers' purchasing habits and preferences. And enables businesses to make shopping more personalized.
9. Biometric Authentication
App development trends have become more stringent and significant in terms of security. As a result, biometric authentication has become an essential data protection feature for every modern app. It intensified the security several times, allowing for quick authentication and operation.
Face recognition, fingerprint scanning, and computer vision are all examples of this technology. Such a trend has the potential to significantly improve the security of users' data and money.
10. Chatbots
Chatbots are transforming how companies interact with their customers. In the past, companies used mobile calls to reach out to their clients (which was time-consuming).
Chatbots are a form of communication that aids businesses in meeting customer expectations. Here are some popular chatbot options:
Google Assistant
Alexa
Siri
Chatbots make it easier and faster to respond to customer requests. This technology is widely used in various applications, including online shopping, transportation, food delivery, etc.
11. Cloud Computing
As cloud computing gains popularity, developers can use the strength of the cloud to improve mobile apps. With this innovation, mobile apps can complete complex tasks and obtain all the data they require from the cloud. This enhances the functionality and speeds up the app.
12. Cross-Platform Mobile App Development
The development of cross-platform apps will be one of the most popular mobile app trends in 2023. It enables you to create your app once and release it on various platforms, such as iOS and Android.
Cross-platform development not only saves time and money but also guarantees that your app will look and feel the same on all devices.
13. Predictive Analytics
Predictive analytics includes data modeling, artificial intelligence, machine learning, and data mining. This trend effectively uses data analysis to assist businesses in making future-ready decisions.
It can detect trends and opportunities, improve business processes, and forecast customer behavior. Businesses can improve their chances of success by employing this trend early in developing their mobile applications.
14. Mobile Wallets
Customers are particularly fond of mobile wallets. People prefer not to frequently pay with cash or type account or card information as the economies of various countries become more digital. For better throughput, they prefer to pay using integrated digital payment.
By integrating popular payment gateways with mobile wallets, the payment process is sped up and simplified.
A growing number of mobile wallets have gained popularity, including Google Pay, PhonePe, Amazon Pay, Paytm, and others. Because the industry has not yet reached saturation, there is still an opportunity for future growth.
Conclusion
The mobile app industry is expanding and evolving at a rapid pace. How can you ensure your app stands out from the millions of others on the market and offers what users want? The answer is simple: by using the most recent trends in app development when creating your application.
And if you require assistance in putting these trends into action, please do not hesitate to contact us. As a preeminent Mobile App Development Company, Windzoon offers top-notch mobile application development services at the most affordable prices.
Hire Mobile App Developers from us to create a bespoke application tailored to your business needs and the latest industry trends.
For more information about our services or to get a quote, go to windzoon.com.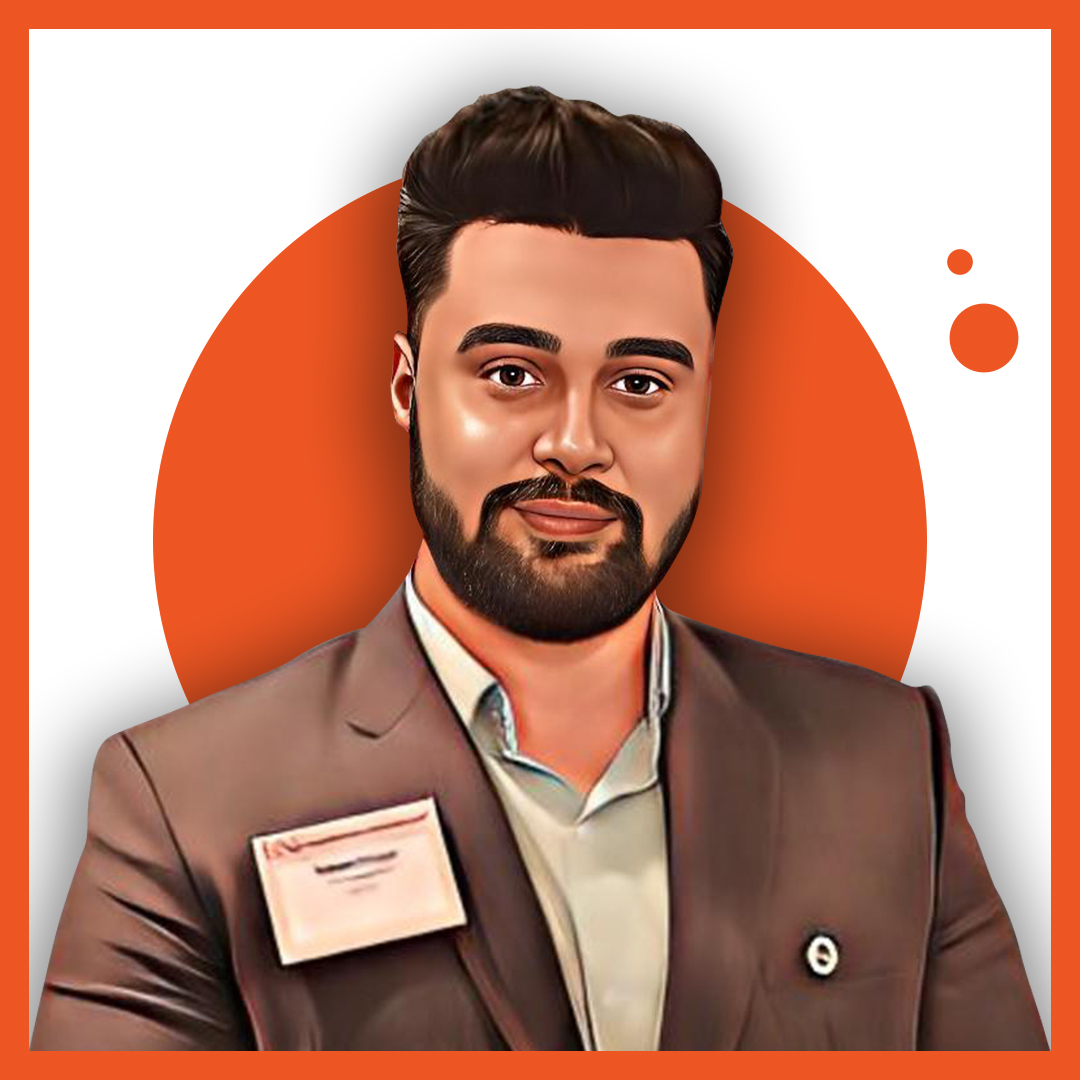 Soham Trivedi is a co-founder of Windzoon Technologies and has been working as a business development manager for more than 10+ years. He is mastered in business management but his passion for writing has driven him toward the content writing field. Apart from being a business development manager, Soham Trivedi is a successful content writer and a technology lover and has been writing across various disciplines.