Enterprise businesses require a reliable and scalable web presence more than most organizations do to stay competitive. To that end, many large businesses have historically looked to pricey web solutions requiring exclusive support contracts as a quality assurance measure.
But is it necessary that only expensive web solutions will provide a quality guarantee while others won't? Because this isn't the case, especially with regard to WordPress.
The fact that WordPress has been around for more than ten years and now powers 43.0% of the web makes it clear that even the biggest companies need to pay attention to it.
Currently, WordPress powers many Fortune 500 businesses, including Xerox, Sony, Tesoro, The Walt Disney Company, Best Buy, and many more. You can also join this league by working with a reliable Custom WordPress Development Company.
In this article, we'll discuss the unique requirements of larger organizations and examine the many benefits of using WordPress for enterprise businesses.
What is an Enterprise?
"Enterprise" is obviously a generic term, but when applied to a specific type of business, it generally refers to a large, usually multinational organization. These organizations typically consist of separate organizational parts with separate budgets and goals.
Although there are many different definitions of what an enterprise business is. But when it comes to web technology, most enterprise websites need to be able to handle a lot of traffic, especially if they are media or e-commerce sites.
Now, let's move toward our next question, that is:
6 Must-have Features in Every Enterprise CMS Website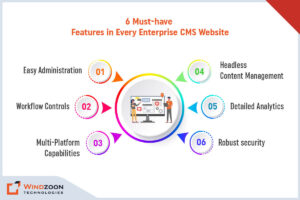 6 Must-have Features in Every Enterprise CMS Website
Based on our experience as the preferred WordPress Website Development Company, we have identified a few key criteria for any CMS to serve as an enterprise-grade solution. They are listed below:
1. Easy Administration
An enterprise needs a CMS that provides a variety of user-friendly and effective administrative tools in a single software package. Site administrators must be able to manage notifications, add assets, track scheduled content, and adjust plugins without switching between different programs.
2. Workflow Controls
Enterprises require a CMS with efficient workflow controls. As they are one of the most useful components of a good CMS. In essence, they offer your marketing team a planned environment for content creation. For ex.: Writers produce the content for your website, and editors edit it before sending it to the company's legal department for a final review. Every team member has a profile with the proper permissions to speed up workflow.
3. Multi-Platform Capabilities
Enterprises are bound to grow their customer base over time. Having a flexible website solution from the start will allow them to launch various mobile applications, web applications, and websites as they grow. To meet any of these requirements, a CMS must be capable of supporting multiple platforms.
4. Headless Content Management
Enterprises are under increasing pressure to support omnichannel digital experiences across a wide range of devices. As a result, they require a headless CMS that can store frontend agnostic content and allow marketing teams to optimize and deliver it on whatever devices or channels their audience requires.
5. Detailed Analytics
Any online marketing campaign's success depends on how much the marketing team is aware of its target market and potential customers. Enterprises are well aware of this fact. As a result, they need a CMS that either has popular analytics tools built in or can integrate the necessary plug-ins.
6. Robust security
Serious security lapses have catastrophic effects on businesses of all sizes. Therefore, enterprises need a CMS platform that prioritizes security and can be quickly updated to fix vulnerabilities as they appear. Anything less is simply unacceptable.
After learning about the enterprise's expectations from the CMS, let's see what exactly WordPress CMS is.
What is the WordPress CMS?
WordPress has long been recognized as a blogging platform. Or a system that offers small business owners and aspiring entrepreneurs incredible flexibility. Although it still offers small businesses reliable solutions, WordPress has grown to be much more.
WordPress for big enterprises includes a slew of features tailored to enterprises of all sizes. It is built using web technologies, which are extremely scalable. WordPress is one of the most popular content management systems (CMS), so there are a lot of WordPress service providers to choose from.
Thanks to the abundance of plugins available, it shouldn't be difficult to customize the default enterprise WordPress platform to deliver the precise experience you need.
Now, Let's learn about some of the myths related to WordPress for Enterprise Website Development.
What are the Common WordPress Misconceptions for Enterprise Website Development?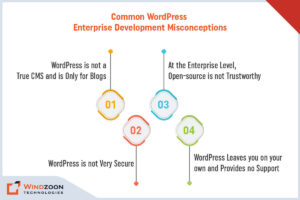 Common WordPress Enterprise Development Misconceptions
While WordPress is an excellent platform for many reasons, many people have misconceptions about its limitations and capabilities. Here are a few examples of common WordPress enterprise development misconceptions:
1. WordPress is not a True CMS and is Only for Blogs
As previously stated, WordPress powers nearly 42% of all websites, implying that it is capable of much more than just blogging.
2. WordPress is not Very Secure
Although there may be some risks associated with third-party plugins, the core system is actually very secure. Besides, WordPress has also recently begun to invest in rapid security releases, which are managed by a team of 50 experts.
3. At the Enterprise Level, Open-source is not Trustworthy
This is untrue because large websites like Facebook and Google also rely on open-source software to power their technology.
4. WordPress Leaves you on your own and Provides no Support
It is not true. Due to its sizable open-source community, developers and contributors are constantly producing fresh plugins, themes, and features in addition to responding to user inquiries and fixing bugs as they appear.
With this, we have come to the main topic of our discussion and that is:
9 Benefits of WordPress for Enterprise Website Development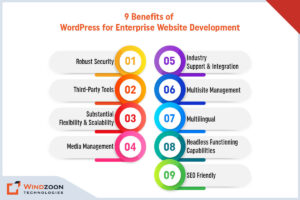 9 Benefits of WordPress for Enterprise Website Development
Compared to other content management systems, WordPress is easier to use, cost-effective, and more flexible when it comes to customizing enterprise-level websites. Some of the exceptional benefits of WordPress are as follows:
1. Robust Security
Of course, an enterprise CMS needs to be completely secure. It guarantees the security of both user and organizational data.
WordPress meets and even exceeds these requirements. WordPress provides regular updates and security releases to protect users from common hacks. You can further secure your site by utilizing security plugins, as well.
While WordPress handles some minor core updates automatically, major updates and server updates frequently require manual intervention. An enterprise company can lessen its technical workload and risk of error by selecting a managed WordPress host rather than a generic host.
2. Third-Party Tools
With WordPress, you have access to a wide range of third-party tools that are compatible with your setup. As a result, your enterprise business can quickly add features and update the website without having to spend money on pricey custom solutions. There are lots of free tools and paid plugins with extra support available for enterprise businesses!
3. Substantial Flexibility and Scalability
The most crucial factors for businesses in general, or for enterprises in particular, are flexibility and the ability to grow over time. WordPress provides that with the aid of thousands of highly customizable themes and more than 54,000 plugins.
With respect to other CMS, this is a sizable number—possibly the largest. There's a good chance that everything you need for your website is already available. And even if it isn't, you can speak with a qualified WordPress website development company to create a unique solution that is completely tailored to your needs.
4. Media Management
Media management is an important aspect to consider when designing an enterprise website. For instance, whatever solution you choose must make it simple to manage organizational documents, visual media like photos and videos, and even audio.
Fortunately, WordPress allows you to upload (and manage) almost any type of media. However, managing media is not limited to the back end. Using WordPress' built-in functionality, you can also display it conveniently on the front end in places like pages and posts.
5. Industry Support and Integration
Beyond user support, many major industry players are capitalizing on WordPress' popularity. These companies, which include software providers and marketing services, provide integrations and support that benefit many users.
Plugins are the most popular method of industry support and integration, and they are an inherent feature of WordPress. These specific pieces of software work to enhance WordPress' functionality.
In fact, these plugins are specifically designed for WordPress by companies like MailChimp, Constant Contact, Buffer, and even Google Analytics. It allows you to easily integrate these companies' services into your website, which improves UX and site flexibility.
6. Multisite Management
Operating an enterprise website entails managing multiple subdomains or microsites and restricting access to a select group of team members.
A user role in WordPress called "Super Admins" gives users the ability to build networks and control user permissions across numerous sites. With this, you can safeguard your website and its contents, especially sensitive data, from unauthorized access.
7. Multilingual
Large corporations must have a website that customers from all over the world can access. WordPress supports more than 100 languages, which means you can effectively communicate with a global audience.
8. Headless Functioning Capabilities
Headless is a new trend in enterprise website development. It's a method of separating the back end of the CMS from the front end. By doing this, you can create a unique user interface based on a framework, such as JavaScript, and link it to the back end (WordPress) using an API.
As a result, you get the best of both worlds: remarkable content management and a more responsive front end.
The REST API in WordPress allows it to support this approach out of the box. Not only that, but the API can populate almost any other object with content, including mobile apps.
As a result, headless can transform WordPress from a basic website to an omnichannel publishing tool. If you are interested in this headless concept and want to know more about it, then read our Complete Guide on Headless WordPress Development.
9. SEO Friendly
Another technical benefit of WordPress is its SEO-friendliness. WordPress naturally works well in this area, though you might need to install a plugin to make managing on-page SEO a little simpler (the Yoast SEO plugin and All-In-One SEO Pack are two popular options that come to mind). It is a key selling point for enterprise sites with potentially enormous amounts of content.
Now, let's get to know about some easy steps to develop a WordPress website for an enterprise.
How To Develop Enterprise Websites With WordPress?
Here are the six steps you must follow to make WordPress enterprise-ready.
Step 1: Select a Reputable WordPress Host
Step 2: Configure Plugins for Advanced SEO
Step 3: Add multilingual support to your enterprise WordPress site
Step 4: Add performance-enhancing plugins
Step 5: Strengthen the security of your enterprise WordPress site
Step 6: Improve the publication process
Conclusion
WordPress is an excellent CMS for large organizations and complex solutions. It is expandable, secure, and provides practical and simple solutions to complex needs. However, these features would never suffice for enterprise websites.
Enterprises require continuous website monitoring, which is where specialized WordPress Website Development Companies come in. They have senior developers and designers with extensive experience and skills in project management.
If your company requires WordPress Development services, partnering with Windzoon Technologies is a wise decision. We are one of the best and most remarkable WordPress Development Companies in India.
Hire WordPress Developers from us who are experienced in creating complex and industry-specific enterprise websites. Visit us at windzoon.com to get a quote or to learn more about our WordPress website packages.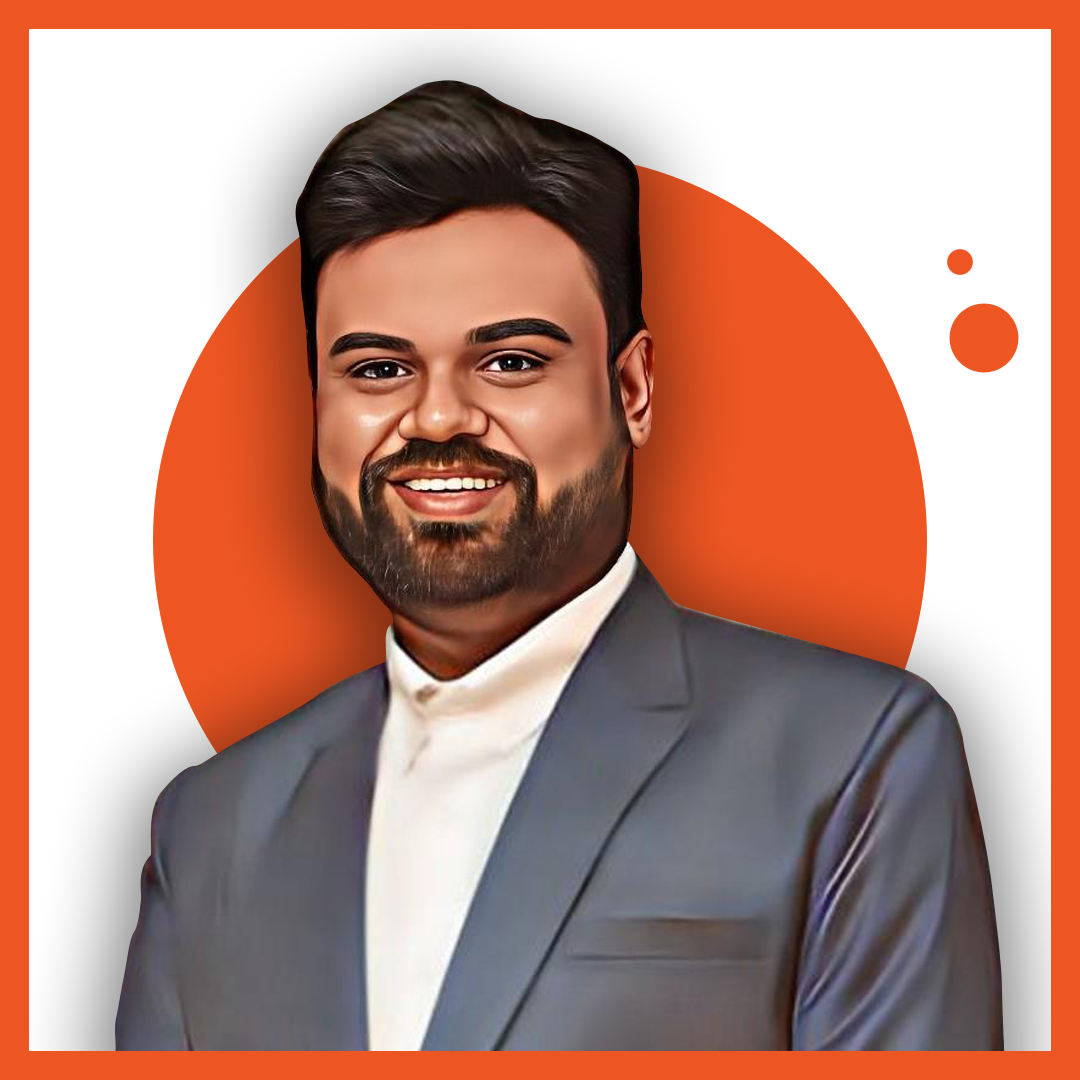 Nilesh Pujara is the CEO & Founder of Windzoon Technologies. He is mastered in computer application but his love for IT and marketing has driven him toward the field of digital marketing. Nilesh Pujara is handling the operations of a digital marketing strategist for more than 10+ years and has expertise in SEO, SMO, & PPC.