Websites represent businesses & people on digital platforms. And nobody puts forth the effort that your website does for you & your business. Websites function when everyone is asleep or even when you are away for a vacation. It works to establish your brand. And, if they are well-designed, they can constantly deliver conversions with little effort on your part.
Therefore, an excellent website should be at the top of every business's list of objectives when they are going digital. It is not easy to develop a website—business owners are often torn about whether they should build, hire, or outsource the project to a web development company in India & USA.
Thus, to relieve you from your dilemma, we have come forth with this article. It will help you understand the following points:
So, let's start this blog with the very first and most important information.
Importance of Web Designing for Your Business
Your website design is crucial because the design is important to your customers. We all respond to visuals, whether consciously or unconsciously. And beautiful design inherently attracts people. Studies have repeatedly shown that users evaluate your company's website solely on its visual attractiveness and will often abandon it if it is poorly designed.
Here are some startling statistics about the significance of website design:
Users establish an opinion about your website in roughly 50 milliseconds (0.05 seconds), which decides whether they will stay or leave.
57% of internet users claim they won't suggest a company if their mobile website is poorly developed.
According to 85% of individuals, a company's website should be just as excellent as its desktop website when viewed on a mobile device.
38% of visitors will stop visiting a website if the layout or content is unappealing.
88% of online users are less likely to visit a website again after a negative encounter.
39% of consumers will abandon a website if photos fail to load or take too long to load.
47% of users anticipate an average website to load in no more than 2 seconds.
Each year, retailers lose $2.6 billion in sales due to slow-loading websites.
75% of consumers acknowledge judging the credibility of a company based on the layout of the company's website.
According to Google, 46% of consumers decided whether or not to trust websites based on how appealing and aesthetically pleasing they were.
As per Google, 94% of complaints about websites had to do with the design.
Google reports that 61% of visitors are reluctant to visit a mobile website again if they encountered access issues, and 40% instead go to a competitor's website.
A smooth experience across all devices is extremely important to 83% of mobile users.
Now, let's move forward to know what is outsourcing. And how outsourcing your web development project to an Indian company would benefit your business.
What is Outsourcing?
The practice of hiring a third party from outside a business to carry out tasks or produce commodities that were previously completed in-house by the business's own staff members is known as outsourcing.
11 Reasons Why Outsourcing Web Development Services is Your Best Option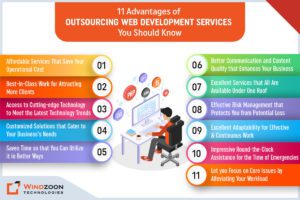 11 Reasons Why Outsourcing Web Development Services is Your Best Option
People have been debating whether outsourcing is necessary or not for more than a decade, and those who argue against it have unquestionably failed to recognize its substantial advantages.
Outsourcing web and mobile development services to India will always be a profitable proposition for businesses. We've identified a few key reasons why businesses should outsource their web development projects to India.
Advantage of outsourcing web designing and development work to a web designing company from India
1. Affordable Services That Save Your Operational Cost
In most cases, outsourcing the work will result in lower resource costs as well as additional expenses like salaries, infrastructure costs, and utility costs. You don't need to be concerned about the equipment and software needed for web development. Simply hire web developers from India at reasonable rates and get your task done.
2. Best-in-Class Work for Attracting More Clients
There is fierce competition among Indian web development companies. Businesses are heavily influenced by market competition since they can't survive unless they continue to be in demand. As a result, they are constantly under pressure to produce exceptional outcomes. However, before really choosing an outsourcing company, do verify its rating and comments so that you can be confident that quality will be top-notch.
3. Access to Cutting-edge Technology to Meet the Latest Technology Trends
Once again, competition is a major factor in this situation. Therefore, Web development companies in India need to ensure they have the latest tools and equipment. Outsourcing web development companies in India ensures that you will receive quality service as well as the latest technological expertise in that field.
4. Customized Solutions that Cater to Your Business's Needs
Regardless of the obstacles, the level of skill among Indian web developers ensures that you will find the majority of the solutions you seek. Whether it's products, services, or market content, there are excellent solutions on the market that are created to meet particular business requirements.
5. Saves Time so that You Can Utilize it in Better Ways
Outsourcing web development services save you time and money on the hiring process. Hiring, training, and managing a web design and development team can take weeks, if not months. Outsourcing allows you to focus on your core business activities while an outsourcing company in India manages the rest.
6. Better Communication and Content Quality that Enhances Your Business
One significant advantage of outsourcing web development services to India is proficiency in the English language. You can anticipate easy communication. Plus, content that is adhere to global standards and is user-friendly, engaging, & understandable. Users will return to your website because of its design and language.
7. Excellent Services that All Are Available Under One Roof
Most offshore web design and development service providers in India have teams comprised of qualified and skilled web developers, analysts, designers, project managers, and digital marketing experts.  This combination enables you to receive web solutions that are specifically tailored to your company's needs.
8. Effective Risk Management that Protects You from Potential Loss
When you receive new projects or plans for your company, there is a good chance that your in-house team is inexperienced. It might cost your company greatly. To avoid this, you must hire experts from other countries. Because skills & technology are important in website designing, and outsourcing reduces the risk of mistakes.
9. Excellent Adaptability for Effective & Continuous Work
Assume you have some important tasks to complete on your website while your employees are on Christmas holidays. But you can't just cancel the holidays, can you? If you have a team of techies in India, you can easily reach them and they can handle the work for you even if it is during the Christmas holidays. This level of adaptability is only available from Indian web development firms. They will complete your task even if it is a holiday.
10. Impressive Round-the-Clock Assistance for the Time of Emergencies
When you choose to outsource your web design and development work to India, they will offer you services day and night. Time is of the essence for web-based businesses. If your website is down for even 15 minutes, you risk losing customers. When an emergency like that arises, you need a team that can support you. An Indian Company will assist you 24/7 so that you are never stranded on your website.
11. Let you Focus on Core Issues by Alleviating Your Workload
Outsourcing web development to India will allow you to focus on what you do best. Let the professionals deal with the hassle of designing your website. You can concentrate on tasks that will benefit your business while they work on your website.
How Much Does It Cost to Outsource Website Development Service?
In general, outsourcing a web development service is always less expensive than handling it in-house. That's because outsourcing provides you with a ready-to-go expert team with enough expertise, experience, and resources to complete the project successfully in a shorter period of time.
However, determining the cost of an outsourced website development project without first conducting a thorough analysis is nearly impossible. That means you'll need to consider a variety of factors that influence the overall project cost, such as:
– The project's scope
– Type of project
– The project's complexity
– Technology preferences
– Clearly defined deadlines
– Predefined roles and responsibilities
Conclusion
Outsourcing to a third-party website development company provides numerous advantages to businesses. It gives your company a competitive edge while streamlining business operations.
And Windzoon is a fantastic option if you're looking for a reliable Web Development Company to outsource your web design and development project. We've been offering a wide range of web development and design services for over ten years. To leverage our services or learn more about us, visit windzoon.com and request a quote.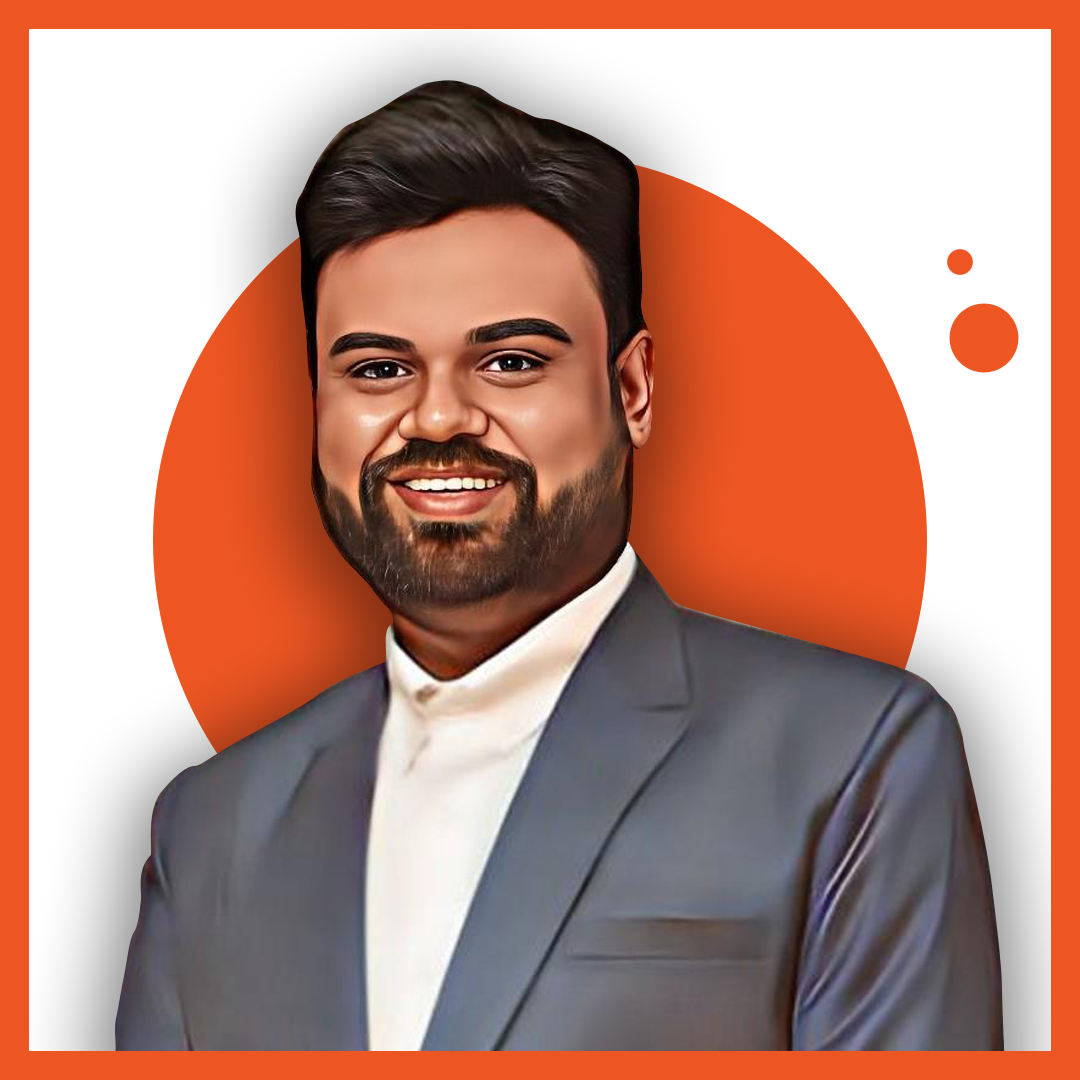 Nilesh Pujara is the CEO & Founder of Windzoon Technologies. He is mastered in computer application but his love for IT and marketing has driven him toward the field of digital marketing. Nilesh Pujara is handling the operations of a digital marketing strategist for more than 10+ years and has expertise in SEO, SMO, & PPC.