Ok, Google! Which is the best nearby restaurant to eat continental food?
Alexa, what are the best places to visit in the summer?
Siri! How to bake chocolate cookies for Christmas?
Don't these questions sound familiar? Of course, they do. We all have heard & used this kind of question while doing web searches through voice commands. Since its inception, the popularity & usage of voice research has gradually increased over time. But after COVID, more & more people have been turning toward voice search.
A report from Gartner states that 32% of consumers are interested in hands-free technology that limits touching or contamination. Unquestionably, voice chat is appealing since it is quick, hands-free, and allows for multitasking. Google states that around 27% of all online users use voice search on their mobile devices. And according to Statista, the number of digital voice assistants will reach 8.4 billion units by 2024, surpassing the world's population.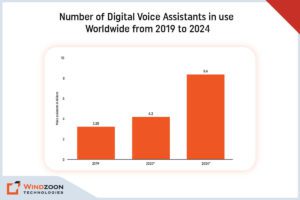 Digital Voice Assistants in use Worldwide
As a business entity, you need to consider the impact that voice search is having (and will have) on your digital marketing strategy. As voice search grows more popular, ensuring your website is optimized for this type of search is important. And for that, it would be beneficial to take help from a competent Digital Marketing Agency.
In this post, you'll get complete knowledge about Voice search that includes:
So, let's move toward our very first question.
What is Voice Search?
In the 2000s, IBM's Watson speech recognition sparked the development of voice technology devices, which Google and Apple later followed up on with Voice Search and Siri, respectively.
Voice search is a technology that recognizes your voice. It allows you to search for queries by speaking them rather than typing them. Voice search software and devices are capable of understanding our voices. They can even identify the various accents and contexts in which we speak. Now, we'll move forward to know how voice search works.
How Does Voice Search Work?
Any time a voice search request is made, a voice search assistant will, in turn:
Filter the sounds to keep the speech request distinct from outside noises.
Transform the voice search request into digital data by digitizing it.
Analyze the voice by processing digital information.
Connect to outside data sources, like Google Search, to locate and present relevant information.
Translate the data to meet the searcher's requirements.
Recognize patterns and contrast the query with the database's existing samples.
Who Are the Largest Market Participants in Voice Search?
According to market share, these companies dominate the US market for smart speakers:
Amazon (63.2%)
Google (31%).
Other (5.8%)
However, it's crucial to remember that most voice searches actually take place on mobile devices rather than smart speakers. Apple (Siri) and Google are the two main rivals for smartphone assistants. Make your web app compatible with Siri & Google assistance by hiring the Best SEO Company in India & USA.
After learning about how voice search works, let's move to our next question.
How is Voice Search Different from Traditional Search?
Here are a few points that describe the difference between voice & traditional searches.
Compared to standard search, voice search keywords are longer and more conversational.
Voice queries are more popular in local listing searches than traditional searches.
The search results in voice search are clear and concise. In contrast, the results of traditional searches are repetitive and redundant.
Voice search is more convenient, faster, and easier than traditional search.
Now, with our next question, let's understand what impact voice search made on SEO.
How Does Voice Search Impact SEO?
The impact of voice-enabled technology on SEO is clear, given the developing trends and rising adoption rate in the use of mobile searches. This means that firms dependent on digital marketing solutions will either succeed or struggle, which is why understanding the impact of voice search is critical. Voice search can assist the Top SEO Consultants, digital marketers, and business owners in surviving the competition, achieving their marketing objectives, and increasing income.
After this, we'll move forward to know some useful tips for optimizing your website for voice search.
How To Optimize Your Website for Voice Search?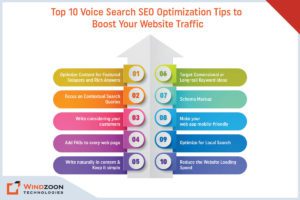 Top Voice Search Optimization Tips
You can optimize your website for web search by following the below-mentioned tips. Or you can take help from a competent Local SEO Agency to do this job.
1. Optimize Content for Featured Snippets and Rich Answers
Around 73% of voice search results will appear in the top three SERP positions. Brands like to be at the top of the list of featured snippets rather than at the bottom.
Google Featured Snippets increase the visibility of your business. Considering that Featured Snippets are usually the best response (rich answer) to a search query.
Snippets are short, to-the-point sentences that are typically pulled directly from your website or blog. They connect your audience to your brand without requiring them to visit your website. It is a fantastic approach to increasing brand recognition and establishing authority in that field.
2. Focus on Contextual Search Queries
Contextual Search prioritizes the context of the moment of search behaviour in evaluating and ranking results. It considers the user's purpose and context to provide the most relevant set of results.
Your web app's content needs to be optimized for contextual search queries if you want to make it voice search-friendly.
3. Write Considering Your Customers'
Great voice search web content should provide answers to your customers' questions. Always keep your audience in mind when writing blog posts, social media updates, and web pages.
What concerns might your customers have with the subject? Understanding how to assist your readers enables you to create more appealing content.
4. Add FAQs to Every Webpage
Including FAQs on every page is an excellent strategy to improve your website's voice search functionality. For example, Web App Solutions may offer FAQs concerning the development technique, pricing, and estimated schedule for project completion.
Service pages may address inquiries regarding your team, processes, or equipment. These sections make it easier for your clients to find the required information.
5. Write Naturally in Content & Keep it Simple
People can sense the difference between natural writing and artificial writing. Although keywords are crucial, they should never come off as forced. If you want your readers to think of you as a friend who is giving them good advice. Use normal language that your audience understands.
Even search engines also like simple and direct explanations. They typically select short and simple replies for voice searches. Hence, try to explain concepts using everyday terminology, even when replying to challenging inquiries regarding web design or development.
6. Target Conversional or Long-tail Keyword Ideas
People tend to concentrate on a single word while entering a query, but when using voice search, they ask for something in a whole question. For instance, if someone wanted to purchase dark chocolates, they may write dark chocolates into a text search box.
But when using voice search, they'll say, "Where can I find an assorted collection of dark chocolates nearby?" You can certainly make up the search results if you target a long-tail phrase like "assorted collection of dark chocolates."
But how can you tell which questions are frequently asked about particular subjects? You must conduct some independent research. For that, you can use "Answer the Public App." It is a very helpful & free tool for research.
Thus, focusing on long-tail keywords in your niche increases relevant traffic and boosts conversion rates.
7. Schema Markup
It can be noticed that websites with schema markup and structured data appear most frequently in voice search results. For search engines like Google to comprehend your page, schema markup offers information about your webpage.
Your webpage will only be ranked for relevant search queries when the search crawlers comprehend the information on it. Therefore, don't forget to provide schema markup to your web pages.
8. Make Your Web App Mobile-Friendly
Smartphones and voice searches go hand in hand. Optimizing your website for Siri and Alexa also makes it appealing to mobile users.
To make your website mobile-friendly, design scrolling pages that are more pleasurable to read. Furthermore, having a clean sitemap turns navigation much easier. And to add visual appeal, don't forget to use bullet points and brief paragraphs.
Because mobile is the future of searches, which includes voice queries. And a mobile responsive website is the best SEO practice that should not be overlooked.
9. Optimize for Local Search
The majority of voice searches are for local search results and shopping. Hence, ensure that your content is optimized to rank for local search results.
For that, you don't need to include the word "near me" in every keyword. Instead, it would be best if you made it simple for Google, Siri, Alexa, and Cortana to locate information about your company's location.
Thus, ensure Yelp, Apple Maps, & Google My Business have the correct information for your company's address and phone number.
10. Reduce the Website Loading Speed
The website's loading speed is important in ranking higher on SERPs. No one wants to wait long for results, and the average person waits only 2-3 seconds for a website to load.
And if the website takes longer than that to load, visitors leave it to go for another. Therefore, Google searches for relevant results that load quickly to be included in voice search results. Hence, to speed up page loading, avail of a Professional SEO Services provider.
Now, let's understand the benefits of optimizing your website for voice search.
How does Voice Search Benefit Businesses?
Businesses benefit from voice search in the following ways:
It allows you to capitalize on its growing popularity.
It enables you to gain dominance in search results.
It greatly increases your local traffic.
It holds the potential to increase your e-commerce sales.
It helps you to stand out from the crowd of your competitors.
Conclusion
Over the last ten years, voice search has developed into a significant player in the SEO industry. And it isn't going anywhere anytime soon. If you're a local business looking to increase website traffic & foot traffic, you shouldn't just be aware of voice search queries—you should work diligently to capture this crucial market.
If you require any assistance in doing this vital task, you can take help from a competent Digital Marketing Company. We at Windzoon provide a plethora of Digital Marketing Services. Our experienced & talented team of SEO executives can aid you in optimizing your website for voice search. To avail of our digital marketing services & want to know more about us, kindly visit windzoon.com and get a quote.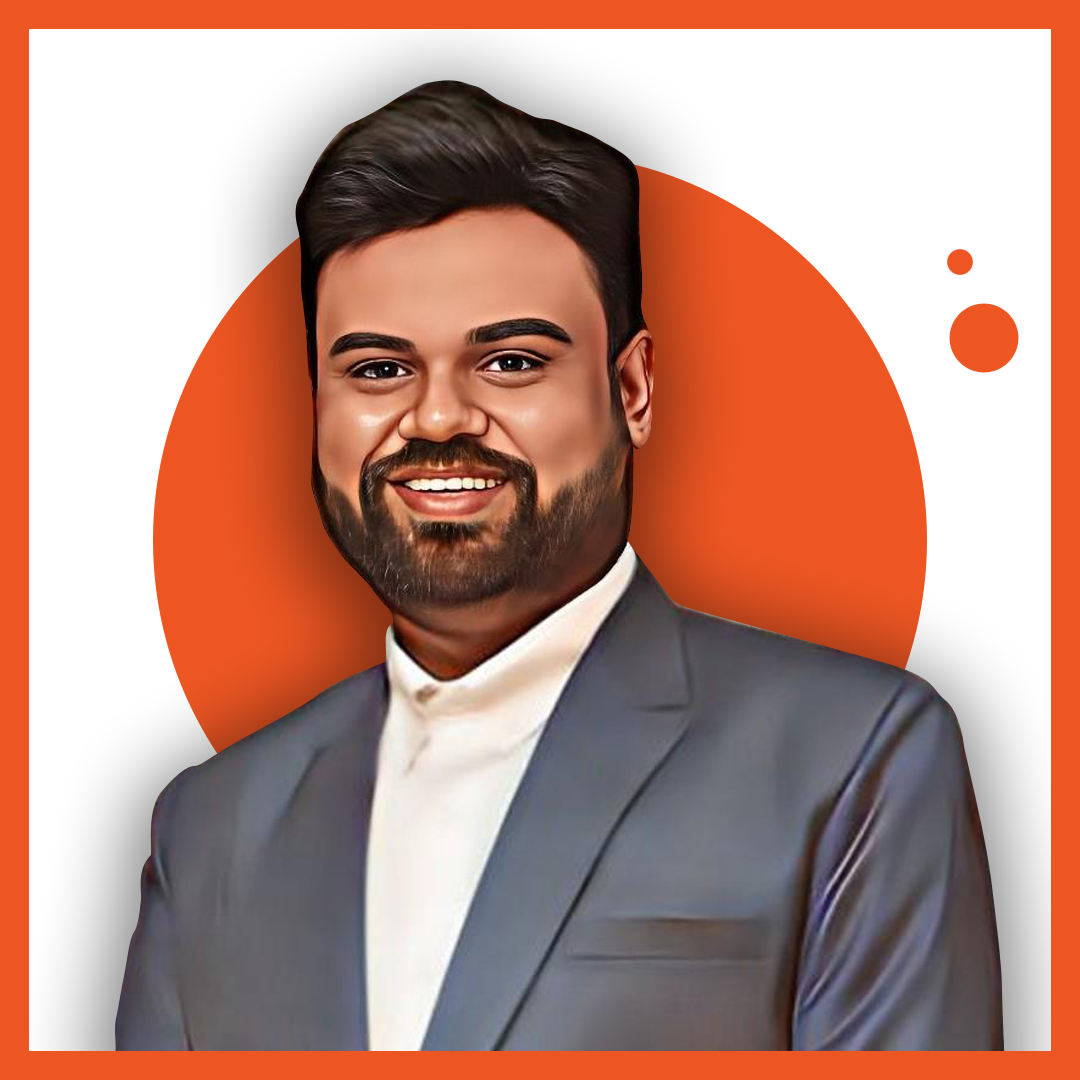 Nilesh Pujara is the CEO & Founder of Windzoon Technologies. He is mastered in computer application but his love for IT and marketing has driven him toward the field of digital marketing. Nilesh Pujara is handling the operations of a digital marketing strategist for more than 10+ years and has expertise in SEO, SMO, & PPC.