Google processes more than 5.6 billion searches daily, approximately 63,000 per second. How will you get your brand noticed in this sea of traffic? & raise Your website's ranking above your competitors'.
Traffic is what keeps a website running & business thriving. Though, only a small number of your potential customers will pay you to use your products or services among the many users who visit your website.
That's why having a large amount of traffic to your site is necessary for the success of your business. And if you're having difficulty driving traffic to your website, then you are not the only one. In this fiercely competitive industry, many business owners face similar challenges in attracting clients.
The reason is it's challenging to strike a balance between various digital marketing strategies, their upkeep, and outcomes. However, there are two marketing strategies that are used to solve this problem: search engine optimization (SEO) or pay-per-click (PPC) campaigns. Or you can take help from the Best Digital Marketing Agency in the USA.
What technique is best for you, though?
In response to the question above, this article discusses what you can expect from each marketing strategy. We've included some pros and cons of both SEO and PPC strategies. In addition, a detailed explanation to guide you in choosing which strategy is best for you.
Now, let's learn more about SEO & PPC and how they are different from each other.
What is SEO?
Businesses require higher rankings on search engine result pages for their websites to remain visible to customers. Getting your website or content to the top of search engine results pages (SERPs) is critical. And businesses can reach this milestone only with the help of a Local SEO Service Provider Company.
SEO (Search Engine Optimization) Services use natural methods to improve a website's search engine rankings. It employs search engine rules and regulations to increase the number of website visitors.
As a result, it assists business organizations in expanding and increasing their consumer reach by growing their online network.
After learning about what SEO is, let's go further to know its different types & activities.
Types of SEO
The six types of areas that fall under SEO are as follows:
Keyword research entails determining what people are looking for.
On-page SEO entails creating content that searchers want.
Off-page SEO entails gaining trust and authority from other websites.
Technical SEO entails ensuring that search engines can find, crawl, and index your content.
Competitive analysis entails gathering detailed information & doing an analysis of what our competitors are doing to promote their business.
Content creation & curation entails creating unique & engaging content, doing its optimization, & marketing.
Now, let's see which activities come under SEO
SEO Activities
Despite having six different areas, SEO mainly focuses on On-page & Off-page activities. These activities help to improve your business ranking on various search engines like Yahoo, Google, Bing, etc. Following is the list of On-page SEO activities & Off-page SEO activities.
On-page Activities
1. Keywords research
2. Keyword planning
3. Creating Meta title & Meta description
4. Creating user-friendly content
5. Image optimization
6. Forming URL structures
7. Internal linking
8. Optimize Body Content
9. Enhancing page performance
Off-page Activities
1. Competitor Analysis
2. Commenting/Blog Commenting
3. Influencer Outreach
4. Guest Author/Posting
5. Link Building
6. Content Marketing
7. Newsletters
8. Forum and Ques Ans
9. Google Local Business Listing
After learning about SEO activities, let's move further to know its Pros & Cons.
Advantages & Disadvantages of SEO
Advantages of SEO
1. Cost-Effective Approach
SEO is neither easy nor cheap. It is, however, less expensive than other digital marketing strategies.
2. Long-term effects of brand awareness
The effects of organic SEO are long-term. They may take some time to appear, but you can be certain that they will grow over time as the results begin to pour in.
3. It increases your brand credibility
In practice, most people trust websites that appear near the top of a Search engine results page(SERPs). Hence, SEO focuses on increasing your SEO rankings on SERPs to establish your brand credibility. A high ranking in organic search results can help you gain trust & reputation while increasing CTR.
4. Increase ROI
Seeing as SEO is free, the ROI is significantly higher when compared to other paid digital marketing strategies.
5. Higher CPC
Since organic SEO doesn't charge for each click, it offers a lower cost per click.
Disadvantages of SEO
1. SEO is time-consuming
SEO is much slower than paid digital marketing mediums. It may take months after optimizing your site to see results, whereas paid mediums will generate leads immediately.
2. SEO is a continuous process
SEO is a continuous process. Your website will never be completely "optimized," but it will continue to improve as you continue to work on it. The good news is that it will continue to improve your rankings in the future, and you will hopefully reap the benefits of your SEO investment.
3. SEO never compromises the quality of content
It demands unique and trustworthy content. If you want people to read, share, and link to your website. And for that, you must be perceived as an authority on the subject.
4. Intense competition
Numerous business owners like you desire better rankings. Plan better SEO techniques to rank higher than your competitors, and be prepared to confront the competition.
Now, we know the pros & cons of SEO, so let's know when you should use SEO techniques.
When to Use SEO?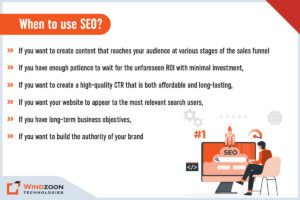 ==> If you have long-term business objectives,
==> If you want to build the authority of your brand
==> If you have enough patience to wait for the unforeseen ROI with minimal investment,
==> If you want to create a high-quality CTR that is both affordable and long-lasting,
==> If you want your website to appear to the most relevant search users,
==> If you want to create content that reaches your audience at various stages of the sales funnel
==> After learning about SEO in detail, we can move on to PPC.
What is PPC?
Pay-per-click (PPC) is a type of search engine marketing (SEM) in which an advertiser pays a publisher (like Google or Facebook) for each time a user clicks on the ad.
This concept enables firms to pay only when customers interact with their advertisements. It helps businesses to attract customers who are eager to take advantage of your offer.
Besides, PPC advertisements always coexist with organic search results. And the cost of PPC advertisement is typically determined by your industry and the search volume of the keyword you're targeting.
You can use PPC Marketing Services to stay competitive in a crowded industry. It helps you reach your target audience even if your site lacks the domain authority for organic rankings.
Now that we know what SEO is let's go further to know its different types & activities.
Types of PPC Advertising
Like SEO, there are also six areas that come under PPC advertising.
==> Search Ads
==> Shopping Ads
==> Display Ads
==> Video Ads
==> Mobile App Install Ads
After this, let's see which activities come under PPC.
Activities of PPC Advertising
PPC advertising activities help businesses to remain competitive in a crowded market and gain quick access to their target audience. Here is the list of activities that come under PPC advertising.
==> Do a detailed study about the nature of business & its marketing requirements.
==> Keywords research to reach the maximum audience.
==> Landing page optimization.
==> Campaign creation (creating ad groups, making ads, adding extensions).
==> Copywriting for advertisement.
==> Negative keyword research.
==> Campaign optimization & maintenance.
Now, let's move further to learn the Pros & Cons of PPC.
Advantages & Disadvantages of PPC Advertising
Advantage of PPC
1. Increase your brand visibility
Search engines(Google) place paid ads above organic results, giving them more eyes.
2. Easy to target the right audience
With PPC, you can easily target customers by using the right keywords, brands, language, demographics, location, device, and more.
3. It gives you complete control over your marketing strategy
Here, you'll get to choose which keywords to include, as well as the CTA, pricing, and landing page.
4. It raises the visibility and recalls the value
Visual ads' utilization helps businesses increase recall and CTR.
5. It generates quick and consistent results
When the PPC campaign is launched, you can expect to see almost immediate results in the form of clicks, traffic, and conversions.
Disadvantages of PPC
1. Continuous investment is required
Paid ads stop when you stop investing in them, as you might expect. And with that, the traffic, clicks, and conversions all come to a halt.
2. Many people feel skeptical about paid advertisements
Paid advertisements do not guarantee to give 100% results. Many people still feel uncertain about its results & effectiveness.
3. ROI may not be very encouraging
In PPC, you will have to spend more money to make more money. However, even after spending a significant amount of money, you might not get the return on investment you're expected to get.
As we know about the pros & cons of PPC, so let's get ahead to learn when you should use it.
When to Use PPC Advertising?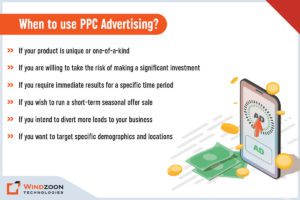 ==> If your product is unique or one-of-a-kind
==> If you are willing to take the risk of making a significant investment
==> If you require immediate results for a specific time period
==> If you wish to run a short-term seasonal offer sale
==> If you intend to divert more leads to your business
==> If you want to target specific demographics and locations
Finally, we have reached the most significant part of our article:
15 Significant Differences Between SEO and PPC Advertising
| | | |
| --- | --- | --- |
| Point of Difference | SEO | PPC |
| Meaning | Search Engine Optimization is the process of increasing your website's visibility in order for it to rank higher and gain organic traffic from search engines. | PPC (pay per click) is a form of search marketing in which an advertiser is charged every time a user clicks on an ad that is displayed above organic search results on various search engine result pages (SERPs). |
| Goals | The essential goal of SEO is to increase organic traffic. | The main objective of PPC is to increase sales & revenue of the business. PPC makes it simple to measure return on ad spend. |
| Techniques | SEO contains various page optimization techniques. (creation of meta title & description, content optimization, link building, utilization of social media, and traffic analysis) | PPC includes different ad creation & promotion techniques. (finding or updating keywords, creation & updation of ads and ad text, bid management) |
| Flexibility | Not as flexible as PPC. Here, we have to use targeted keywords that require commitment. | More flexible than SEO. Here, we can easily change, update, add, & abandoned keywords. |
| Level of control | Here, the search engine can significantly control SEO activities through its different algorithms by sorting the web pages according to their relevance. | Here, a person/persons can handle the PPC activities. Anyone can determine the keywords, budget, restrictions, & landing pages. |
| Cost | If you choose to manage it alone, it's almost cost-free. However, you'll have to pay labor and development fees if you engage SEO specialists for the work. | It's more expensive than SEO. The reason is here, you'll have to pay every time your ad is clicked. |
| ROI | SEO gives a long-term return on investment with long-lasting results. | PPC can provide a short-term return on investment with quick results. |
| Clicks | In SEO, clicks are cost-free | In PPC, we need to pay for each & every click on our ad. |
| Search Results | It will help if you do regular website optimization to make it rank higher on SERPs. | You do not need to work on it on regular basis. The reason is your ad & keyword keep showing till you remain to pay for them. |
| Time Duration | SEO is a long & time-consuming process. | PPC is a far less time-consuming process than SEO. |
| Traffic Flows | SEO brings your website high traffic but a slow conversion rate. | PPC can bring your website slow traffic but a high conversion rate. |
| Ranking | In SEO, your website ranking is subjected to Google's algorithm. | In PPC, your website ranking is not directly affected by Google algorithms. |
| Efforts | SEO is a long & continuous process that constant efforts to ensure your site visitors with good experience. | PPC doesn't require much effort. You only need to do the initial setup, regular monitoring, a/b testing, & minor optimization. |
| Content | SEO requires high-quality & unique content. (Ex. product/service pages, blogs, case studies, etc.) | PPC is also depending on quality content. For it, Google ad text & Landing page text hold more importance than high-quality content. |
| Consumer Reach | With the help of SEO, you can target diverse audiences. | PPC can help you reach a niche audience. |
Learn more about the difference between SEO & SMO and how they affect your business.
Now, we know the difference between SEO and PPC, so let's find out which marketing strategy benefits you the most.
Which Marketing Channel is Preferred for Your Business?
It is often asked which SEO strategy is better for your business growth: PPC or SEO. The best choice between SEO or PPC will depend on your goals, growth plans, and other marketing strategies.
Paid search is the best option if you want to get targeted traffic, clicks, and conversions immediately. If you want to achieve long-term goals like brand credibility, exposure, and scaling your business within a reasonable budget, then organic SEO should also be on your priority lists. Experts agree that you shouldn't run these strategies in parallel. Instead, find a way to combine them to benefit your company.
How Do Both SEO and PPC Work for Your Business?
We would love to see both SEO and PPC in the same world. Both have their pros and cons, but they work best when used in conjunction. When SEO and PPC work together, you'll often achieve results that surpass the sum of their parts.
There are many benefits to running SEO and PPC simultaneously:
PPC data can be used to feed keywords and conversions into organic search (SEO).
Targeting clicks in paid & organic for high-performing keywords can increase traffic to your site.
Keywords that are high in cost, high volume, or low-converting (but still important) can be moved from PPC into organic search.
You can feed your landing pages and organic listing with A/B testing of ad copy and landing page content.
Remarketing lets you stay in front of visitors after an initial touch via search engines and tailor messaging to their engagement with your website.
Before you commit to long-term SEO strategies, test your keyword strategy in PPC.
All customer journey stages should be for targeted users, from comparison to purchase to research.
Having strong organic and paid visibility can increase your confidence & brand awareness.
Read More: Important Reasons Why Business Need a Digital Marketing Strategy
Conclusion
The decision between SEO and PPC ultimately comes down to your business situation. Therefore, take your time and evaluate both SEO and PPC to determine which one is best for you. And to get even better results for your company, you can even combine the strategies.
If you lack time or resources to optimize your SEO and PPC strategies, you can seek help from a professional digital marketing company. At Windzoon, we have experienced & skilled SEO and PPC experts that can proficiently handle your company's digital marketing activities.
Besides, we also provide SEO, SMO, & PPC Marketing Services. If you want to avail of our digital marketing services & want to know more about us, then visit windzoon.com and get a quote.

15 Significant Differences Between SEO and PPC Advertising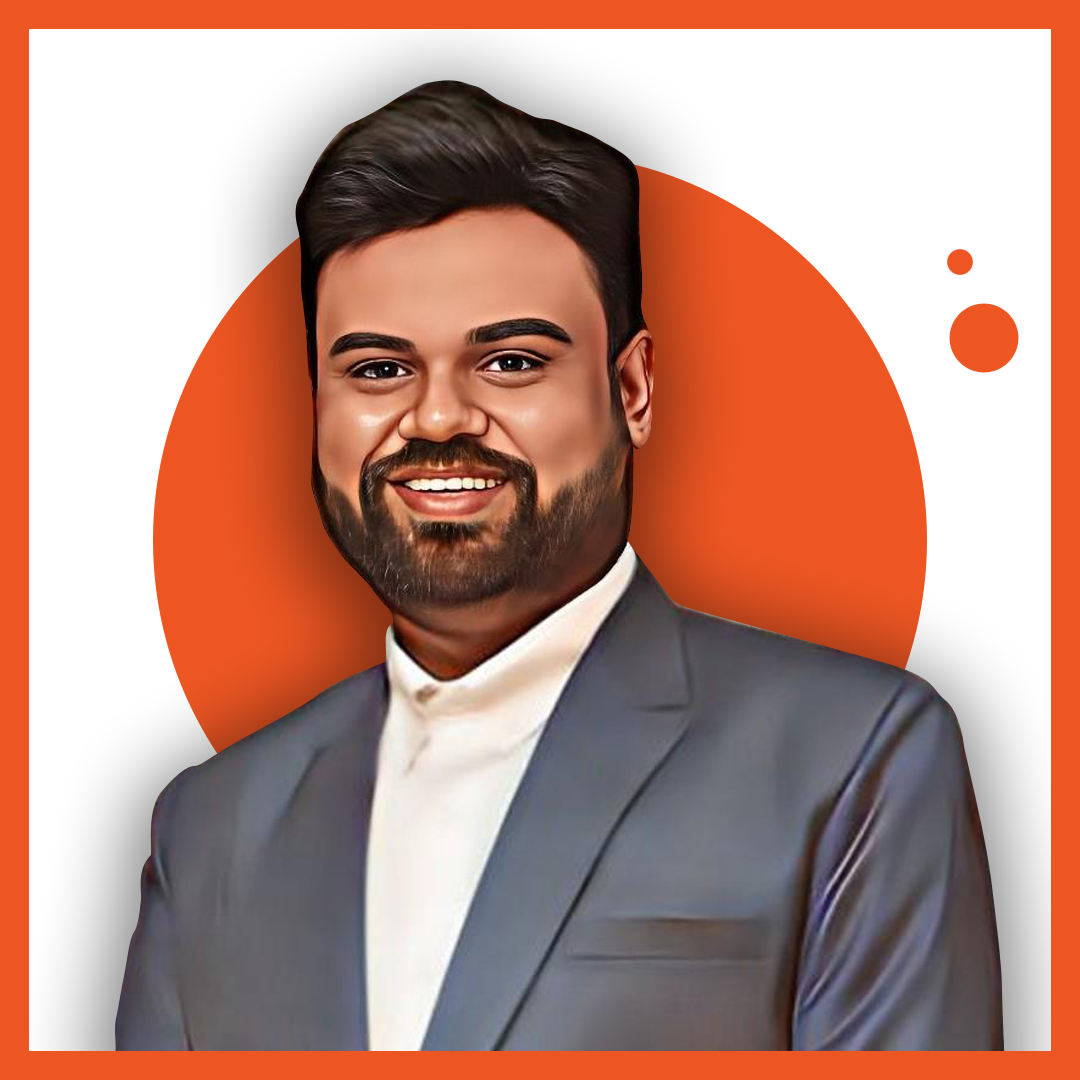 Nilesh Pujara is the CEO & Founder of Windzoon Technologies. He is mastered in computer application but his love for IT and marketing has driven him toward the field of digital marketing. Nilesh Pujara is handling the operations of a digital marketing strategist for more than 10+ years and has expertise in SEO, SMO, & PPC.