Some people claim that web designing is an art. However, it's not entirely correct. What distinguishes design from art is that design is intended to be functional.
And every functional thing requires a process to build.
The process of designing a modern website involves art, technology, and psychology. Apart from that, it also requires technical skill, knowledge of users' expectations, and a visual sense. If this procedure is successfully followed, it will shorten the time needed to finish the project, increase productivity, and guarantee you don't miss any important tasks.
As a prominent web design company in India and USA, we have compiled our decade of web design experience and developed this nine-step procedure for creating engaging site designs.
But before we move to our web designing procedure, let's get a brief understanding of the importance of web design.
What is the Significance of Web Design?
A well-structured and informative website not only improves traffic but also helps visitors comprehend the business, product, or service by combining text, graphics, and sometimes animations. As a result, a better user experience allows the company to reach out to more customers.
Now, we will move towards the most awaited part of this article, and that is:
Complete Web Designing Process in 9 Simple Steps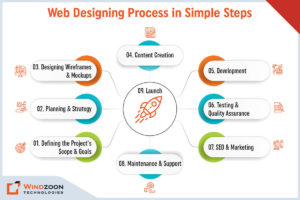 It is important to consider many factors when designing a website's look and feel. And that is why, to keep you from becoming overwhelmed, we have divided the site design process into ten simple parts.
1. Defining the Project's Scope and Goals
This step involves clearly defining the website's objectives and determining the features and functionality required to achieve those goals. Thus, before you begin the process of website design, you should ask yourself the following questions:
What is the purpose of your website?
Who is the audience you're aiming for?
What primary goals do you want your website to achieve?
What products and services are you hoping to provide your clients?
What advantages does your current website offer, if any?
What changes do you need to redesign the existing website that helps you achieve your business objectives?
How well are your rivals doing?
After you've answered all these questions, you can easily go on to the next step in the web page design process. This precise information will guide you in the correct way throughout the entire process.
2. Planning and Strategy
It is the second most important step in web design. A web design agency must first do some planning & make strategies to gather useful information related to its target audience & competitors.
Understanding the goals and objectives of the target audience and competitors before creating a website always help you to stay one step ahead. And will help to create a website that meets the client's needs and stands out in the market.
Apart from that, you can also utilize Gantt charts or other project development tools to develop realistic project planning for the entire procedure. It will not only assist you in meeting deadlines, but it will also enable you to generate products that will delight your clients.
3. Designing Wireframes and Mockups
A site cannot be built without a sitemap, just as a house cannot be built without a blueprint.
The sitemap is the backbone of any well-designed website. It clarifies the relationships between the various pages and content parts and gives web designers a clear picture of the website's information architecture.
A further step is to develop a wireframe mockup using some design ideas. Wireframes serve as a framework for storing the site's visual design and content elements, and they can aid in identifying potential difficulties and gaps in the sitemap.
It helps the website look visually appealing, easy to navigate, and responsive. The design should also be consistent with the client's brand and target audience.
4. Content Creation
Once the design and layout are complete, the next stage is to develop high-quality content that is informative, entertaining, and relevant to the target audience.
Because if your content is compelling and strong, you can keep clients' attention and persuade them to make a purchase. When it comes to popular web design trends, content is something that can offer value to your website design.
Aside from increasing engagement, website content improves site visibility for SEO. Therefore, if you want your design process to go quickly and successfully, you should never disregard the content component.
5. Development
After the design, layout, and content are finalized, the next step is to develop the website.
As you are aware, hundreds of websites are available online; therefore, for a website to rank well in Google, it must be developed flawlessly. That is why it is crucial to hire expert web developers.
Although coding is always an option for website creation, non-technical people may always use visual page builders, basic themes, and templates to construct personalized sites without wasting time and money.
Once you have built a website, make sure to get feedback and update as necessary.
6. Testing and Quality Assurance
Before launching the website, it is important to test it thoroughly to ensure it functions properly and is free of errors. The web design company should also perform quality assurance checks to ensure the website meets the client's requirements and industry standards.
7. SEO and Marketing
SEO and marketing are crucial for the success of any website. A web design agency should optimize the website for search engines and ensure it is easily discoverable by potential customers. The company should also create a marketing plan to promote the website and attract more traffic.
8. Maintenance and Support
A website is never truly finished. Because a website requires regular maintenance and updates to ensure it remains relevant and secure. A web design company should provide ongoing support and maintenance services to keep the website up-to-date and functioning properly.
9. Launch
Launching a website design is the culmination of a comprehensive web design process. After months or even years of planning and development, your website is finally ready to be shared with the world. While the journey may have been long and arduous, ensuring your website is ready for launch day is important.
This includes everything from ensuring that all content is up-to-date, testing the website for any bugs and glitches, and double-checking that all security protocols are in place. Once you're confident that your website is fully functional and error-free, you can officially launch it to the public.
After this, we will understand some basic points to keep in mind while designing a website
Things to Consider While Designing A Website
One important aspect that a web design company should consider is making the website accessible to all users, including those with disabilities. This includes implementing web accessibility guidelines such as WCAG and ensuring that the website is compatible with assistive technologies such as screen readers.
Additionally, a web design company should ensure that the website is built with a responsive or cross-platform design, which will ensure that the website is optimized for viewing on multiple devices and screen sizes.
Another important aspect is the website's performance; it is crucial to load as fast as possible; this can be achieved by optimizing images, minifying code, and using a Content Delivery Network (CDN). This will not only improve the user experience but also help with search engine rankings.
Finally, security is another essential aspect that should not be overlooked. A web design agency should protect the website against common security threats such as SQL injection, cross-site scripting, and cross-site request forgery. This can be done using secure coding practices, implementing SSL, and regular security testing.
All in all, a top-notch web design company should always take into account user experience, accessibility, performance, and security to provide a website that meets customer expectations and satisfies their demands.
Conclusion
Web design is a complex process that requires a combination of technical skills and creative thinking. Following these 10 basic steps, a web design company can create a website that meets clients' needs, stands out in the market, and drives business growth.
Windzoon is a leading web design agency in India and the United States with over ten years of experience. We provide professional web design and development services at competitive rates. Our expert team of web designers and developers is skilled at creating websites that fit the needs and budgets of our clients.
Visit windzoon.com to learn more about our web design services or to get a quote.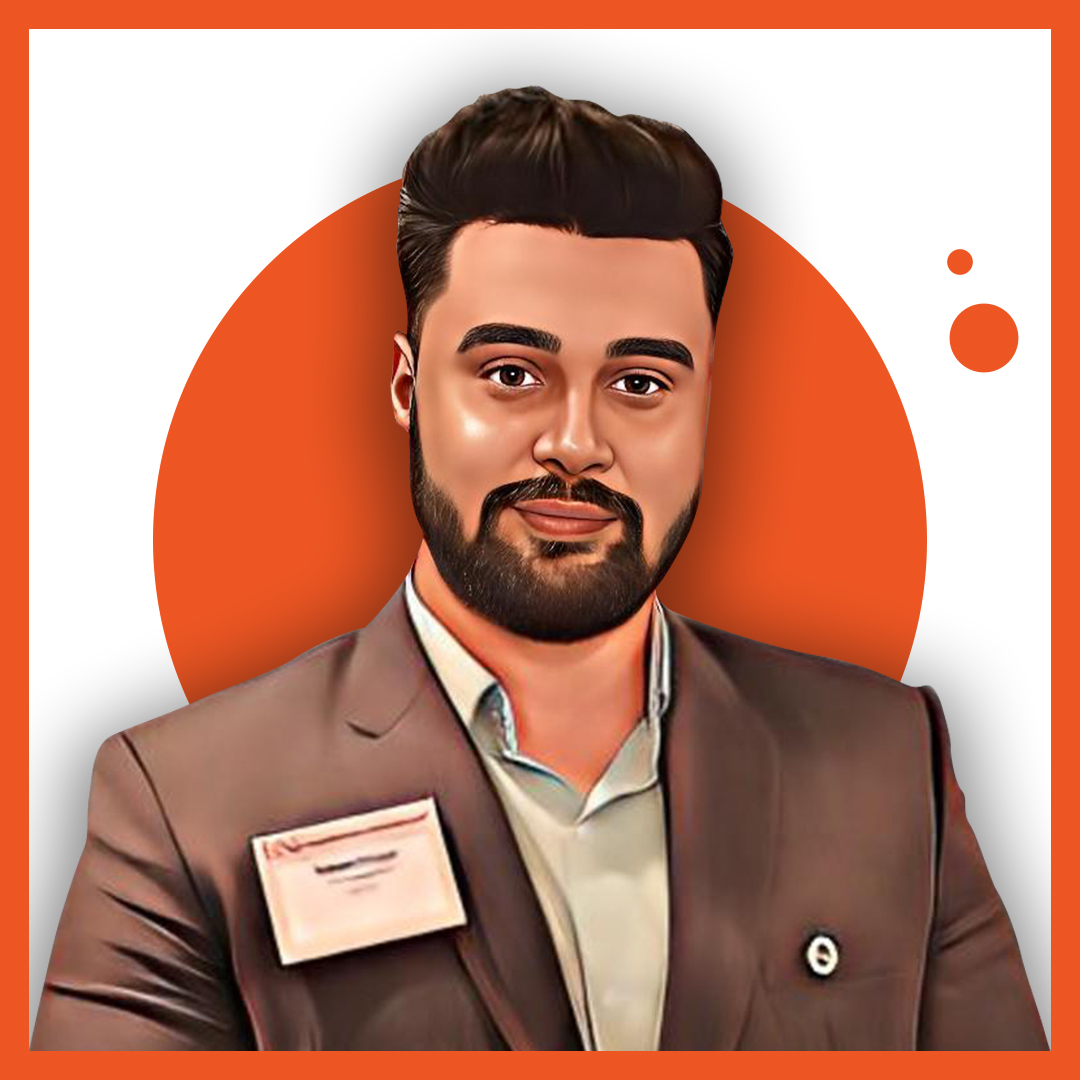 Soham Trivedi is a co-founder of Windzoon Technologies and has been working as a business development manager for more than 10+ years. He is mastered in business management but his passion for writing has driven him toward the content writing field. Apart from being a business development manager, Soham Trivedi is a successful content writer and a technology lover and has been writing across various disciplines.