Due to the dynamic nature of the digital world, there are occasional shifts in trends. As a business, you must adapt to these latest trends to keep up with the ever-increasing competition.
Because if you don't, then your web solutions, which right now appear to be state of the art, might be outdated later. And it will harm your company's reputation and customer base.
WordPress is an open-source platform that is also one of the most widely used web development platforms. Individuals and businesses use it to build highly customizable websites and online stores.
The primary advantage of WordPress is that the platform is constantly evolving with new upgrades and technological trends. And to keep pace with these changes, working with a Custom WordPress Development Company is always a smart move. In this post, we have explained the top WordPress development trends for 2023.
WordPress Usage Statistics
You must be familiar with names like BBC America, TechCrunch, Sony Music, The Walt Disney Company, and Katy Perry. Do you know what they all have in common? A  WordPress website. They all have used WordPress for developing their websites.
WordPress is the most well-known website builder and a widely used content management system.
To better understand this, let's look at some statistics.
Around 43% of websites on the internet are powered by WordPress.
WordPress holds 63.9% of the CMS market share.
WordPress powers 25% of the top 1000 websites.
The most recent version of WordPress has been downloaded over 48 million times.
WordPress has been the fastest-growing CMS platform for the past 11 years in a row.
The WordPress plugin directory currently contains 60,031 plugins.
The most widely used eCommerce plugin is WooCommerce.
The WordPress theme directory currently contains 10,273 themes.
Now, let's understand why one should consider using WordPress for website development.
Why WordPress is Important for Website Development?
WordPress is an open-source CMS platform used by millions of people worldwide. With a wide variety of themes and plugins, WordPress is very customizable. It helps developers to create feature-rich bespoke websites that cater to the business's needs.
Here are five reasons why you should use WordPress for web development and design:
The first point to mention is that it is free and open source. Anyone, from bloggers to business owners, can use WordPress to tailor their service to their intended audience.
It is fully customizable with a plethora of themes. WordPress Themes give you the ability to make websites with various designs & styles. It is a significant benefit for non-techies.
Since it is scalable, you can expand your website using the WordPress plugin directory to add the features you want. WordPress provides both free and paid plugins. With plugins from every specialized area you require, you will never run out of options.
WordPress websites are search engine optimized. Additionally, you can find an SEO plugin (such as Yoast SEO) that offers recommendations for your website's content optimization, including suggestions for the meta title, metadata, H1 titles, and content length.
It supports a range of media types, including images, videos, audio, and gifs. If you want to display media files, you can either upload them or insert their URLs.
With this, we have come to our primary subject of discussion and that is:
Top-notch WordPress Development Trends for 2023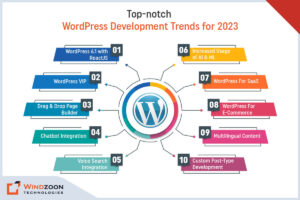 Top-notch WordPress Development Trends
Here are some of the top WordPress website development trends for 2023, including brand-new use case scenarios, features, and breakthroughs to this well-known content management system.
1. WordPress 6.1 with ReactJS
WordPress is a popular Content Management System (CMS) for creating simple to complex websites. It continues to release version updates on a regular basis, and the most recent version, WordPress 6.1, was released in November 2022.
WordPress 6.1 now supports the use of ReactJS as a frontend technology alongside WordPress as a backend platform. You're probably wondering why ReactJS was chosen for WordPress 6.1.
The answer is that ReactJS has many advantages, including virtual DOM, code reuse, and others, which make it easier to develop a website or web application. It enables greater flexibility when building intricate WordPress websites.
If you want to know more about WordPress with ReactJS, read our Complete Guide: How to develop advanced Headless WordPress Website with React.
2. WordPress VIP
WordPress usage is now not just limited to small and medium-sized businesses. If you're a big enterprise looking to develop a WordPress website, WordPress VIP is the way to go.
Unlike WordPress.com, which offers shared hosting, WordPress VIP is designed with enterprises and high traffic in mind. It is the fastest and most secure managed hosting platform, with strict coding standards.
The features and capabilities that come with WordPress VIP include efficient content management, analytics, security, performance features, and others.
Furthermore, with WordPress VIP, you will receive an SSL certificate, anti-spam features, built-in spam optimization, and round-the-clock malware monitoring and scanning.
If you have an enterprise website development project, investing in WordPress Development Services will allow you to reap the benefits of the WordPress VIP platform.
Utilizing WordPress VIP is now a significant WordPress web development trend that satisfies the demand of businesses looking to revolutionize and scale their operations.
3. Drag and Drop Page Builder
Page builders are one of the significant trends in WordPress development. They enable you to create a customized website solution that is tailored to your specific business needs. They make it possible to create a website even without prior technical or coding knowledge.
Page builders allow developers to quickly edit and customize the layout of your page. Furthermore, they provide developers with a live view of how that specific page appears on the front end. As a result, they can easily create a unique website using the drag-and-drop functionality of a page builder.
However, before using any page builder for your website, remember to check its compatibility, builder type, and responsiveness. The most recent drag-and-drop plugins for WordPress are Elementor, WPBakery, and Genesis.
If you are interested in learning more about WordPress Page Builders then read our detailed article on the 10 Best Drag and Drop WordPress Page Builders Plugins Comparison.
4. Chatbot Integration
Chatbots are a major WordPress development trend that will assist you in effectively resolving customer queries. It facilitates communication between humans and machines. This enjoyable and quick method of answering questions will free up valuable time that you can devote to other business activities.
Businesses that invest in custom WordPress development can use chatbot integration to provide quick and efficient customer support. It also allows them to respond to customer inquiries more quickly.
5. Voice Search Integration
Customers in the digital age seek convenient options to make website exploration easier. One of the fastest-growing WordPress development trends is voice search. Due to this, customers no longer have to type their queries because they can get results with simple voice commands.
Voice Search will be even more useful in an online store, where a site visitor can search for and explore products simply by using voice commands.
The popularity and success of voice search assistants such as Siri and Alexa encourage business owners to incorporate such a concept into their WordPress websites. And a WordPress developer can help you achieve your goal of incorporating such a significant trend into your website.
If you want to know how to optimize your website for voice search then read our detailed article on What is Voice Search? & How to Optimize it That Benefits Your Business?
6. Increased Usage of AI & ML
Other major trends affecting WordPress in 2023 include artificial intelligence (AI) and machine learning (ML). The technologies are constantly evolving and beginning to be applied in a wide range of contexts.
The creation of content is one of the significant ways of applying AI in WordPress. Artificial intelligence-based plugins are now available that can assist you in improving the content on your website. A Jetpack plugin, for example, includes an Editorial Calendar feature that uses artificial intelligence to recommend post ideas.
AI and ML are also used for security in WordPress websites. Many machine-learning plugins are now available to scan your site for malware and other threats. The use of these plugins can add an extra layer of security to your WordPress Site.
7. WordPress For SaaS
The use of WordPress to create fully functional SaaS websites is a growing market trend.
For both B2B and B2C clients, SaaS products can be used in a variety of ways, such as automating processes, improving business workflows, introducing new features, or substituting for pricey custom-coded solutions.
The use of WordPress and a suite of plugins will allow more entrepreneurs to create and launch interesting SaaS products at a lower cost.
8. WordPress For E-Commerce
You must have noticed that the e-commerce market is expanding rapidly. To leverage the benefits of this market, businesses can create new eCommerce websites using the WordPress WooCommerce plugin. Furthermore, this WordPress plugin can convert an existing WordPress website to an eCommerce site with a few clicks.
According to Statista, it is the world's most popular eCommerce platform, with a market share of 36.68%. These figures suggest that in the upcoming years, WordPress web development will increasingly incorporate WooCommerce.
This plugin stands out from the crowd due to its versatility and simplicity. The WooCommerce plugin is regularly updated with new features to meet the evolving needs of eCommerce businesses.
9. Multilingual Content
A website caters to a worldwide audience, which increases the demand for multilingual content on websites. WordPress websites are anticipated to make extensive use of multilingual content in the upcoming years.
Although the core functionality of WordPress does not support multilingual or bilingual functionality, the WordPress community has developed plugins that enable developers to build multilingual WordPress websites.
A multilingual website offers the same content in various languages depending on the visitor's location. As most users prefer to visit websites in their native language, it increases user engagement for the website owner.
The multilingual features of a website help boost the reputation of the company by improving the user experience. It can also improve your website's conversion and bounce rates.
10. Custom Post-Type Development
Custom Post type development, also known as "CPT," enables any user to create a custom post regardless of the default WordPress post type. It is one of the essential features that is gaining popularity in the developer community.
It improves WordPress functionality by allowing developers to create custom post types and posts. Since CPT features require customized post layouts and product information, e-commerce websites are the ideal platform for their development.
Popular CPT plugins include Pods, ACF, and Meta Box. So, in the near future, CPT will be in charge of the content management aspects of WordPress site development.
Conclusion
We sincerely hope that our article on the most recent trends in WordPress website development has given you enough information. And if you're planning to update your business website in 2023, these WordPress development trends are worth considering.
From AI advancements to the rise of chatbots, there are numerous new features and advancements that can take your site to the next level. By using these trends, you can ensure that your company's website stays ahead of the curve and offers a first-rate experience to visitors.
You can also work with a WordPress Website Development Company to incorporate these trends and create a market-ready website.
Windzoon has more than ten years of experience creating WordPress website solutions. We have a team of talented WordPress developers who can develop any complex & custom website as per your need.
To get a quote and learn more about our WordPress Development Packages, please visit windzoon.com.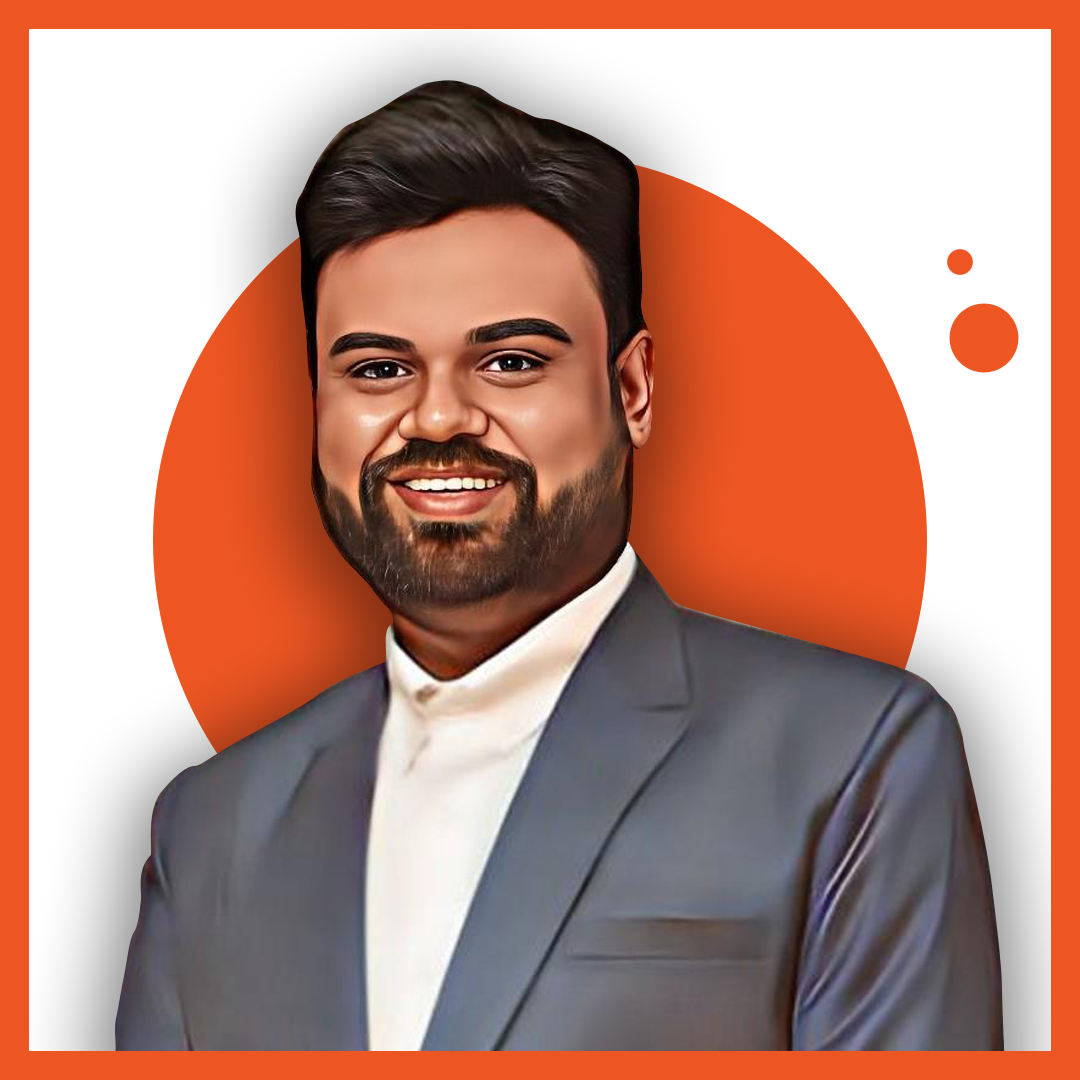 Nilesh Pujara is the CEO & Founder of Windzoon Technologies. He is mastered in computer application but his love for IT and marketing has driven him toward the field of digital marketing. Nilesh Pujara is handling the operations of a digital marketing strategist for more than 10+ years and has expertise in SEO, SMO, & PPC.