https://windzoon.com/landing-page-optimization/
Enliven your website to enhance your leads with our best-in-class Landing Page Design Services
Directing users to visit a landing page is one thing, but getting them to convert is quite another. A great user experience and a visually attractive landing page are required to turn visitors into leads.

As a leading web development company with a decade of expertise, we understand market trends and provide the best landing page design services to aid you to increase leads and conversions.

Our conversion optimization and landing page experts adopt the buyer's mindset when constructing content and CTAs. We offer comprehensive services ranging from impactful landing page design to A/B testing.

Get in touch with us to leverage our professional services.


Top-notch landing page optimization services for building powerful landing pages & boost website traffic
Nothing will get you more new clients than a sophisticated landing page. Without it, your clickable advertising would only provide a small percentage of the possible outcomes. Our team's tireless efforts and expertise combine to create stunning landing pages that contain all of the factors required for success:

Landing Page Layout and Wireframes Design
Leverage our services to have custom wireframes and landing pages created from scratch or based on pre-existing formats to meet page objectives or increase conversions.

Landing Page Optimization Strategy & Consultation
Our clients can benefit from our seasoned consulting service for Landing Page Optimization. The consultant at our company can help you with any aspect of landing page development.

A/B & Multivariate Split Page Testing
We provide A/B and Multivariate split-page testing services to our clients. Our testing team can easily test all design elements to identify the best-performing versions for your site.

Landing Page Audit
Avail of our exceptional Landing Page Audit service. Our SEO artisans will perform a one-time website assessment to generate a list of pages that need to be optimized for conversions.

Prudent Copywriting
Subscribe to our creative copywriting service, and our top-notch team of copywriters will generate landing page copy that converts well for your website.

Landing Page Speed Optimization
Reap benefits from our landing page speed optimization service. We will test all of your landing pages to detect slow-loading ones and recommend improvements to make them faster.

Landing Page Content Optimization
Content plays a crucial role in landing page optimization. We will perform extensive keyword research and optimize your landing pages for relevant words and content.

CRM Integration
We can merge your landing page with CRM platforms so it immediately gathers the information created, saving you time from manually inputting data, and managing lead & customer contact information.
Benefits you'll reap through Landing Page Optimization
It's always a good idea to have a landing page that is artistically created and capable of generating conversions, regardless of the type of business you are in. Your landing page contributes significantly to business generation as it targets your target demographic.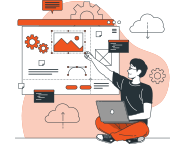 Impactful First Impression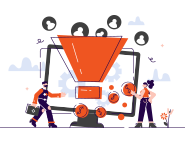 Generates Lead and Conversion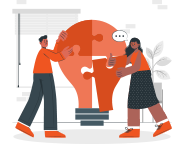 Builds Credibility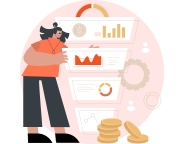 Simpler Campaign Measurement
Why choose Windzoon for Landing Page Design Service?
Joining hands with Windzoon offers your company a competitive edge. We have a dedicated team of web developers & SEO specialists who will work cohesively & passionately to develop and innovate solutions that assist your business to achieve greater heights of success.

Here's why numerous enterprises choose Windzoon.


Appealing Page Design
Our team always strive to design and build highly-optimized and appealing landing pages for you.

Tracking & Reporting
We understand your goals. This is why we keep a sharp track of all the activities and time to time report to you with it.

Platform Expertise
We have experts that are capable to design your landing page for diverse platforms to drive you leads.

Custom Conversion Strategy
We appreciate your vision, which is why we build optimized landing pages that are customized as per your needs.

Experienced and Creative Designers
We are a team of experienced, innovative, and creative designers that have built 100+ responsive landing pages.

Conversion-Focused Design
We craft landing pages that are conversion focused and help you generate potential leads.
Project Execution Models for Landing Page Design & Optimization
Collaborate with skilled web developers & SEO artisans by leveraging our flexible hiring models. And get attractive & engaging Landing Page at the most cost-effective price.
Fixed Cost
This model ensures that a fixed budget is set, regardless of the time & expertise spent. This model allows you to develop and stick to a specific budget.

Dedicated Hire
This particular model mostly works for projects that are likely to extend for a long period and requires multiple resources working simultaneously.
Hourly Model
Under this model, you can hire our developers for a fixed number of hours to complete the work. The hourly model is much more preferred by small to short-term projects.

Resources On-site
For a close-knit team that requires to upgrade their resources on-site and needs to have an expert on emergency bases to match up the deadlines.

What People Say About Windzoon
"We are truly impressed! Their social media marketing & SEO team is too excellent. All the deliverables were on time. Everything was well organized to perfection!

The team was constantly our support in the whole process of generating leads!"
ASL London John
"It is a pleasure working with Windzoon I admire the devotion & determination your team showed to revamp my website!

I highly recommend these guys for your next web design or development project!"
Kal Petkoff
"Windzoon team is quite impressive & very prompt in replying to our doubts & queries. They always come up with good & practical ideas, that helped us expand our business globally. They never forget to give us weekly reports & insights into the whole marketing process.

Our experience with the windzoon team has been amazing!"
Shivnext Snax, India
Answers to the Most Commonly Asked Questions About Landing Page Optimization Services
What is a landing page?
A landing page is an independent page that links your brand to a particular product or service. These pages are usually developed for marketing purposes to encourage a particular response or level of audience involvement. If the landing page is a component of a larger website, branding should be present. Although this isn't usually the case, it should have the same colors and layout as the main site.
What precisely are landing page design services?
Landing page design services assist organizations in increasing conversion rates from advertising campaigns, email marketing, and other activities through conversion-focused page designs. Generally, landing page design services comprise designing, developing, testing, and launching the landing page.
Why is having a well-designed landing page so essential?
A strong landing page can lead to greater engagement or conversion rates by motivating visitors to do a certain task on your website. It offers a clear call to action and a single point of concentration, which frequently makes the difference between a person landing on a random website and leaving it versus landing on a customized landing page and converting.
Do you simply accept one-time projects or do you expect retainers?
We collaborate in both ways and can offer suggestions depending on your objectives.
How can I tell if my landing pages need to be optimized?
The general strategy is to monitor how much traffic your landing pages receive and whether or not visitors convert into leads and clients. You can assess this by looking at metrics such as bounce rate, time spent on the page, number of click-throughs, and so on.
Another option is to hire our agency for a landing page audit, which will provide you with a comprehensive report on the performance of your landing pages. Following that, you can decide if you require our landing page optimization services or not.
How long will it take for your landing page optimization services to produce results?
The process of optimizing landing pages is time-consuming and may take a few weeks to finish.
SEO (search engine optimization) and CRO (conversion rate optimization) are techniques that take time to generate results but are well worth the wait. You should expect to see results within a few weeks after we develop and optimize your landing pages.
Can I choose the layout of my website myself?
Yes, you are welcome to share any design ideas you may have with us. Our knowledgeable UI/UX designers will then analyze your suggestions in light of the user's intended behaviour. Once it has been decided, we will start the development work.
Do you also offer copywriting services?
Yes, we do. Our staff of talented copywriters has a wealth of experience in writing material that meets all needs. We create website material, blogs, social media scripting, infographics, and more.
@ Copyright 2023
Windzoon.
- Web Development Company India. All Rights Reserved