Over the years, web development has advanced significantly. Gone are the days when only big enterprises could afford web development for their businesses. Now, even if you have a limited budget, you can afford to have a fantastic business website with the aid of the top Web Development company in the USA.
Then again many people ask, why should you invest in web development? Isn't social media sufficient for connecting with your target audience? Why do you need a website to help your company thrive? Well, continue reading and you'll get to know the importance of developing a website for your business.
However, before we move toward our main topic, let's get to know about a few things, and that is:
What Exactly is Web Development?
Web programming, also referred to as web development, is the process of constructing, designing, and maintaining a website. It encompasses numerous aspects, including web design, publishing, programming, and database management.
There are two types of web development processes; one is front-end, and another is back-end web development.
A website's front end consists of everything you can see and interact with. Therefore, front-end development refers to the process of creating the visual part. JavaScript, CSS, and HTML are used to create the graphical user interface of a website.
While back-end development is the process of creating the server-side logic. It runs the background operations of websites and apps. And contains every piece of code required to construct the database, server, and website.
Now, let's understand why depending only on social media platforms isn't sufficient for your business.
Is It Necessary to Have a Website if you're Already Active on Social Media?
Businesses usually leverage social media platforms as their primary means of marketing. Furthermore, these channels provide several advantages for business promotion.
For instance, they assist you in expanding your audience and even in conducting market research. However, your business website shouldn't be replaced by a social media page or account. Here are a few reasons why.
1. Your Social Media Page or Account Is Not Yours To Keep
What would happen if Facebook decided one day not to support businesses anymore? All of your customers and followers would probably disappear if your Facebook page was your only online presence. And that would put your business in an extremely dire situation.
2. Social Media Platforms Have SEO Limitations
Think about this. Where do you turn when you're searching for a nearby shop or firm? Google or Facebook? Naturally, Google would be your first choice. The 3.5 billion daily searches on Google demonstrate that most people prefer search engines to social networks when looking for information.
3. The Social Media Page/Account Lacks Credibility
A business website is a symbol of trust. And customers only make purchases from businesses they know, like, and trust. So, while creating a social media page/account may be faster, you will not be able to command more authority and trust with it. Only a business website can make it happen.
4. On Social Media Platforms, Attention is Fleeting
Social media platforms are fiercely competitive. If your company is listed on them, you must constantly compete with numerous other businesses.
Furthermore, you even have to compete with your potential client's social media friends. As many people find ads annoying, particularly when they want to interact with friends, which causes them to ignore your business posts or ads.
We hope you now understand why relying solely on social media is insufficient for your business. Though social media platforms can help your business and its website, they cannot replace it. Instead, use social media in conjunction with your website to improve your marketing results.
Read More: Web Design Trends for 2023: Which You Should Use?
Now, let's come over our prime topic of this article; and that is:
Top 12 Benefits of a Website for Small Businesses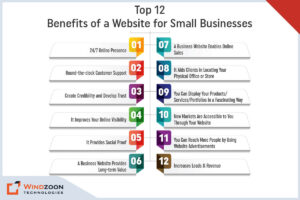 Top 12 Benefits of a Website for Small Businesses
1. 24/7 Online Presence
One of the biggest benefits of having a website is that it is available to anyone, from anywhere, at any time. Customers can access your website and use your services or obtain information even after business hours.
And this is one of the most important aspects of having a company website. The website is continuously working to ensure that visitors are always provided with the information they require from the comfort of their homes.
2. Round-the-clock Customer Support
Customer service is a challenging task for any business. However, offering customer support online is much simpler and less expensive than hiring staff to do so. Here, the value of having a website is evident because there are many ways to offer 24/7 customer support via a website:
FAQs: It is the most popular medium to answer customers' queries. On the website, all frequently asked questions by customers are addressed. It gives customers accurate and pertinent information while saving you time and resources.
Chatbots: Chatbots on websites can also answer common customer queries 24/7 using pre-written responses. In addition, chatbots can inform users of a variety of other crucial details, such as how to sign up and details on various services and products.
3. Create Credibility and Develop Trust
Anyone can set up a company page on Facebook; it's simple and quick. The credibility of a business social media page is significantly diminished by this low entry barrier. Because here customers are unaware of the identity, location, and legitimacy of those operating a Facebook page.
However, building a website for your business is not free and shows that you take your business seriously. You can more effectively gain people's trust this way. A website is like "a large brochure" where you can display reliable details about your skills and experience, whether they come in the form of certifications or testimonials.
Hence, having a business website enhances your credibility and professionalism.
4. Improves Your Online Visibility
A little more than 5.03 billion people (or 63.1% of the world's population) were using the Internet as of September 2022. That percentage is significantly higher in many countries. For instance, more than 90% of people in the US use the internet.
Your company is practically invisible to these clients if it doesn't have an online presence. As we advance into the digital era, your company will lose visibility if you don't invest in a website.
Therefore, your company needs to go online if it wants to remain competitive in this increasingly digital world.
5. Provides Social Proof
The opinions of your clients may influence whether or not other people choose to use your services. Therefore, even though review websites are good, the best place for people to learn more about your company is your website.
Showcasing your best testimonials on your website is an excellent way to build trust and social proof. Furthermore, it serves as a backup archive. It implies that you will still have access to your best reviews even if independent review websites close down in the future.
Read More: Benefits of Responsive Web Design to Boost Your Business
6. Provides Long-term Value
A business website is an excellent investment because it keeps paying off for you years after you first built it.
When you pay for social media ads, your potential clients will only see them for as long as you keep them running. You'll have to pay again to run the advertising campaign if they don't see it.
A business website, on the other hand, will provide you with ROI over time. If it doesn't yield returns in the first year, you still have time to make adjustments until it does.
7. Enables Online Sales
It is anticipated that by 2023, e-commerce sales will exceed $6.3 trillion. Clearly, none of these sales occurs with businesses that do not have websites.
Even if you don't operate a traditional e-commerce company, having an online storefront can help you draw in more clients. And enables you to carry on doing business even when your physical store is closed.
8. It Aids Clients in Locating Your Physical Office or Store
One of the many advantages of being online is that others can easily find you. This concept is also applicable to your physical store. Simply having a website makes it easier for people to locate your location and visit it more frequently.
A map embedded in your website is useful for potential customers who are looking for your location. In other words, having a website enables Google to list your website on Google Maps. As a result, customers can direct their GPS to your location with a single click, rather than visiting your competitors.
9. Display Your Products/Services/Portfolios in a Fascinating Way
If you want people to buy your goods or services, presentation is key. It is crucial, especially for startups where each client is vital.
In that case, it's also critical that we can demonstrate our competence in the best way possible, and having a website can help with that. It allows you to be creative. You can present your products, services, and portfolios however you want.
You can use eye-catching pictures, quick video guides, and printable PDF instructions. It will significantly increase website visitors' engagement. And ultimately assists you in developing a loyal customer base.
10. New Markets Are Accessible to You Through Your Website
Your website serves as a gateway to the global markets. You can connect with audiences in remote locations using a website. Normally, it would take a lot of resources to accomplish this with physical locations.
Any potential customer in the world who has internet access can visit your website and conduct business with you. This advantage makes it possible to grow and expand more quickly, which can support the growth of your physical stores.
11. Reach More People by Using Website Advertisements
A website aids in expanding your audience, whether you're looking for a quick boost or a scaling-up strategy. Using adverts on well-known platforms like Google Ads and Facebook Ads, you can present your products to potential customers who otherwise wouldn't be interested in them.
Facebook is the largest social media platform, with  2.7% of the world's population actively using it. Similarly, Google's 86.6% market share in search ensures that your ads are seen by the appropriate people who are already looking for your products.
These platforms assist you in developing highly targeted offers that draw in the appropriate audiences. For instance, based on the user's search activity (keywords), the websites they visit, or their interests, the platform may determine what information is relevant to them.
12. Increases Leads & Revenue
A well-built website is a perfect tool for businesses to connect with more & more users. Businesses can use it to boost traffic, produce more leads, and increase ROI conversions.
Businesses can expand their offerings to attract more clients and encourage them to spend more time on a website. They can also employ a web admin to keep tabs on visitors' activities and give them a seamless experience as they move around the website and conduct transactions.
Conclusion
The website has transformed the way many businesses operate. So, whether you're a solopreneur or a small business looking to make a name for yourself, a good website will be at the core of it. However, to create a website, you require the assistance of a custom web development company.
With more than 10 years of experience, Windzoon is a well-known web development company. We have a team of seasoned web developers who successfully completed over 100 web development projects. To avail of our top-notch web development services, visit us at windzoon.com and get a quote.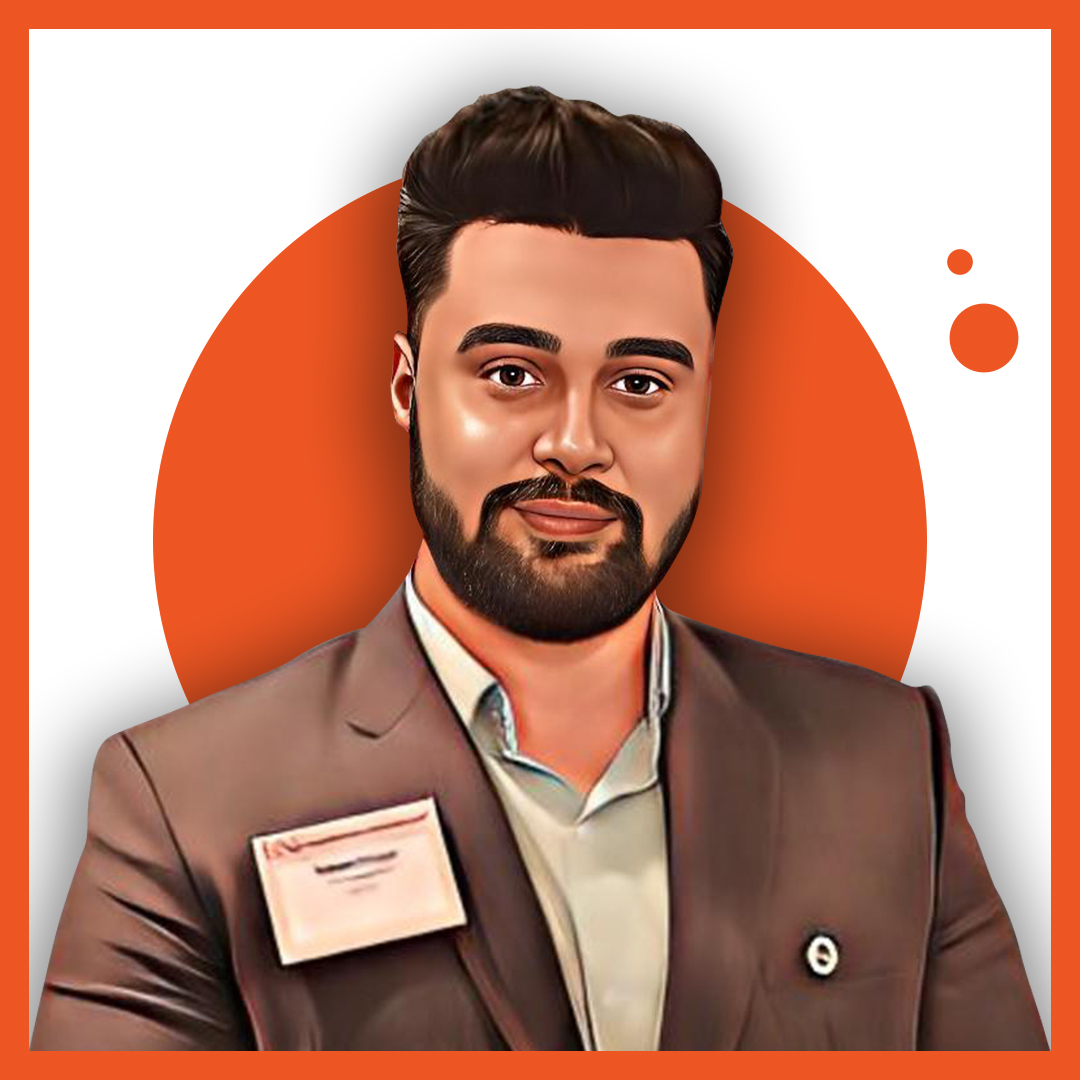 Soham Trivedi is a co-founder of Windzoon Technologies and has been working as a business development manager for more than 10+ years. He is mastered in business management but his passion for writing has driven him toward the content writing field. Apart from being a business development manager, Soham Trivedi is a successful content writer and a technology lover and has been writing across various disciplines.