We all are living in the digital age, surrounded by a plethora of gadgets and equipment that make our lives more convenient and vibrant. Now, we only need to make a few clicks to send a message, obtain information, or purchase the desired products.
By 2024, eCommerce will account for over 20% of all retail sales and more than $1 trillion in sales. It amply proves that e-commerce businesses are expanding globally. And it has motivated lots of businesspeople to spend money creating eCommerce websites.
However, creating the ideal eCommerce website is not as simple as it appears. You'll need careful planning and the assistance of an experienced e-commerce web design company. That company's professionals will assist you in applying the latest trends to your e-commerce site and making it market-ready. When developing websites, trends are crucial to consider because they show us how to build competitive websites. Know about 15 Amazing Web Design Trends for 2023: Which You Should Use.
In this article, we will discuss the top eCommerce website design trends for 2023 to create modern and productive eCommerce websites.
15 E-Commerce Web Design Trends Look Out for in 2023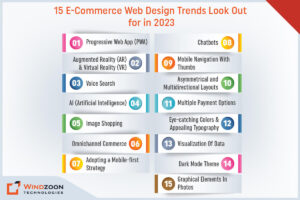 15 E-Commerce Web Design Trends Look Out for in 2023
1. Progressive Web App (PWA)
Progressive Web Apps (PWAs) are a recent development that will soon be crucial in the growth of eCommerce. Online businesses are constantly looking for innovative ways to enhance the customer experience while boosting revenue and profitability.
PWA has several significant advantages, including low development costs, an app-like interface, quick installation, offline operation, and a push notification feature. If implemented properly, these features will make sure that your e-commerce businesses stay one step ahead of their rivals.
2. Augmented Reality And Virtual Reality (AR/VR)
These technologies remove many obstacles that arise during online shopping, making them a huge boon to the eCommerce sector. Augmented reality (AR) is essential when previewing goods or using services before making a purchase.
Having this type of visualization aids users in determining whether a product will satisfy their needs. Businesses that provide eCommerce platforms with Augmented Reality (AR) will be able to broaden their market reach.
Several surveys and reviews attest to the effectiveness of VR experiences. Take Airbnb as an example, which enables you to view a rental before booking. It's similar to how IKEA can display how a specific sofa would look in your room.
VR can be a reliable tool for websites to deliver useful, captivating content in a way that aids visitors in making a purchasing decision.
3. Voice Search
People's lives have changed and become easier in many ways since the introduction of smart speakers and voice assistants like Google Assistant, Alexa, Siri, etc. These technologies improve people's lives by assisting them in transitioning from "typing" to "speaking."
Voice tools and devices are made to take specific voice commands, which give users access to a wide range of services. The popularity of voice search is growing, and it will do so even in 2023.
Many eCommerce platforms offer different Voice User Interface options that let users search for products using voice commands. By optimizing your website for voice search, you can successfully grow your business.
4. AI (Artificial Intelligence)
AI is revolutionizing the eCommerce industry by predicting consumer purchasing patterns. Based on past purchases, product searches, and online browsing habits, AI is influencing customers' eCommerce purchasing decisions. Personalized product recommendations have a significant impact on higher conversion rates.
AI in eCommerce can help online businesses by analyzing trends and customer behavior to determine the best time to launch a product, set a price, and list these items on the best channel (or channels). It will undoubtedly have a positive impact on businesses' sales and marketing efforts.
5. Image Shopping
There will be an increase in image shopping in e-commerce. To purchase a product from an online store, users will point their camera at the item they wish to purchase. Like CamFinder, there are numerous photo apps available, and this year, many more will appear. This trend will also result in the sale of affiliate products via photoshopping.
For instance, Pinterest recently unveiled its very own photo camera. It identifies and analyzes images to provide a precise product description. It has already partnered with numerous e-commerce sites and top search engines. It gives them pertinent information they can use to categorize and interpret images.
6. Omnichannel Commerce
Omnichannel selling has become critical for online businesses because it allows them to reach every customer touchpoint. Due to their ability to sell through Omni channels, they can serve clients using a variety of platforms and devices, including websites, PWA, social media platforms, and more.
Regardless of where a customer starts their shopping journey, eCommerce businesses can target all different types of customers with omnichannel selling. This trend in eCommerce development has made online shopping more flexible and unrestricted.
For instance, today consumers can purchase goods on any website or platform, including Facebook, eBay, and Amazon. It has established a new standard in the eCommerce sector and will help you expand your company greatly.
7. Adopting Mobile-first Strategy
Mobile technology has become prevalent in our time. According to reports, 79% of smartphone users have made online purchases using their mobile devices. Additionally, search engines will favor websites that are mobile-friendly from a ranking perspective.
Therefore, developing responsive e-commerce websites and mobile apps that can adjust to different screen sizes will become more and more important in 2023. If you want to learn more about the importance of responsive design read our article on how a responsive web design can help your business.
8. Chatbots
Chatbots are one of the most pervasive eCommerce development trends. Chatbots are extremely beneficial to eCommerce businesses because they automate human-to-human interactions. It implies that users can communicate with chatbots on an e-commerce website to quickly and easily obtain a variety of services.
Custom support has frequently proven to be an Achilles' heel for many online businesses. But with the aid of chatbots powered by artificial intelligence, businesses can offer quick and convenient customer support.
Customers don't have to wait very long to find solutions because chatbots can respond to their questions and interact with them to solve any problems that may arise. You can hire e-commerce web designers to design a feature-rich website with a smart chatbot.
9. Mobile Navigation With Thumbs
The majority of smartphones that have been released in recent years have bigger screens.
Users primarily use their thumbs to navigate through an app while holding the phone in one hand. Of course, the majority of clickable items and important navigation buttons in the mobile user interface must be easily accessible with the thumb. The comfortable reaching area surrounding the user's thumb is known as the mobile-thumb zone.
Although larger displays are excellent for precise finger tapping, the larger area that needs to be covered makes single-handed thumb navigation more challenging. Naturally, app developers must prioritize thumb-friendly design more than ever before.
10. Asymmetrical and Multidirectional Layouts
One of the most crucial elements of your e-commerce website is the product gallery. It provides information to visitors that might influence their decision to buy. A typical gallery serves its purpose admirably, but there are other ways to enhance it.
Many companies will be experimenting with grid-based multi-product galleries in 2023. Given that it addresses mobile-first design and interactive shopping experiences, this e-commerce design trend is pertinent.
11. Multiple Payment Options
It should be expected that there will be more methods of online payment as a result of technological advancement.
In addition to conventional methods such as credit and debit cards, the use of digital wallets, cryptocurrency, and even biometrics would significantly increase. The desire for faster, more secure transactions is driving this trend.
Thus, providing a variety of payment options is a great way to increase conversion rates.
12. Eye-catching Colors and Appealing Typography
The worst thing you can do this year is to build an eCommerce app with a lot of white space in between. According to the most recent eCommerce Design Trends, you should experiment with bold, bright colors more to create attractive websites with eye-catching homepages.
Make wise color choices that appeal to customers, send messages, and enhance the shopping experience. Use interesting typography and highlighted letters as well.
13. Visualization Of Data
Information delivery that is both entertaining and informative is difficult. However, you can accomplish that using data visualization. Implementing it won't be simple, but the payoff will be worthwhile.
You can use infographics and graphs to present your data in an engaging, original way. Data visualization increases the chances that your audience will learn about the information you're trying to share.
14. Dark Mode Theme
It serves a number of functions when websites are designed in dark mode. One benefit is that it lessens eye fatigue as we spend more and more time in front of screens these days. On the other hand, websites in dark mode have this contemporary appearance that is very attractive. It made the increasing popularity of dark mode not surprising.
15. Graphical Elements In Photos
Images with overlapping graphics grab the audience's attention more easily. The combination of these two approaches gives the images a distinctive quality.
You can help your business establish a memorable brand by combining the strength of graphics and photos. It will maintain visitors' interest in what is happening on your website and boost conversion rates!
Conclusion
It is challenging to stay current in the ever-evolving and changing world of eCommerce. However, if you want to keep your brand relevant while offering the best shopping experience for your customers, you must stay up to date on the latest industry trends.
In order for your business to succeed and to be ready for 2023, you must begin implementing these trends into your e-commerce site as soon as possible. If web development languages are not your strong suit, you can hire a website design company and creative agencies to assist you. For that, you can read our blog on how to choose the right web design & development company in 2023.
As a renowned e-commerce web design agency, Windzoon provides premium web design services at the most competitive rates with minimum turn-around time. Our talented web designers can create one-of-a-kind e-commerce web solutions that are customized to your business's requirements.
For more information about our web design services or to get a quote, visit windzoon.com.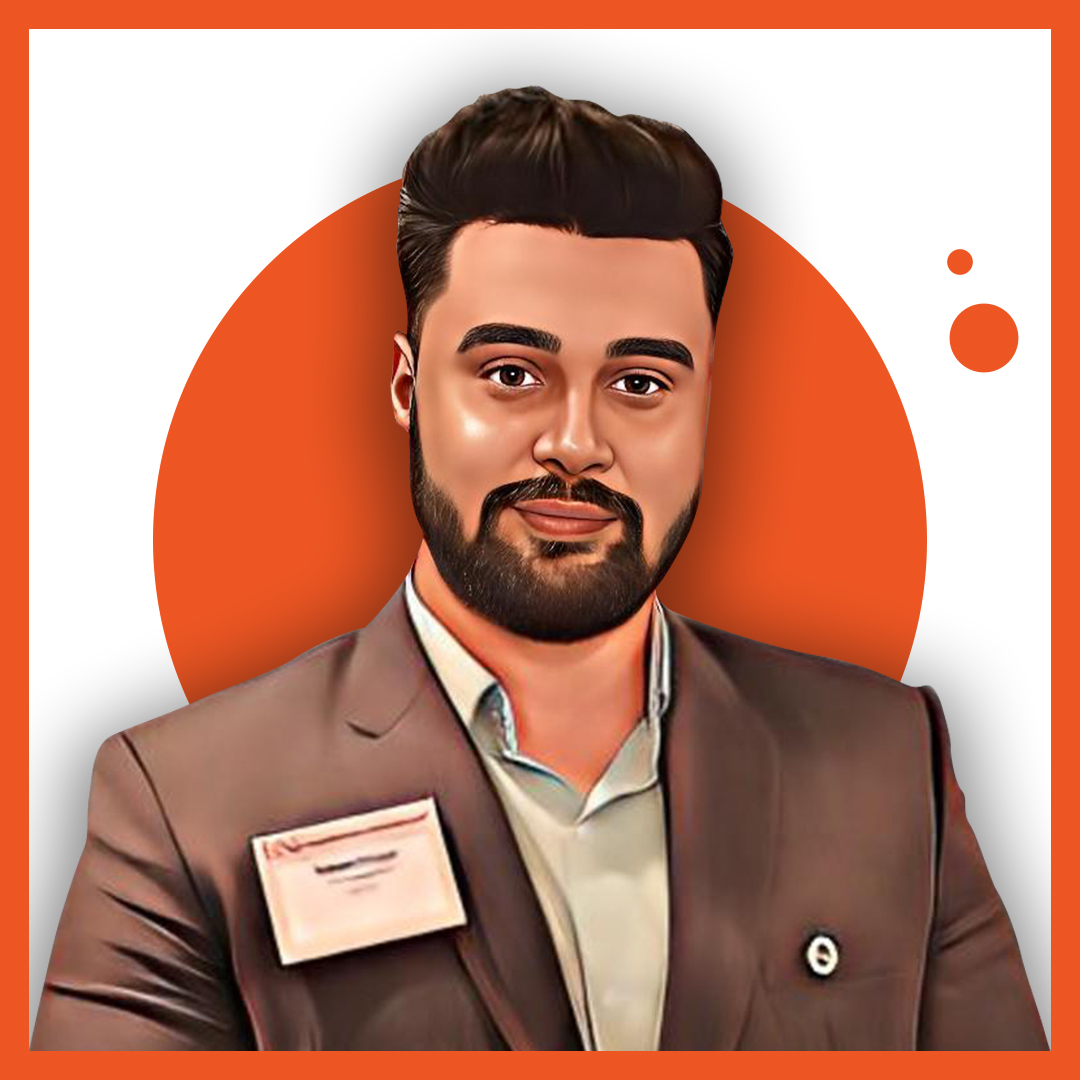 Soham Trivedi is a co-founder of Windzoon Technologies and has been working as a business development manager for more than 10+ years. He is mastered in business management but his passion for writing has driven him toward the content writing field. Apart from being a business development manager, Soham Trivedi is a successful content writer and a technology lover and has been writing across various disciplines.