From budding entrepreneurs to big business titans, WordPress is widely acclaimed by all for its versatility and ease of use. Powering around 43% of online websites, WordPress turns out as the best framework for website development.
However, before you begin developing a custom WordPress website for your clients, the most common challenge you will face is deciding whether to hire an in-house developer, do it yourself (if you are an expert WordPress developer), or simply outsource it. Isn't that right?
Well, seeing the current global scenario and the benefits it offers; hiring an Offshore Custom WordPress Development Agency is the best option to choose. But then again comes the question: How to choose the right offshore Development firm?
Continue reading to find out the answer to this question as well as learn more about how to hire an offshore development team.
Now, Let's learn the benefits of outsourcing your WordPress development work.
5 Reasons to Outsource Your WordPress Development Work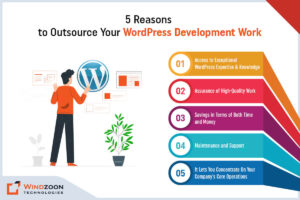 Reasons to Outsource Your WordPress Development Work
1. Access to Exceptional WordPress Expertise & Knowledge
In-depth programming knowledge is needed to create a custom WordPress theme. Through outsourcing, you'll have access to a knowledgeable team that is familiar with every aspect of this platform. It comes in handy when creating custom themes for the WordPress site.
2. Assurance of High-Quality Work
Every year, WordPress updates its framework. When you work with a reputable agency, you can be confident in the quality of the coding. Because the developers stay up to date on the latest developments in this platform. As well as effectively implement those developments in your WordPress website.
3. Savings in Terms of Both Time and Money
A lot of time is wasted while looking for the right in-house developers. However, if you choose to outsource, the offshore developers will create the WordPress theme in the shortest amount of time possible.
It will help you save time and cut the cost of WordPress Web development by 40% to 50%. This is because the developers will work on an hourly, weekly, or monthly basis, depending on the engagement model you choose. Thus, you will only be charged for the number of hours they will spend on your project.
4. Maintenance and Support
Your WordPress website needs to be properly maintained following the successful development of custom themes. It is a continuous task that requires consistency. When you work with an outsourcing agency, you will receive prompt maintenance and support for your website's upkeep performance.
5. It Lets You Concentrate On Your Company's Core Operations
As was already mentioned, outsourcing will save you a ton of time. Delegating WordPress website development allows you to focus on other key business areas that require your attention and further improvement. As a result, your business operations will run more smoothly & effectively.
Now, let's get to know the questions you should ask before hiring any outsourcing agency.
Read More: Why Choose WordPress CMS for Your Website: Top 10 Reasons to Know
10 Questions to Ask Before Hiring an Offshore WordPress Developer/Agency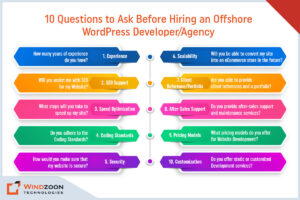 Questions to Ask Before Hiring an Offshore WordPress Developer/Agency
1. Experience: How many years of experience do you have in WordPress website development? When it comes to hiring expert WordPress developers, experience is everything. Inquire with your WordPress developer or agency about the number of years they have spent developing custom WordPress solutions.
2. SEO Support: Will you assist me with SEO (Search Engine Optimization) for my WordPress Website?
Although WordPress is the most SEO-friendly platform, it still requires the implementation of best SEO practices to rank your website higher in SERPs. Therefore, ask out what strategies your offshore developer plans to use to improve your site's ranking.
3. Speed Optimization: What steps will you take to speed up my WordPress site?
According to various reports, 53% of website visitors leave if it takes more than 3 seconds to load. Make sure the developer or agency is aware of how important it is to have a website that loads at lightning speed on all types of devices.
4. Coding Standards: Do you adhere to the WordPress Coding Standards?
Inquire whether the developer is familiar with The WordPress Coding Standards (WPCS) and is proficient enough to avoid coding errors and improve code readability.
5. Security: How would you make sure that my WordPress site is secure?
Currently, WordPress is the most popular open-source CMS on the market, making it a tempting target for hackers. So, to keep your WordPress site safe from hackers, ask your developer or company what plugins and security procedures they will be using. Also, inquire about how they intend to manage the WordPress site's backup.
6. Scalability: Will you be able to convert my WordPress site into an eCommerce store in the future?
A WordPress website can be easily transformed into an enterprise-level website or an online store. Thus, ask your offshore developers/agency if they have experience scaling WordPress websites if that is something you plan to do in the future.
7. Client Reference/Portfolio: Are you able to provide client references and a portfolio?
When hiring someone for WordPress development, it's reasonable to ask for their client references and portfolio. It will help you assess their level of expertise, coding style, and the types of projects they've completed in the past.
8. After-Sales Support: Do you provide after-sales support and maintenance services?
Ask your offshore developer/agency if they will offer timely WordPress Support and Maintenance services once the development work is finished. Before making a final choice, be sure to make this clear as it may result in additional costs.
9. Pricing Models: What pricing models do you offer for WordPress Website Development?
Cost is the most essential factor to consider before making any decision. Hence, ask your offshore partner to provide information regarding their pricing model. And also inquire them about the possibility of any hidden costs.
10. Customization: Do you offer static or customized WordPress Development services?
Although WordPress provides thousands of free themes and plugins for website development, they may not always meet your exact needs. In such a case, you need to customize the specific theme or plugin to meet your requirements. Therefore, make sure the agency or developer has experience with customized WordPress development before you outsource your WordPress project to them.
With this, we have come to the crux of this article and that is How to Hire WordPress Developers/ WordPress Website Development Company for your project.
8 Useful Tips for Choosing the Competent WordPress Development Agency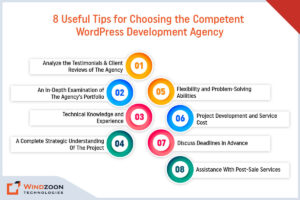 Useful Tips for Choosing the Competent WordPress Development Agency
1. Analyze the Testimonials & Client Reviews of The Agency
Nothing is more credible than the words of recommendation or review. Check out the testimonials section of the potential website development agency's website. Or look up its online reviews on directories like Clutch and GoodFirm.
You could even request the client's reference or request an online meeting to obtain unfiltered feedback (If you have any doubt). Most agencies would not deny such direct questions; if they are genuine, they will provide you with references from their clients.
2. An In-Depth Examination of The Agency's Portfolio
After reading the reviews and testimonials, the next step is to thoroughly examine the portfolios of your preferred agencies.
It will give you a better idea of their work quality. Along with a clear understanding of their work strategy and development methodologies to complete the project for their client.
Thus, a Portfolio review will aid you to decide if they are suitable for your project or not.
3. Technical Knowledge and Experience
Every well-known Web Development Agency has a diverse team of WordPress developers that handles various projects based on their niche. But the best WordPress web development agency is one that stays current on WordPress tools and technology trends.
So, before working with any WordPress Website Development Agency, you should investigate their technical expertise.
You can evaluate their technical skills by asking for previous work samples. It will provide you with a sufficient overview of the agency's WordPress knowledge and expertise.
4. A Complete Strategic Understanding Of The Project
It is a simple concept: if your ideology aligns with that of your preferred agency, you should consider moving forward; otherwise, you should not.
A dynamic and creative agency is always concerned with understanding its clients' projects. It accomplishes all of this by developing a precise strategic approach to determining error-free project plans to meet the client's objectives.
5. Flexibility and Problem-Solving Abilities
The most crucial factor to consider when hiring an offshore agency is its flexibility and problem-solving ability.
Your project is important to you regardless of how small or big it is. Thus, you must interact with your chosen development agency. And pay attention to how they converse with you; are they giving enough consideration to your requirements? What other ideas and initiatives are they expressing?
Such inquiries will help you decide whether this agency is a good fit for you!
6. Project Development and Service Cost
In most cases, businesses seek to cut costs by sacrificing work quality. Which later proves to be a regrettable choice.
Both the service cost and the project value are crucial aspects to consider. There may be several agencies you encounter that offer lower service costs than others. However, you must understand that it is not always about the price, but about the quality of service they provide.
7. Discuss Deadlines in Advance
Whether you have a short-term or long-term project, planning the timeline is critical. Many website development agencies failed to complete projects on time.
As a result, obtaining the appropriate timeline commitment should be a priority. The best way to get a sense of an Offshore agency's performance is to read its customer reviews. Or you can ask them directly for the project delivery date.
8. Assistance With Post-Sale Services
After the WordPress website design & development process has been completed successfully. There are still possibilities to occur unexpected problems with website performance and other aspects.
In this situation, you have only one option, and that is to contact your hired agency. And discuss the problem and request its assistance. Thus, always search for an agency that provides prompt after-sales support for your project.
Use the tips listed below to collaborate productively with your chosen WordPress development service provider agency once you've hired them.
5 Essential Tips for Working With an Offshore WordPress Development Team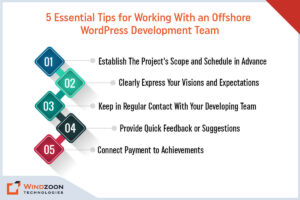 Tips for Working With an Offshore WordPress Development Team
1. Clearly Express Your Visions and Expectations
Inform your outsource partner in advance about your goals and expectations for the WordPress website. It will assist them in understanding what is expected of them and the requirements for the finished product.
2. Establish The Project's Scope and Schedule in Advance
By determining the project's scope and timeline in advance, you can build a good working relationship with your partner company. It will aid in the precise deliverable planning and aligning goals with expectations before the project begins.
3. Keep in Regular Contact With Your Developing Team
The foundation of the entire project is effective communication. If you want your offshore team to be successful, you should hold regular meetings, use shared documentation, and adopt presentation standards. The team needs to recognize that the client is simple to work with, as this will help to avoid any potential future conflicts.
4. Provide Quick Feedback or Suggestions
It takes two to tango when developing a project. Hence, ensure that you respond immediately to all of the outsourcing team's queries, worries, and suggestions. It will increase efficiency and remove bottlenecks during the project's development.
5. Connect Payment to Achievements
Tying payments to milestones with specific acceptance criteria will contain any features from being missed from your WordPress site. Divide a project into smaller tasks instead of assigning a massive amount of work at once to an offshore team. It will help them to complete your project quickly & effectively.
Conclusion
We hope this blog has answered all of your questions about hiring an offshore WordPress development agency.
And if you're still doing WordPress web development in an old-fashioned way, it's time to break free from convention and consult with the experts. Through this way, you're not only choosing to keep up with the times; you're also making moves to align with the industry's best practices, which ensures long-term success.
And Windzoon is an excellent choice if you're looking for a trustworthy WordPress Website Development Agency to handle your web development project. We've been providing WordPress Development Services for over ten years. To avail of our services or learn more about our WordPress Packages, visit windzoon.com and get a quote.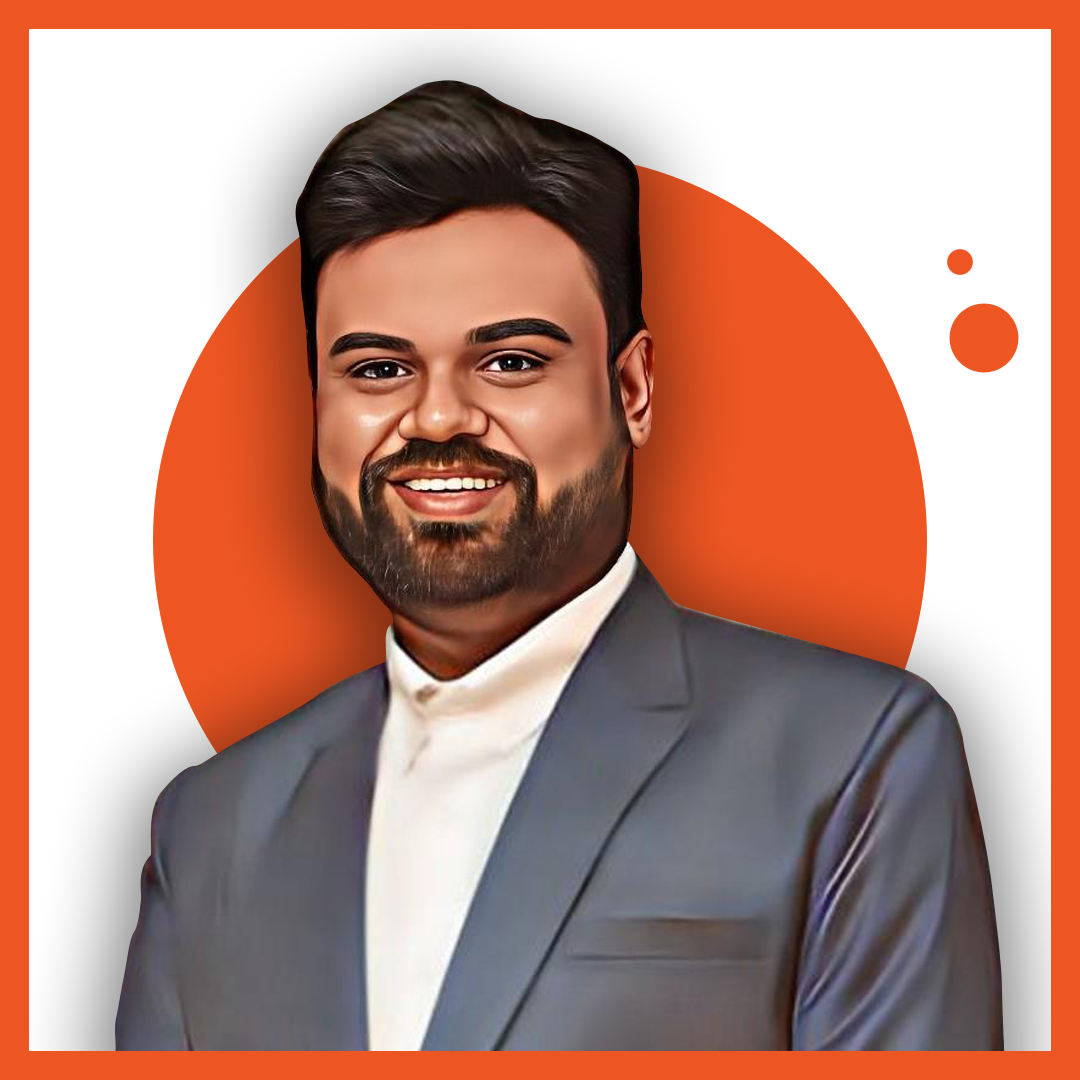 Nilesh Pujara is the CEO & Founder of Windzoon Technologies. He is mastered in computer application but his love for IT and marketing has driven him toward the field of digital marketing. Nilesh Pujara is handling the operations of a digital marketing strategist for more than 10+ years and has expertise in SEO, SMO, & PPC.