Designing a website from scratch needs plenty of work, money investment, & time investment. Looking at the varying needs & requirements of firms, WordPress arrived in 2003 & transformed the web development surface.
WordPress is probably the simplest framework to go for developing a blogging, eCommerce, or any other niche business. As per W3Techs data, WordPress is used by 64.3% of all the websites whose content management system we know. As we all know the importance of having a responsive website. For building a website, it is very important to figure out what frameworks, plugins, or developers you require to consider. And for responsive work, you have to ensure that you understand what options you have.
There are many reasons why you must choose WordPress, and we are here going to cover them for you. And here, we will also talk about the advantages of WordPress. And why it is the best and most preferred CMS on the internet.
Keep scrolling down the blog to find out why you too must choose WordPress!
What is WordPress Development?
WordPress is an open-source framework.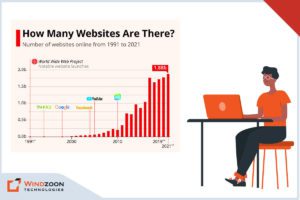 Number of Websites Online
As per Statista, In 2021, there are approx 1.88 billion websites present on the internet. According to BuiltWith Pty Ltd, there are presently 6 million sites that are built on WordPress. Even Though WordPress was initially built for blogging and publishing posts, currently entrepreneurs can adapt WordPress to develop websites for their businesses.
Technical stating, WordPress is a content management system that is licensed by General Public License. This effectively indicates that anyone can utilize or work on this framework for free.
From posting blogs to listing products, WordPress development is remarkably versatile. It concentrates prominently on flexibility & it is an outstanding solution for companies of each scale, from small companies to large enterprises. If you still find it difficult to develop a website on your own, then you can always rely on a custom WordPress development company for the best assistance!
Read More: Complete Guide: How to develop advanced Headless WordPress Website with React
Why is WordPress Development Important?
To comprehend what & how we can design websites on WordPress, first let's understand its importance & mechanism of it.
There are 3 primary components of WordPress:
The core, themes, & plugins.
The core-
The core code comprises the default functionality that drives the WordPress CMS i.e content management system. This incorporates everything from the backend, to scheduling blogs, strengthening passwords, enabling the design, and so on.
Theme-
Whereas the core is liable for the backend work, themes are liable for the front end & how websites look. WordPress admin is used to publishing posts, pages, & other website content, but precisely how your page is displayed to the visitors.
Plugin-
The easiest way to describe plugins is that they cater additional functionality to your website. It can likely construct a page in the backend admin, where you can set up default alternatives.
With this beautiful mechanism, it caters to your website development initiative with amazing CMS facilities. This is why WordPress is important to build a highly customizable website of your preference.
What are the Benefits of WordPress Development?
To all the above-mentioned discussion, here are a few benefits of WordPress that make it the best alternative for your website.
– It has a wide range of themes that helps make a website design
– It is an easy content management framework
– It has an Application programming interfaces
– Adjustable and Flexible for all types of niches
– It is user-friendly & flexible for Beginners
– It designs websites that are Mobile Responsive
WordPress has gradually become one of the competent CMS for all blogging and non-blogging websites. These are a few of the many benefits of WordPress. This is why it is so popular & you must surely consider switching to WordPress soon!
Read More: PHP vs WordPress: Which is better for your business?
10 Reasons Why WordPress Development is Best Choice for Small Business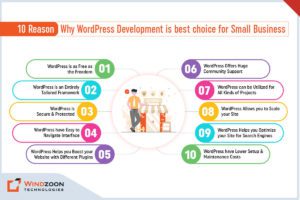 Reasons Why WordPress Development is Best Choice for Small Business
For over a decade, WordPress has been around in the world of Development. But, many people still do not trust this CMS. Amongst the millions of websites in the market, more than 35% of them are built on WordPress. Each day, moreover 500+ new websites developed on WordPress go live, & the numbers are growing day by day.
Read More: WordPress Website Development: Expectations Vs Reality
So if you are one of those who are contemplating choosing WordPress, then we have curated reasons why you must consider picking it!
1. WordPress is as Free as the Freedom
WordPress is a free framework.
This means everything is absolutely free to install, utilize and revise to meet your requirements. You can simply utilize it to develop a blog, eCommerce, or any website for that matter. As WordPress is free, you do not require a domain or web hosting to download it.
If you want a WordPress website with a professional setup, then consider us hiring WordPress developer.
2. WordPress is an Entirely Tailored Framework
Many people who use WordPress are not professionally trained & skilled to build a website that needs programming. This is why this framework is preferred by many as it doesn't need any prior knowledge of developing a website. There are many inbuilt templates for every type of website (for the blog, business, or any online business).
Themes that are inbuilt in WordPress are effortless to customize with ample options. This framework also has options like changing color, uploading logo & images, revising the background, forming stunning sliders, & truly tailoring it without any code or program.
3. WordPress is Secure & Protected
Anyone who builds a website always keeps security in mind. This is why WordPress is loved by many. It is a remarkably secure and protected framework to run any website.
However, you can do a lot to develop a secure hack-free website. For details, you can also check a guide to WordPress security for beginners.
You can also download a free WordPress security plugin. It will surely ultimately protect your site.
4. WordPress has Easy to Navigate Interface
Another amazing characteristic that WordPress caters to is its user-friendly & spontaneous interface.
WordPress is a self-contained framework. It doesn't need any HTML editing software, like Adobe and Dreamweaver. You can easily develop pages, post blogs, upload files & videos, etc. It is quite suitable for those with minimal knowledge of web development.
Apart from its user-friendly & amazing interface, you can easily handle the website from any desktop, anytime, anywhere you want. As WordPress is browser-based, it needs access to the internet.
5. WordPress Helps you Boost your Website with Different Plugins
WordPress's integrating amazing & diverse plugins so you can make the most of your website. It delivers more functionality to your website by just installing them. Integrating websites can immensely benefit you to grow your business digitally. With this, you can get access to thousands of free plugins present on the framework.
Read More: 10 Best Drag and Drop WordPress Page Builders Plugins Comparison
6. WordPress Offers Huge Community Support
WordPress CMS has amazing community support globally. The community caters to the proper guidance & contributes to the growth of users. The community always helps to find answers to every query & resolve those issues.
Apart from the WordPress community, you can find numerous blogs, articles, & other resources that can handle your WordPress-related questions.
7. WordPress can be Utilized for All Kinds of Projects
It has always been a misconception that WordPress is only a blogging platform. But, that is technically inaccurate. WordPress CMS is preferable for all kinds of websites & projects.
You can potentially utilize WordPress to expand your business, design virtual classrooms, build an e-commerce site, integrate social media platforms, & any other you can imagine.
8. WordPress Allows you to Scale your Site
WordPress will amazingly complement your website, especially if the objective is to get massive traffic! This is why it is said that WordPress is synonymous with scalability.
Not only for development but if your website is already professionally optimized; you can even consider WordPress to control traffic spikes.
If you desire to illuminate your website, you can speak to our experts for a tailor-built website.
9. WordPress Helps you Optimize your Site for Search Engines
Search Engine Optimization makes sure that your site gets the adequate traffic it deserves from search engines.
There are ample amounts of tips & tricks to rank your website digitally.
While using WordPress, you eventually get access to numerous robust SEO plugins. These plugins will help you a lot in not missing out on anything!
10. WordPress has Lower Setup & Maintenance Costs
WordPress holds fewer setup, customization, & maintenance expenses when compared to other open-source CMS. There are no such additional hidden costs that make it costly to tweak after the development. WordPress can always be a swift win for enhancing your customer's experience.
After going through all the reasons, you are still contemplating whether WordPress is the best CMS or not; you can speak to our techies. They can assist you to make an excellent choice!
Now, without more delay,
Let's jump on the most frequently asked question: Is WordPress suitable for the professional website in 2022?
Is WordPress Suitable for the Professional Website in 2022?
WordPress is one of the best platforms to make a professional website. You can easily utilize WordPress to develop professional business sites, personal portfolio pages, blog pages, eCommerce stores, video pages, and a lot more.
A website is a representative & a resume of your Brand.
Doesn't matter if you are a business tycoon or even a naive blogger, you must consider building a website to showcase your skills.
WordPress is perfect for professionals, as it needs absolutely no coding knowledge! All you have to do is, look for a professional theme, require a plugin & start creating your site. WordPress even offers drag & drop social media integration to your website.
Gathering all of the above-mentioned points, WordPress is surely the best framework to build a professional website in 2022!
Conclusion
WordPress is almost everyone's favorite framework. It is used by more than 30% of content-based sites Globally. WordPress makes it super easy to develop a website, even if it's a professional or a naive blogger!
Along with an array of attributes that WordPress holds, it is ultimately designed to build responsive, creative, & effortless websites.
If you are seeking to build a WordPress site, you must consider us as we cater to the amazing packages of WordPress development services. We will help you save time and enable you to access your dashboard too.
Connect to our techies at [email protected] to get a quote or know more about our services.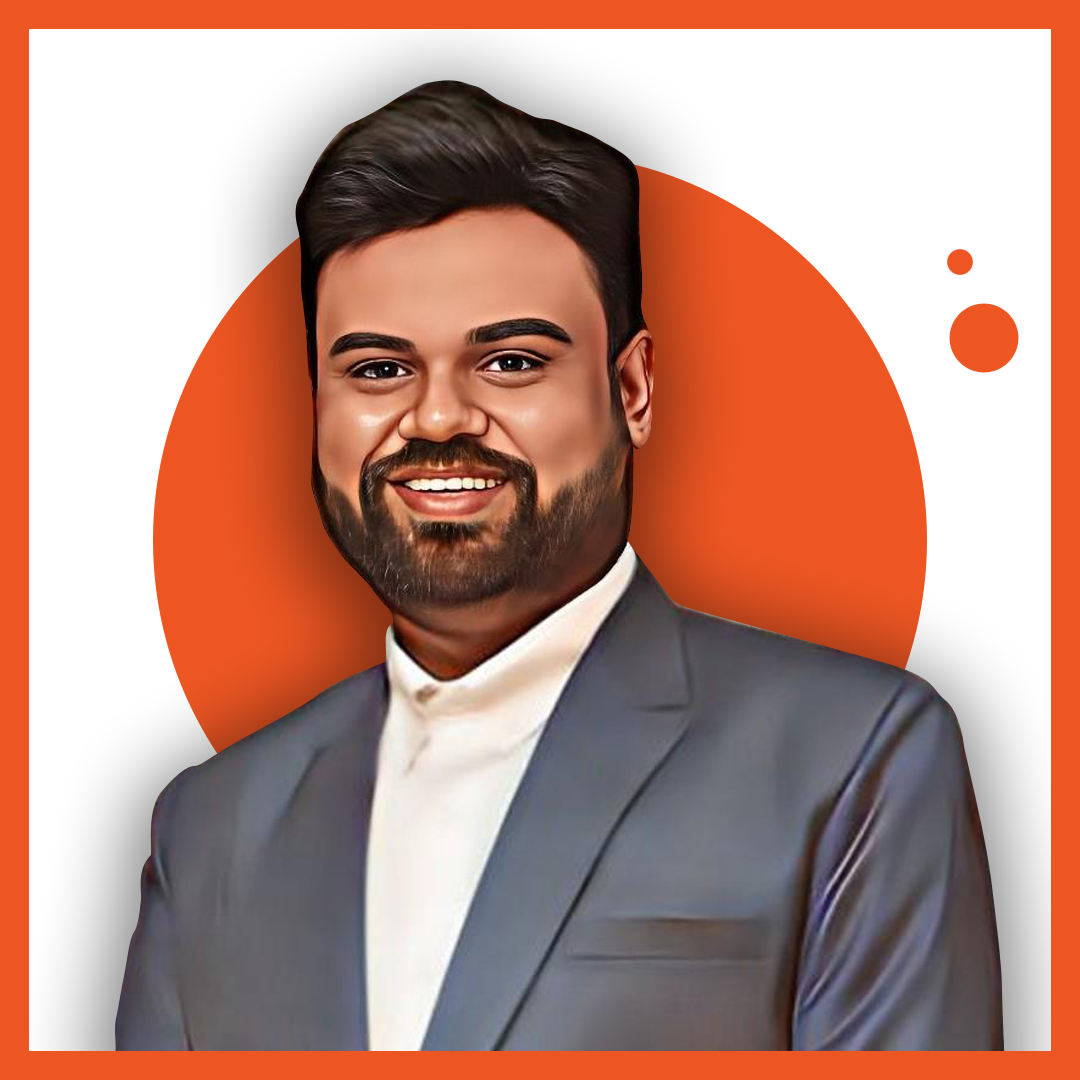 Nilesh Pujara is the CEO & Founder of Windzoon Technologies. He is mastered in computer application but his love for IT and marketing has driven him toward the field of digital marketing. Nilesh Pujara is handling the operations of a digital marketing strategist for more than 10+ years and has expertise in SEO, SMO, & PPC.