Picture this: you're a weary traveler, trudging through a new city, looking for a place to rest your head. You whip out your trusty smartphone and type in "hotels near me." The search results pop up, and you scroll through the options. Which hotel catches your eye? Is it the one with the poorly lit photos and sparse reviews, or is it the one with glowing reviews and stunning visuals?
For hotels and tourism businesses, standing out in the vast sea of online searches is crucial. The size of the worldwide online industry was estimated to be 475 billion dollars in 2022. According to projections, this amount will exceed 521 billion US dollars in 2023 and reach over a trillion US dollars by 2030. And with the pandemic driving more people to domestic travel, it's more important than ever to have a strong online presence.
So, how can hotels and tourism businesses optimize their online presence for maximum visibility and bookings? As a leading digital marketing agency with years of experience in offering services to the tourism industry, we have prepared some SEO tips for hotel & travel websites. The application of these tips will help you increase your brand visibility and bookings.
So, let's dive into some SEO tips and tricks that will make your business stand out from the competition.
What is SEO for Hotel & Travel Websites?
We'll provide a very basic explanation for this question. As an illustration, visualize your hotel or travel website as a magical castle that you want to invite as many guests to explore. From the warm rooms to the stunning vistas, you've worked so hard to create a magical experience. But how are people supposed to locate your castle in the big, crowded, internet kingdom?
That's where SEO enters into play. Search engine optimization, or SEO, is a kind of mystical wand that can raise the ranking of your website in search engine results. By using strategic keywords, optimizing your website structure, and crafting captivating content, you can attract more visitors to your castle and ensure that they have an unforgettable experience. So, cast your SEO spell and watch as the kingdom flocks to your magical castle.
Benefits of SEO for Hotel & Travel Websites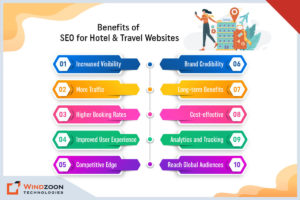 Increased Visibility: SEO helps your website appear higher in search engine results pages (SERPs), which means more people are likely to find and visit your website.
More Traffic: With increased visibility comes more traffic to your website, as people are more likely to click on links that appear higher in search results.
Higher Booking Rates: By optimizing your website for search engines, you can attract more qualified leads who are more likely to book directly on your website.
Improved User Experience: SEO involves optimizing the structure and content of your website, making it more user-friendly and easier to navigate.
Competitive Edge: SEO helps you stand out from the competition by showcasing your unique offerings and value proposition.
Brand Credibility: By appearing higher in search results, you can boost brand awareness and credibility, as people are more likely to trust websites that appear at the top of search results.
Long-term Benefits: SEO is a long-term strategy that can continue to drive traffic and bookings to your website for months or even years to come.
Cost-effective: Compared to other forms of digital marketing, such as paid advertising, SEO can be a more cost-effective way to drive traffic and bookings to your website.
Analytics and Tracking: With SEO, you can track and analyze the performance of your website and adjust your strategy accordingly.
Reach Global Audiences: With SEO, you can target specific keywords and phrases that are relevant to your target audience, including global travelers.
Read More: Hire Digital Marketing Agency For Small Businesses: 8 Useful Tips
12 Effective Hotel SEO Tips to Rank #1 on Google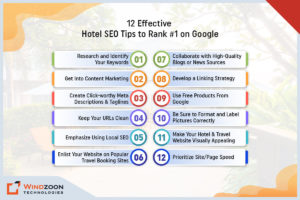 1. Research and Identify Your Keywords
Any SEO strategy should start with a study and keyword identification phase. These are the keywords or sentences that people type into search engines to find your products or services.
Additionally, by focusing on the right keywords, you can draw pertinent traffic to your website and raise the likelihood that users will become paying customers.
To discover the most pertinent and lucrative keywords for your business, you can use a variety of keyword research tools, such as Google Keyword Planner, Ahrefs, or SEMrush. Once you've chosen your keywords, incorporate them into the text, meta descriptions, headings, and URLs of your website.
2. Get Into Content Marketing
The next piece of advice is to do content marketing well. It is an effective SEO strategy that entails creating high-quality, informative content. So that, it can attract, engage, and convert your target audience.
However, to do that you need to publish the more recent and pertinent material on your website. It will help your website to gain more authority on SERPs. In addition to increasing your brand reputation and helping you receive backlinks from other websites.
Apart from that, you can demonstrate your expertise and value proposition using a variety of content forms like blog posts, infographics, videos, or guides. However, it's crucial to produce content that is in line with the interests and requirements of your target audience as well as your company's objectives.
3. Create Click-worthy Meta Descriptions & Taglines
Meta descriptions and taglines are the short and concise texts that appear below your website's title in search engine results. They provide a brief summary of your website's content and value proposition and encourage users to click on your link.
Therefore, it's crucial to craft compelling and relevant meta descriptions and taglines that entice users to visit your website. You can use action-oriented language, include your target keywords, and highlight your unique selling points to create click-worthy meta descriptions and taglines.
4. Keep Your URLs Clean
Your website's URLs or web addresses are also critical for SEO. They should be short, descriptive, and easy to read and remember. Avoid using long and complicated URLs that contain random letters or numbers, as they can confuse both users and search engines.
Instead, use hyphens to separate your words and include your target keywords in your URLs. For example, a clean URL for a blog post about the best hotels in Paris could be www.yourwebsite.com/best-hotels-in-paris.
5. Emphasize Using Local SEO
As a hotel or travel website, one of your top priorities should be to rank for local search terms. When people search for hotels or travel destinations, they usually look for options that are nearby. That's why it's crucial to optimize your website for local SEO.
Local SEO involves optimizing your website for location-based keywords, such as "hotels in London" or "best restaurants in New York." You can do this by including your location in your website's content, titles, and meta descriptions.
Moreover, it's essential to have a Google My Business listing. It's free, and it can help you rank higher in local search results. Make sure to provide accurate information about your hotel or travel business, including your address, phone number, and hours of operation.
6. List Your Website on Popular Travel Booking Sites
Getting your hotel or travel website listed on popular travel booking sites can effectively drive traffic and increase bookings. These sites, such as Booking.com or Expedia, are visited by millions of people every day, and they can help you reach a wider audience.
However, keep in mind that these booking sites usually charge a commission for every booking made through their platform. That's why it's crucial to find a balance between the commission you pay and the benefits you get from the listing.
7. Collaborate with High-Quality Blogs or News Sources
Collaborating with high-quality blogs or news sources can be an effective way to get backlinks and increase your website's authority. When you get a backlink from a reputable website, it tells search engines that your website is also trustworthy and relevant.
To find blogs or news sources to collaborate with, you can use tools like BuzzSumo or Ahrefs. These tools allow you to search for websites that are relevant to your niche and have high domain authority.
When reaching out to these websites, make sure to offer them something valuable in return, such as a guest post or a discount for their readers.
8. Develop a Linking Strategy
Internal linking is an essential aspect of on-page SEO. It helps search engines understand the structure of your website and the relevance of each page.
When creating content for your hotel or travel website, make sure to link to other relevant pages on your site. For example, if you're writing about the top attractions in Paris, you can connect to your page about hotels in Paris or your page about Paris tours.
Moreover, it's essential to get external links to your website. As mentioned earlier, getting backlinks from reputable websites can help increase your website's authority and improve your search engine rankings.
You can develop a linking strategy by creating shareable content, such as infographics or guides, and reaching out to relevant websites to ask for backlinks.
9. Use Free Products From Google
Google offers several free products that can help improve your hotel or travel website's SEO. These products include Google Analytics, Google Search Console, and Google My Business.
Google Analytics allows you to track your website's traffic, user behavior, and conversions. It can assist you in determining which sites are effective and which ones require improvement.
Google Search Console can assist you in monitoring the success of your website in search results. It allows you to see which keywords your website is ranking for, how many clicks you're getting, and how many impressions your website is receiving.
Google My Business can help you manage your online presence on Google. It allows you to create a business profile, respond to reviews, and manage your location on Google Maps.
10. Be Sure to Format and Label Pictures Correctly
Images play an essential role in any hotel or travel website. They can capture a visitor's attention and provide a visual representation of your property, destination, or services. However, search engines cannot "see" images as humans do, so it's essential to properly format and label them to improve your website's SEO.
Firstly, make sure that the images you use on your website are high-quality, optimized for the web, and relevant to your content. Secondly, add descriptive and keyword-rich alt tags to your images to help search engines understand what they are about. Alt tags also help visually-impaired visitors understand what the image is about when using a screen reader.
11. Make Your Hotel & Travel Website Visually Appealing
A visually appealing website can significantly improve your visitors' experience and keep them on your website longer. A visually-pleasing website can also improve your website's bounce rate, which is an important factor in search engine rankings.
Ensure that your website's design is attractive, easy to navigate, and user-friendly. Use high-quality images and videos to showcase your hotel or travel destination and use engaging content to tell your story. Additionally, make sure that your website's layout is consistent, and that the content is organized and easy to read.
12. Prioritize Site/Page Speed
In today's digital age, website speed is crucial. A slow website can negatively impact user experience, increase bounce rates, and ultimately affect your website's SEO. As a result, optimizing your website's performance is critical.
Start by compressing your images and videos, which can significantly reduce your website's loading time. Additionally, choose a reliable web host, minimize HTTP requests, and leverage browser caching to improve your website's performance. You can use Google's PageSpeed Insights tool to evaluate your website's speed and identify areas of improvement.
Read More: Reasons Why Businesses Need a Digital Marketing Strategies
Conclusion
In conclusion, SEO is critical for any hotel or travel website to gain visibility, attract more visitors, and increase bookings or sales. The above 12 tips can help you optimize your website for search engines and improve your online presence.
By implementing these tips, you can significantly improve your website's SEO, attract more visitors, and ultimately increase your hotel or travel website's revenue. However, bear in mind that SEO is a continuous process that requires continuous monitoring and optimization.
Therefore, to get the most out of SEO for your hotel and travel site, you should collaborate with the best SEO service provider company.
Windzoon is a reputable provider of digital marketing services that help companies develop effective digital marketing strategies. Please get in touch with us and request a quote to learn more about our services that are focused on outcomes.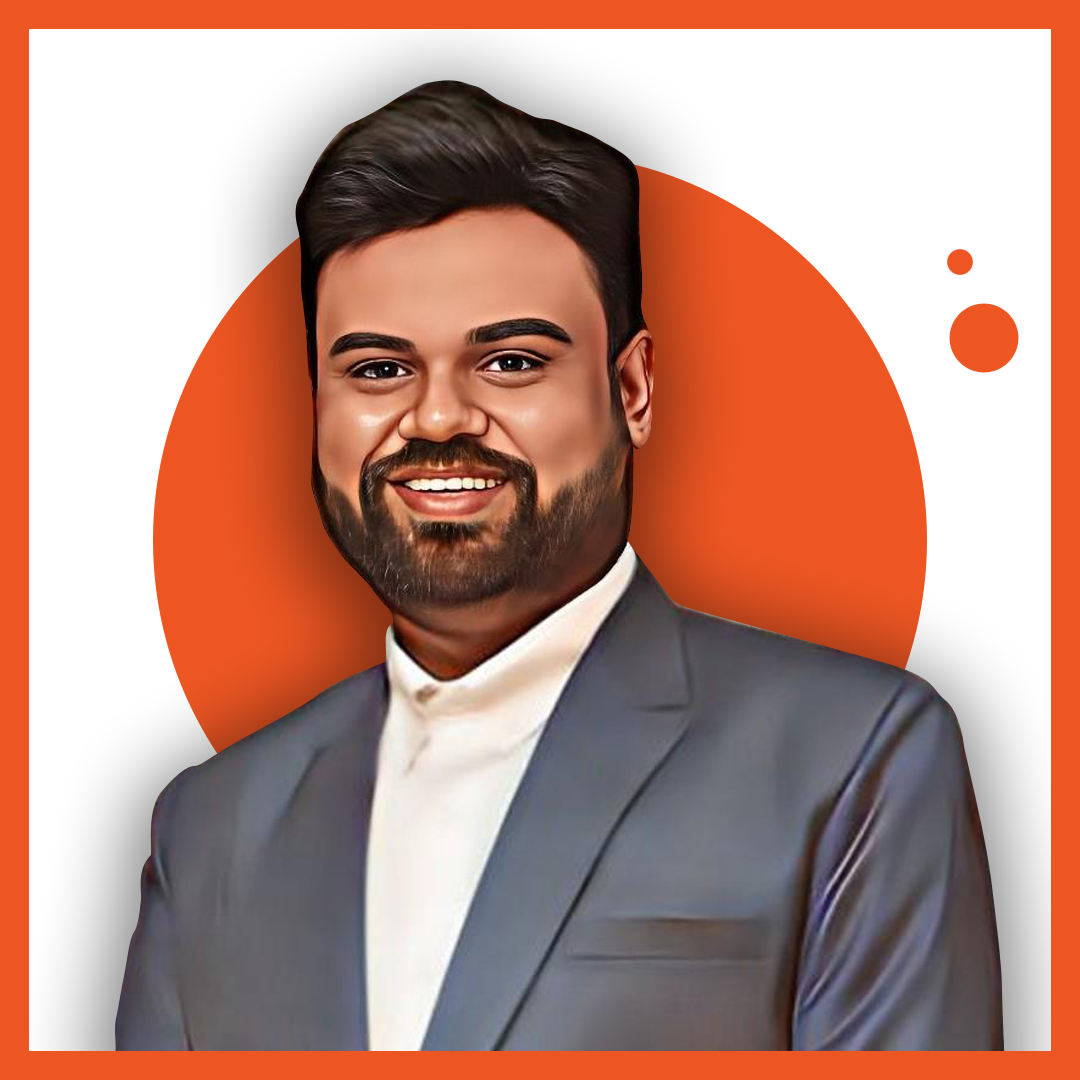 Nilesh Pujara is the CEO & Founder of Windzoon Technologies. He is mastered in computer application but his love for IT and marketing has driven him toward the field of digital marketing. Nilesh Pujara is handling the operations of a digital marketing strategist for more than 10+ years and has expertise in SEO, SMO, & PPC.