In the current digital era, having a strong online presence is essential for any company, especially for eCommerce websites. With millions of online shoppers looking for products and services every day, a well-optimized website can mean the success or failure of a business.
You might be surprised to discover that 93% of online activities begin with a search engine. And this data indicates that if your eCommerce website is not listed highly in search engine results pages (SERPs), you are losing out on a sizable chunk of potential consumers.
In this scenario, a digital marketing company could help. Working with experts in the field, you can create a comprehensive SEO strategy that will improve your website's search engine rankings, boost traffic, and ultimately grow your eCommerce company.
In this blog, we'll explore the top 12 SEO tips for optimizing your eCommerce websites.
So, let's delve into the realm of SEO and see how you can optimize your eCommerce website for success!
First of all, we'll learn about what exactly SEO means for any eCommerce website.
Read More: eCommerce Web Design Trends
What is SEO for ECommerce?
SEO for eCommerce is a tactic that aids online stores in rising in search engine results. High-quality content on a well-designed, search-engine-optimized website will help it rank higher in Google and other search engines, boosting its visibility and generating traffic for your online store.
In other words, SEO for eCommerce focuses on optimizing your site so that leads and conversions are simpler to generate.
But unlike SEO for content-focused websites, SEO for eCommerce involves more than just incorporating keywords, creating blog entries, and acquiring links. Here, you must comprehend how search engines function and what they reward.
That entails understanding the fundamentals of SEO for eCommerce, taking into account Google's recommendations, figuring out what the target audience wants, and carefully putting it to use.
Now, we will get to know about the benefits of availing SEO for an eCommerce website.
Benefits of SEO for ECommerce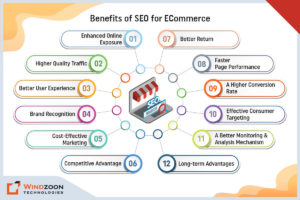 Search Engine Optimization (SEO) is one of the essential parts of any successful eCommerce business. It's a powerful tool that helps significantly raise your online store's sales by boosting traffic and conversions. Here are a few of the major benefits of SEO for eCommerce:
1. Enhanced Online Exposure
Your website's search engine ranking can be improved with the aid of SEO, making it more likely that users who are looking for relevant keywords will find it.
2. Higher Quality Traffic
SEO helps you draw in customers who are truly interested in your offerings, which increases the likelihood that they will make a purchase.
3. Better User Experience
SEO involves making your website more user-friendly, not just for search algorithms but also for human visitors. By enhancing the speed, usability, and general design of your website, SEO aids in the formation of a better user experience.
4. Brand Recognition
A better search engine ranking can increase your brand's authority and credibility in your sector, boosting the probability that customers will believe in you and use your services.
5. Cost-Effective Marketing
SEO is a low-cost marketing strategy that can help you save your hard earned money and benefits your eCommerce company in the long run.
6. Competitive Advantage
You can outperform other eCommerce companies who don't optimize their websites for search engines by adopting SEO.
7. Better Return
As it can produce long-term results without requiring continuous investment, SEO can offer a higher return on investment (ROI) than most other marketing strategies.
8. Faster Page Performance
For any website, its page loading speed holds so much importance in its success and failure. By optimizing your website for SEO, you can increase its loading speed, make it more user-friendly, and reduce bounce rates.
9. A Higher Conversion Rate
SEO can improve conversion rates and sales by driving higher-quality traffic and generating more leads.
10. Effective Consumer Targeting
You can more effectively target your ideal customer base by optimizing your website for particular keywords and phrases.
11. A Better Monitoring and Analysis Mechanism
With SEO, you can monitor and assess your website's performance and take data-driven actions to enhance your eCommerce company.
12. Long-term Advantages
By gradually raising your website's ranking and exposure, SEO can benefit your eCommerce company in the long run in contrast to other marketing strategies that might only have short-term benefits.
Read More: Why WordPress is the Best for Online Store Development?
After this, we have finally come to the main topic of our discussion and that is effective SEO eCommerce tips.
12 Effective Tips of SEO for ECommerce to Boost Search Traffic & Sales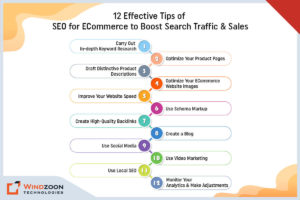 1. Carry Out In-depth Keyword Research
You must use the appropriate keywords on your website in order to draw prospective customers there. You can grasp the words and phrases your prospective customers use to search for goods and services online by conducting in-depth keyword research. To discover the ideal keywords for your company, use tools for keyword research like Google AdWords or SEMrush.
How to Perform a Phrase Analysis:
Make a list of possible keywords by brainstorming.
Utilize keyword research tools to evaluate the competition and search traffic.
Think about using long-tail keywords (phrases containing more than two words).
Make sure your keywords accurately describe your products or services.
Look for keywords with a lot of search activity but a little rivalry.
2. Optimize Your Product Pages
Your product pages are essential to the success of your website. They ought to be tailored to the keywords you've selected. However, make sure the details on your product pages about the products and services you provide are correct.
How to Improve Your Product Pages:
The title, URL, and meta description of the page should all contain the target keywords.
Utilize relevant and high-quality images of your products & services.
Create original and thorough product descriptions.
Utilize client testimonials to boost credibility and social evidence.
Ensure the page is user-friendly and simple to navigate.
3. Draft Distinctive Product Descriptions
Your product descriptions ought to be interesting and distinctive. Thus, refrain from using descriptions that are generic and easily available on other websites. Because search engines are better able to comprehend the substance of your pages when you use unique product descriptions. And will improve your website's position in search results.
How to Create Creative Product Descriptions:
Use language that is precise and illustrative.
Emphasize the qualities and advantages of your products and services.
Avoid keyword stuffing and organically incorporate keywords.
Write for your intended audience instead of search algorithms.
Make the description easy to comprehend by using formatting (like bullet points).
4. Optimize Your ECommerce Website Images
Product images are essential when it comes to online shopping. They can assist prospective customers in visualizing the product and deciding whether or not to purchase it. And SEO optimizing your product images can significantly enhance your website's page loading speed and user experience.
How to Optimize Your Product Images:
Make use of pertinent, high-quality images for your products.
Reduce the file size of your images by compressing them.
Make use of alt tags and descriptive file titles.
Ensure your images can be viewed on any platform and are responsive.
Utilize image sitemaps to assist search engines in indexing your images.
5. Improve Your Website Speed
Website speed is essential for a seamless user experience. A sluggish eCommerce website can turn away potential customers and damage your search engine ranking.
How to Boost Your eCommerce Website Speed:
To pinpoint places where your eCommerce site needs work, use tools like GTmetrix or Google PageSpeed Insights.
Cut down on the number of page elements to minimize HTTP requests.
To lessen server burden and accelerate page load times, use browser caching.
Optimize images and decrease file size.
Utilize a content delivery network (CDN) to send information to users more quickly.
Make use of a dependable web hosting provider.
6. Use Schema Markup
A code called schema markup makes it easier for search engines to comprehend the content of your website. Using schema markup, you can enhance your eCommerce website's visibility on SERPs as well as attract more customers.
How to Use Schema Markup:
To describe your goods, testimonials, and ratings, avail of schema markup.
Use structured data markup to provide context for your content.
Utilize Google's Structured Data Testing Tool to test your schema code.
Make use of schema markup that is specific to your business or niche.
7. Create High-Quality Backlinks
Backlinks are connections to your website that come from other websites. They are an important ranking element for search engines because they show how well-known and credible your website is. The more high-quality backlinks you have, the higher you are likely to appear in search results.
How to Generate High-Quality Backlinks:
Guest posts on relevant websites to your industry or niche.
Engage in online dialogues and communities and post a link to your website there.
Make content that people will want to share and refer to.
To discover broken links on other websites, use broken link-building techniques. Then, provide your own content in their place.
8. Create a Blog
Blogging is a powerful tool to increase web traffic, position yourself as an expert in your field, and raise your search engine results. By frequently publishing high-quality, informative blog posts on your eCommerce store, you can ensure that your site remains refreshing and engaging for both visitors and search engines.
How to create a successful blog:
Pick issues that concern your target audience and are worthwhile and interesting.
Optimize your blog articles for relevant keywords and include internal and external links.
Make your material simple to read and share by using captivating headlines and formatting.
To increase traffic and grow your following, advertise your blog on social media and other appropriate platforms.
9. Use Social Media
With millions of users worldwide, social media has established itself as a vital component of our everyday lives. You should use social media platforms as a business owner to build your brand recognition, generate leads, and increase traffic to your eCommerce site.
How to leverage social media:
Select the social media networks that are most pertinent to your brand and your target market.
Make a social media strategy that involves communicating with your followers and posting regular updates.
To attract more attention and boost engagement, use visual material such as images and videos.
Create targeted social media ads to reach a wider population and increase website traffic.
10. Use Video Marketing
Video marketing is an excellent tool for engaging your audience, promoting your products or services, and driving traffic to your eCommerce site. It can help you increase your customer base and cultivate a devoted following by making educational, entertaining, or inspirational videos that promote your business.
How to utilize video marketing:
Make eye-catching videos that significantly promote your brand's name and products.
Also, post your videos to your eCommerce site and social media accounts.
To make your videos more search engine friendly, utilize video SEO tactics.
Engage followers by regularly responding to their comments and social media shares.
11. Use Local SEO
Businesses with a physical presence in a certain region can benefit greatly from local SEO. If you have a brick-and-mortar store, or if you offer services to customers in a specific location, optimizing your eCommerce store for local search can help you grow your clientele.
How to benefit from local SEO:
Activate and optimize your profile on Google My Business listing.
Put regional keywords in the text and meta tags of your website.
Generate local backlinks from appropriate websites and networks.
Promote client testimonials on Google and other review platforms.
12. Monitor Your Analytics and Make Adjustments
Understanding the performance of your website, finding potential areas for improvement, and making well-informed decisions about your marketing strategy all depend on regularly reviewing your website analytics. You can make data-driven decisions to enhance your eCommerce site's performance and raise your online exposure by routinely reviewing your analytics data.
How to keep an eye on your website analytics and make the required changes:
Install tracking software such as Google Analytics to keep an eye on website traffic and user activity.
Evaluate the bounce rate, conversion rate, and other significant performance indicators of your eCommerce store on a regular basis (KPIs).
Improve your KPIs by utilizing A/B testing to evaluate various website elements.
To enhance the functionality of your website and meet your marketing objectives, make data-driven choices.
Read More: WordPress Website Development Cost: Top Factors to Consider
Conclusion
As the world continues to shift towards a more digital landscape, eCommerce has become an absolute necessity for businesses of all sizes. But with so many online retailers vying for the same customer base, it's essential to have a strong SEO plan in place to stand out from the crowd.
By implementing the 12 helpful SEO tips outlined in this article, you can optimize your online store for success and raise your odds of driving more visitors and revenue. However, keep in mind that SEO is a continuous process that needs ongoing attention and optimization.
Therefore, to maximize the benefits of SEO, you should work with a digital marketing agency to manage SEO for your eCommerce site.
Windzoon is an esteemed provider of digital marketing services that assist businesses to create effective digital marketing strategies. To discover more about our results-oriented services, please contact us and obtain a quote.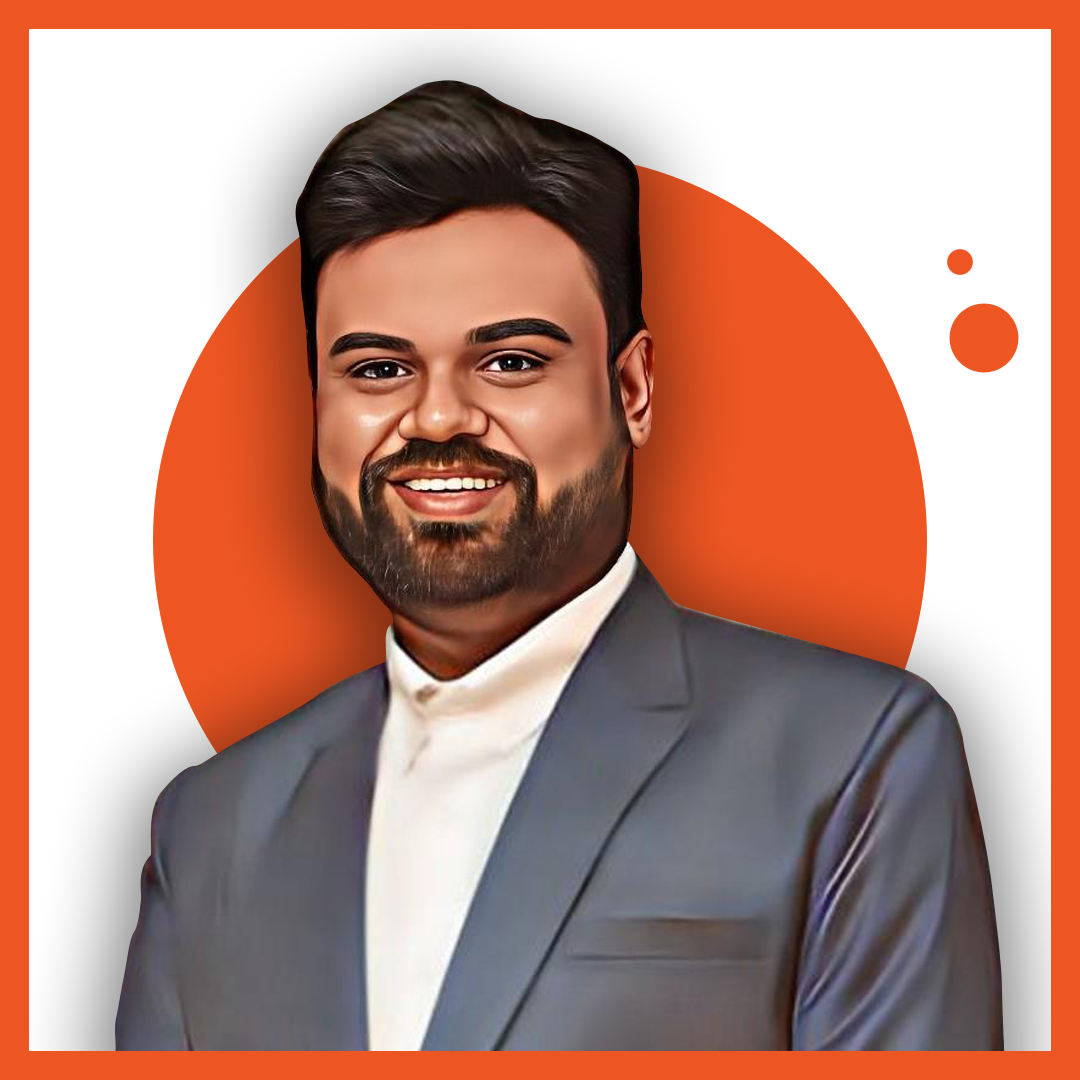 Nilesh Pujara is the CEO & Founder of Windzoon Technologies. He is mastered in computer application but his love for IT and marketing has driven him toward the field of digital marketing. Nilesh Pujara is handling the operations of a digital marketing strategist for more than 10+ years and has expertise in SEO, SMO, & PPC.