Picture yourself driving your trusty old truck down a dusty road. Suddenly, disaster strikes – one of your tires blows out, leaving you stranded. You must change the tire, but do you use a regular car jack or a specialized one made for trucks like yours?
Off course you would choose a truck jack, as a car jack doesn't have the capacity to lift your truck. Just like that when your enterprise website is falling down in SERPs ( Search Engine Result Pages), you would need the help of enterprise SEO to uplift its ranking rather than regular SEO.
Since 93 percent of all online encounters start with a search engine and more than 50 percent of all website traffic comes from organic search, your choice of SEO methods may be the secret to your success in the online sphere.
As a prominent digital marketing agency, we will help you navigate through the world of enterprise SEO. Where we'll explore the most effective tactics and strategies that can help your business navigate the ever-changing terrain of the online landscape. So, buckle your seatbelt and get ready for the journey.
What is Enterprise SEO?
It is a major league online marketing technique for big-shot businesses. And when I say "big-shot," I'm not referring to their revenue. Instead, I'm talking about their website's complexity and the number of pages it's got.
Enterprise SEO involves optimizing a jumbo-sized website with intricate architecture and multiple pages to improve its visibility and ranking on search engines. That's why it's called "Enterprise" SEO, typically applied to large organizations with significant online presence and resources.
For instance, a software behemoth like Microsoft needs a strong Enterprise SEO strategy to maintain its online presence. Given that Google has indexed an incredible 100 million pages from its websites, Microsoft must manage them all, right?
That's where their Enterprise SEO plan, which entails optimizing product pages, creating top-notch content, and constructing excellent backlinks, comes in. They also make sure that their branding and messaging are consistent across all areas and languages.
With a solid Enterprise SEO strategy, Microsoft can streamline their online operations and offer a seamless experience to its clients, solidifying its position as a leader in the tech industry. And eventually, accomplishing their objectives of raising organic traffic, boosting brand recognition, and driving revenue growth.
But here comes the million-dollar question and that is:
What is the Difference Between SEO & Enterprise SEO?
As I explained above, your business SEO plan must differ from ordinary SEO because the methods you employ for small-scale SEO won't always be effective for websites with hundreds or thousands of pages.
To give you some more understanding, I have prepared a comparison table of traditional & enterprise SEO. It will help you clear your confusion regarding the key difference between both SEO strategies.

| | | |
| --- | --- | --- |
| Point of Difference | Traditional SEO | Enterprise SEO |
| Website Size | Small to medium-sized websites | Large-scale, complex websites |
| Pages | Few (up to several hundred) | Thousands (up to millions) |
| Keyword Type | Long-tail and low-competition keywords | Short-tail and high-competition keywords |
| Focus | Individual pages, specific keywords | Site-wide optimization, broader focus on topics and themes |
| Strategy | Keyword research, on-page optimization, link building | A comprehensive strategy including content, technical SEO, and advanced analytics |
| Analytics | Basic analytics tools (e.g., Google Analytics) | Advanced analytics and data-driven decision-making |
| Team | Usually one or two people | A dedicated team with various roles and responsibilities |
| Collaboration | Teams may work with internal marketing or IT teams | Teams often work across multiple departments and stakeholders |
| Tools | Commonly used tools (e.g., SEMrush, Ahrefs) | Enterprise-level SEO tools (e.g., Searchmetrics, BrightEdge) |
| Reporting | Basic reporting on traffic, rankings, and conversions | Customized reports with more extensive insights and analysis |
| Budget | Lower budgets | Higher budgets |
| Timeline | Shorter timelines because of the smaller scale of the project | Longer timelines because of the complexity and the large scale of the project |
| Risk | Lower risk due to the smaller scale of the project and fewer stakeholders | Higher risk due to the complexity and scale of the project and more stakeholders |
Read More: SEO vs SMO – Key Difference Between SEO and SMO
Now, comes another significant question and that is:
What is Enterprise SEO Strategy?
Before we get into an enterprise SEO strategy, let's clear something up: just because you're a big-shot organization doesn't imply there aren't SEO methods tailored to you.
In reality, optimizing a massive website takes more work, time, and a different approach. Hence requires a unique strategy – and that's where Enterprise SEO comes into play.
The game plan for making large and complex websites more visible to users on search engines is called the Enterprise SEO strategy. It involves SEO experts using various tactics like content optimization, technical SEO, and analytics to increase a website's ranking, traffic, and sales.
To create an effective enterprise SEO strategy, you need to know your target audience, industry, and the latest SEO best practices.
But don't worry, you don't have to do it all on your own – working with an experienced local SEO agency can help you create a personalized plan that addresses your website's specific needs while also helping you achieve your business objectives.
Now, we will move forward with our next topic of discussion and that is:
Types of Enterprise Search Engine Optimization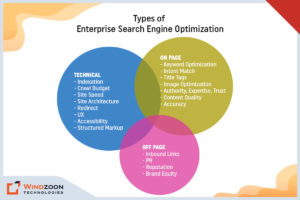 In this section, we will talk about the different types of Enterprise Search Engine Optimization (SEO). And how they can help your website rank higher on search engine result pages (SERPs).
So, First up is Technical SEO. This type of SEO technique involves optimizing your enterprise website's technical elements such as the site structure, speed, security, and mobile-friendliness. By ensuring your website is easily accessible and user-friendly, you can improve its visibility and search engine ranking.
After this, the next one is on-page SEO. This SEO technique focuses on optimizing certain web pages on your website by utilizing pertinent keywords, improving the content, and enhancing the user experience. By offering valuable and informative content, you can draw more visitors to your web page and keep them engaged.
And Finally, there's Off-Page SEO. This SEO technique consists of promoting your website through external channels like social media, guest blogging, and link building. By building quality links and establishing a strong online presence, you can improve your website's authority and reputation.
By incorporating all three types of SEO techniques, you can create a comprehensive and effective enterprise SEO strategy that helps your website rank higher on SERPs, attract more traffic, and ultimately, generate more leads and sales.
Our next topic of discussion is one of the important topics of the article, a question that you might be tempted to ask and that is:
What is the Importance of Enterprise SEO?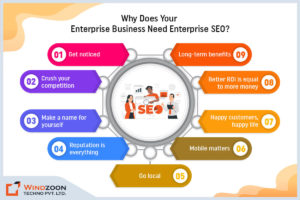 Now, let me tell you some awesome reasons why your company needs a digital marketing strategy that is tailored to your enterprise:
1. Get Noticed:
With an enterprise SEO strategy, you can boost your website's search engine ranking and get it in front of more eyeballs. This means more traffic, which can lead to more sales and growth for your biz!
2. Crush Your Competition:
In today's digital world, a killer SEO strategy can give you a leg up on the competition. By investing in enterprise SEO, you can stand out from the crowd and attract more customers to your business.
3. Make a Name for Yourself:
An effective enterprise SEO strategy can help increase brand awareness, making your company more recognizable to potential customers. This is huge for building a loyal customer base and growing your business over time.
4. Reputation is Everything:
An enterprise SEO strategy can help you monitor and manage your online reputation. By proactively addressing negative comments or reviews, you can show potential customers that you care and improve your overall reputation.
5. Go Local:
If your biz operates in multiple locations, enterprise SEO can help you optimize your website for local search. This can lead to more foot traffic and sales, and make it easier for customers in each location to find you.
6. Mobile Matters:
An enterprise SEO strategy can also help you optimize your website for mobile devices, which is critical if you have an e-commerce business. By ensuring your site is mobile-friendly, you can attract and retain more customers who are browsing on their phones.
7. Happy Customers, Happy Life:
By optimizing your website for search engines, you can also improve its overall usability, which means happier customers. When customers can find what they need and engage with your brand easily, they're more likely to stick around and keep coming back for more.
8. Better ROI is Equal to More Money:
Investing in an enterprise SEO strategy can provide a great bang for your buck. By attracting more traffic and generating more sales, you can increase your revenue and profits, which is music to any business owner's ears.
9. Long-term Benefits:
Enterprise SEO is a long-term strategy that can keep giving back to your organization for years to come. By staying up-to-date with the latest SEO trends and continuously optimizing your website, you can stay ahead of the competition and keep growing your business.
Read More: ECommerce SEO: 12 Useful Tips to Rank Higher and Grow Sales
With this here comes our show-stopper question and that is:
Effective Enterprise SEO Strategies for Your Business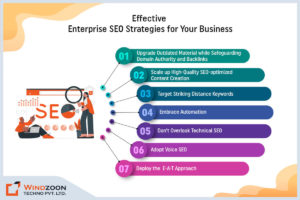 After learning about the amazing reasons to use enterprise SEO, now, it's time to learn about some of the best strategies for enterprise SEO.
1. Upgrade Outdated Material while Safeguarding Domain Authority and Backlinks
The first useful strategy, which is also one of the obstacles for enterprise SEO teams, is keeping material up-to-date, accurate, and refreshed for current industry standards.
But here's the catch, when you're refreshing your content, you need to be careful not to toss out old content with high page authority and backlinks.
Instead, you should refresh your content while straddling the line of adding fresh information without removing secondary keywords that your content is ranking for.
Updating content at an enterprise organization is no walk in the park, let me tell you. It's a complex process that requires a scalable approach so your SEO team can figure out which pages need to be updated and how to make them more competitive.
Because the ultimate goal of enterprise SEO is to create a method that can be scaled up as your business grows.
2. Scale up High-Quality SEO-optimized Content Creation
Creating high-quality content is clutch when it comes to enterprise SEO.
So, if you're trying to get your website to the top of search engine results, your content has gotta be SEO-friendly and packed with useful info for your visitors and search engines alike.
But, creating top-notch articles for an enterprise business is no easy feat, and trying to scale up your content production while keeping your quality high can be a real head-scratcher.
So, how do you maintain quality and quantity all at once?
One solution is to get more writers on your team with a solid content brief to make sure all the important elements are covered.
You gotta target the right keywords, include relevant internal links, write compelling meta descriptions, and make sure your meta tags are on point. Plus, improving your readability score and increasing your keyword relevancy score is key.
You can easily manage and optimize your content with content optimization software. Without content optimization software, you'll be stuck optimizing articles manually, and that's not gonna help you speed up your content creation process.
There are many content optimization software out there. Or you can even take help from a professional digital marketing agency for optimizing & scaling up your content.
3. Target Striking Distance Keywords
Now, let's talk about the third bomb strategy for enterprise SEO – Targeting striking distance keywords.
Basically, these are the keywords that are so close (positions 11 to 20) to hitting the top of page one on Google, they're just a little nudge away. It's like that runner who's almost at the finish line, but just needs that extra burst of energy to cross it.
So, why should you focus on these keywords?
Well, because by targeting these keywords, you can make your website more visible and attract more traffic and conversions. It's a great way to get quick wins for your SEO efforts.
Refreshing your existing content with striking distance keywords is a super quick way to get those keyword wins.
Plus, it gives you a chance to revisit and spruce up your old content. You can update the meta tags, add some fresh internal and external links, and bam – you're good to go!
Here's the kicker- It won't take up too much of your time, but the results will blow your mind.
4. Embrace Automation
Next, we will talk about- automation, and how it can save the day for your enterprise SEO team.
Managing thousands or even millions of web pages can be a real challenge, especially if you're trying to keep them all up-to-date and optimized for search engines.
But don't fret! You may save a ton of time and money by streamlining your SEO procedures with the use of automation. Here are a few illustrations of how automation might aid in enterprise SEO:
Automated Site Crawlers: These incredible tools can scan your website and discover any errors, such as missing meta tags, broken links, and duplicate content. This will enable you to swiftly address any issues and keep your website operating flawlessly.
Automated Reporting: No more manually collecting data from various sources! Use automatic reporting systems to collect and evaluate data about the performance of your website. This can assist you in identifying trends, monitoring your progress, and forming wise decisions about your SEO approach.
Automated Content Creation: Who says you need human writers for every little thing? Use automation tools to generate less important content like product descriptions or social media posts. That way, your team can focus on the big stuff.
Automated Link Building: Building backlinks is super important for SEO, but it can be a real-time suck. Use automated link-building tools to find relevant websites and automate the outreach process. That way, you save time and increase your chances of success.
Now now, let's not get carried away. Automation isn't a cure-all for SEO success. You still need a solid strategy and skilled team members to make it work. But trust me, automation can make your life way easier!
5. Don't Overlook Technical SEO
Now comes one of the most important strategies for enterprise SEO and that is technical SEO
Basically, technical SEO means making sure that your website's technical stuff is in tip-top shape so that search engines can crawl and index your site like a pro.
This includes things like making your site speedy Gonzales, mobile-friendly, secure like Fort Knox, and using structured data markup (sounds fancy, right?).
Now, why is technical SEO so important? Well, think about it. If Google can't crawl and index your website, then all of your other SEO efforts are basically pointless. So, you gotta get your technical game on fleek.
Here are some things you should focus on for technical SEO:
Site Speed: Nobody likes a slowpoke, especially not Google. So, you gotta optimize your site's performance. This can include things like squishing those big images down to size, making your code teeny tiny, and caching like a boss.
Mobile-friendliness: Let's face it, we're all on our phones 24/7. Hence, having a mobile-friendly website is extremely important. Make sure your site looks good and is easy to use on all devices, big or small.
Security: You wouldn't want someone snooping around your stuff, right? The same goes for your users. Make sure your site is using HTTPS encryption to protect your users' info. Plus, Google likes secure sites so that it can boost your SEO game.
Structured Data Markup: This particular approach may sound exotic, but it's simply a method for Google to comprehend what your site is about. In a nutshell, you may enrich your content with additional information, such as product descriptions or reviews, to help Google deliver more relevant search results to users.
So keep in mind that technical SEO is only a small part of the puzzle. You need to have a well-rounded plan that covers both producing fantastic content and constructing those sweet, sweet backlinks.
6. Adopt Voice SEO
Our next strategy is one of the hottest topics in the world of enterprise SEO and that is Voice SEO!
With the rise of voice-activated technology like Siri, Alexa, and Google Assistant, voice search has become a game-changer in the SEO landscape. Enterprises need to adapt to this new trend and revolutionize their SEO strategies to stay ahead of the game.
Besides, did you know that 27% of the online global population is using voice search on mobile?
That's quite a huge number! And with voice searches, users are provided with the top result rather than a full search engine result page. So if your enterprise wants to attract the highest inbound traffic, you need to optimize your content for voice search.
The good news is that more and more enterprises are jumping on the voice SEO bandwagon. Take Nestle, for example – they've created a custom skill for Alexa that supports voice cooking instructions while the user cooks. How cool is that?
So, how can your enterprise optimize for voice search? Well, for starters, you need to focus on long-tail keywords and natural language. Think about how people speak in everyday life, and use those phrases in your content. Also, make sure your content is mobile-friendly and easily digestible.
7. Deploy the  E-A-T Approach
If you're tryna be the big kahuna of online searches, you gotta work on your E-A-T game. That's short for expertise, authority, and trustworthiness, according to Google's Search Quality Evaluator Guidelines. They use EAT to evaluate content creators, web pages, and websites.
So here comes the question; Why's Google so hung up on E-A-T?
It's because they wanna make sure the info they recommend is legit and comes from the real deal experts in that field.
So, the next question is, how can you increase the authority and credibility of your content and website? Simple; get some links, mentions, shares, and reviews to show that people are vouching for you and your stuff.
Besides, Google holds Your Money, Your Life (YMYL) sites to the highest standards as they have a big impact on your safety, security, and overall well-being.
Hence, you can't fake expertise, authority, and trustworthiness. But with the right E-A-T strategies, your biz can have a killer online presence and snag the top spot on Google search.
Read More: 12 Effective Hotel SEO Tips to Rank #1 on Google
Conclusion
So, as my parting remark, let me repeat the thing which I have been trying to explain from the start of the article. And that is; If you're looking to rank higher on search engines and want to get more organic traffic, then an enterprise SEO strategy is the only way to go!
However, let's be real, getting those results takes time, effort, and expert guidance. So, if you're thinking of adopting an enterprise SEO strategy, it's probably a good idea to work with a professional SEO services provider to make sure you do it right.
By knowing what search engines are looking for and how users interact with search results, you can create a top-notch SEO strategy that really hits the spot! Plus, by keeping an eye on your progress with regular tracking, reporting, and analysis, you can stay on top of your game.
And guess what? Windzoon is the Best SEO Company around, with tons of experience working with different business models. Our team of seasoned digital marketers and SEO artisans can whip up a customized SEO strategy that's tailor-made for your business.
Thus, if you're ready to take your SEO to the next level, give us a holler and get a quote. We promise you won't regret it!